Reading Time:
8
minutes
Despite a wet welcome, Crans-Montana maintained its reputation of providing a signature sunny week for another Ski Canada Readers' Trip.
When you're climbing onto a bus in Switzerland with a group of 30 people you just met boarding a transatlantic flight barely a day before, a number of things go through your mind. "I hope I didn't forget anyone in the airport." "Why does that person's luggage look as if she's moving to Switzerland permanently?" And tantamount to both of those is: "I really hope these people are 'normal'." Luckily, most were. And so began another grand Ski Canada Readers' Trip.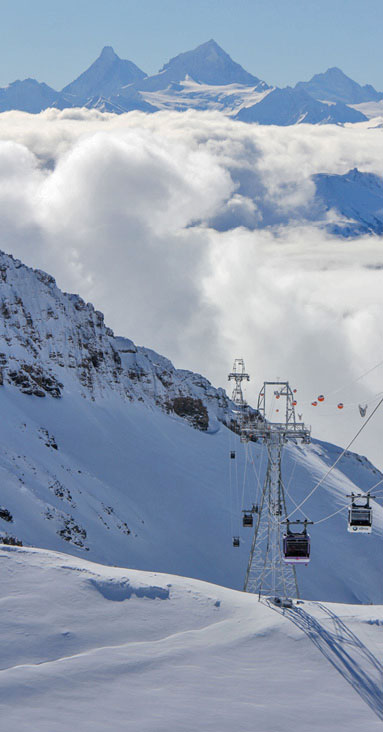 After leaving German-speaking Zurich, our destination was the resort of Crans-Montana in the French-speaking Valais region of the country. The dual towns of Crans and Montana are within walking distance of one another and offer a great variety of restaurants, shops and cafés, all on a high plateau, 1,500m above the city of Sierre. I like to keep things loose to enhance the sense of discovery, so the sum of my research on the resort amounted to knowing that it was in Switzerland, and James Bond actor Roger Moore was a former resident.
I also knew that the area offered a ton of excellent sunny skiing, thanks to the south-facing exposures and claims of more than 300 days of sunshine per year. There was also probably going to be raclette, the Swiss farmers' meal of melted cheese, potatoes and onions. The week didn't disappoint.
It might have been a case of unrealistic expectations, considering my social media feed had been lighting up since December with photos of the bumper snow year Switzerland was having. I'll admit that I'd been dreaming of deep, dry pow since getting the assignment. What could go wrong?
The drive to the mountains in Switzerland is one of the highlights of any trip here. Often the valley bottoms are green and you can sit back and enjoy scenery that's sprinkled with storybook views of castles, rivers and vineyards creeping toward snowy peaks. What I wasn't prepared for was a thermometer on the bus sticking to a temperature of 10 degrees—with intermittent torrential rains. I assured myself, and our team of eager Canadians, that the temperature would drop as we climbed and climbed off the valley bottom and gained some elevation to the plateau where the dual resort of Crans-Montana sits.
I didn't lie—the temperatures did drop, to seven degrees, and after we arrived at our hotel the torrential rain had become light rain. Luckily, our home for the week, the Hotel Splendide, was quaint, comfortable and well situated. Typically Swiss. After a long day of travel, we soon forgot about the now-changing weather and spent some time settling in and getting to know Crans-Montana.
The next day we woke to glorious sunshine, thankfully colder temps, and Crans-Montana's stellar views. Getting your first look at a new ski area is always something special. Like Christmas morning or a Friday afternoon just before a long weekend. And there's good reason to be excited about Crans-Montana. It's an aesthetically beautiful place—goose bumps beautiful.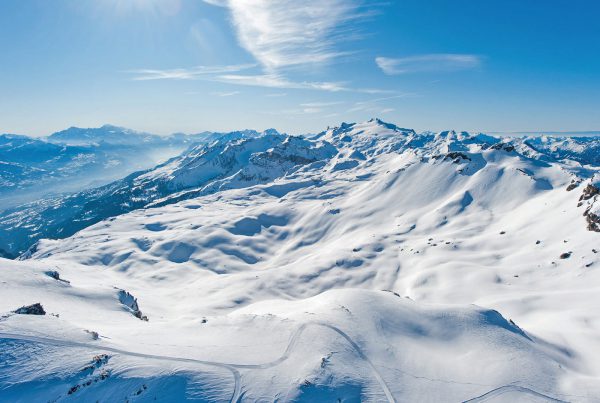 To help make the most of our visit, Editor Iain's friend Bruno, who runs the local tourist bureau, hooked all of us up with some guides from Swiss Mountain Sports to show us around for a couple of days. Having some local knowledge in the Alps is key when you only have a six-day lift pass and don't want to miss the goods. We learned how to hit the right lifts at the right time, which exposures would be best and we had our questions answered throughout the day.
My group's guide, Nicky Rombaldi, was born and raised in Crans-Montana; his father, Bouby, used to coach the women's Swiss alpine ski team. Nicky was like the concierge at a posh New York City hotel—he knew everyone and everyone knew Nicky. Whether it was getting reservations at a busy mountaintop restaurant or getting us past a late-February lift queue, Nicky was that guy. He was also a Swiss charmer, so it was no wonder he chose the group that consisted of all the ladies.
I spent a lot of time with this group because they had kidnapped my wife, Lora. These gals were born around the time Elvis Presley and Chuck Berry were revolutionizing rock and roll. Rowena, Patty, Jill, Linda and Joanna have been skiing together for ages and like so many of us on the slopes, definitely didn't act their age. I learned this by following them down a goat track that began with Nicky saying, "This is a run I used to love when I was a kid." We skied through some cliffbands and narrow chutes before following a creek bed in the trees—kids' stuff. Whatever the challenge, the girls were up for it, including winning the inaugural Ski Canada yodelling contest in front of a packed dining room.
I've loved meeting all the interesting people from past Ski Canada Readers' Trips I've been on, and this trip was no exception. The Canucks who were more used to groomers weren't about to let a lack of fresh powder get in the way of a good time. We had some awesome peeps on the team, including a group of current and former ski patrollers, all originally from Saskatchewan, led by a skiing farmer named Gerry.
Anyone who knows skiing should know that patrollers are famous for getting parties started and for keeping parties going, and this crew kept the evenings interesting, but they also had an uncanny knack for finding every hidden stash of powder on the mountain. We also had a couple of groups of intrepid explorers from Ontario who took turns carrying the trail map and succeeded in playing themselves lost and found. I was happy to see them each evening at dinner, so evidently their navigational skills were on point.
Whenever I try to explain to someone what skiing in Europe is all about, the conversation usually gravitates either to food, scenery, history, lift etiquette or any of the other intangibles that make it different from skiing in North America. One thing I've had to learn is that it's okay to ski a little less and do a little more. With that in mind, it was time to explore what else Crans-Montana had to offer.
The town has recently invested in a fantastic family fun area that features an open-air skating rink. However, as a Canuck, it was going to take something more unique than skating to get the blood pumping. That's when we discovered you could rent fat-tire bikes and be guided from high in the alpine to the base area in Crans. We loaded the gondola at the end of the ski day with a bike guide from the Swiss Ski School. Our reward was a mountain mostly to ourselves. The route down was designed for riders of all abilities, but when our guide Marco figured out my wife and I were avid mountain bikers, the game changed. We found ourselves in the terrain park and at one point in a short, but challenging, section of moguls. There was crashing, there was laughing and we were rewarded with the most incredible twilight views of the alpenglow. It was a bucket-list experience for sure.
If adrenaline isn't your thing, but history is, Sion, the capital of the Canton of Valais, is easily reachable in a day trip from Crans-Montana. You board a fast funicular railway in Montana Village and 12 minutes later you've descended 1,000m to the city of Sierre. In classic Swiss efficiency, a painted line on the sidewalk and road leads you to the train station, where you board a train for the 10-minute trip to Sion. Very organized, very Swiss.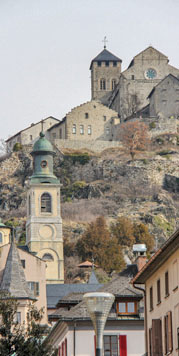 Sion has two imposing castles that tower high overhead on rocky outcroppings, and the impressive Old Town, with its funky shops, great cafés and architecture, is of course centuries older than Quebec City. Throw in incredible views of the Alps on both sides of the Rhone Valley and it made for an unforgettable day excursion. Sion would have been easy to miss if we'd only focused on the skiing. Luckily, it's sometimes the unexpected things that make a trip memorable.
At the end of the day, though, ski trips are about the skiing, so we enlisted the help of our old friend Nicky and one of the other guides we'd met, Carole. We asked them to plan a day that our group would never forget, and they came through in spades. One of the most beautiful runs in Crans-Montana is a backcountry valley called Les Faverges. That was the objective for the day.
The run is accessible from the top of the 2,900m lift Plaine Morte, and a short hike across the "Dead Glacier" gets you to the top of a steep bowl. After scouting for the best entry and taking note of the significant avalanche activity on the solar aspects, we decided to send our ski patrol friends first to test the slope. They characteristically found the best snow but we all took turns dropping into one of the most scenic runs of the trip. The route follows a valley that eventually leads back to the Aminona lift, the most easterly edge of the ski area. The descent of 1,000m took the better part of two hours; along the way we had brilliant views of frozen waterfalls, wide-open alpine meadows, and terrain that was challenging but not terrifying.
The hardest part of the run was a side hill traverse at the bottom over frozen avalanche debris and along a narrow trail with some vertigo-inducing drops on the downhill side. On the way out we skied through some classic Swiss scenery of pastures and farmhouses, and found a slopeside chalet to raise a glass to our adventures. It all felt very Swiss and civilized: one minute you're having a remote backcountry experience, the next you're being served a beer and Rösti on a sunny deck.
Eventually the middle-aged, extreme-skiing women who had kidnapped my wife returned her with the promise of doing it all again the following winter. Crans-Montana exceeded our expectations for a Swiss holiday. It might not be the steepest or gnarliest resort in Switzerland, but if great skiing, amazing food, a beautiful alpine village and the most incredible sun-soaked views of the Alps are your thing, I'd start planning now or, like the late, great Warren Miller used to say, "You'll be one year older when you do."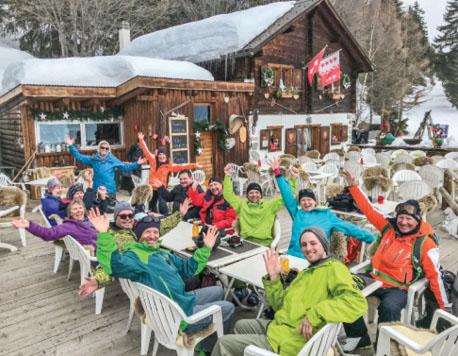 CRANS-MONTANA PLANNER
• Air Canada flies daily to Zurich and Geneva.
• Airport transfer times, by train or coach, to Crans-Montana are about three hours. (Quicker from Geneva.)
• 6-day lift pass, 349CHF (approximately CAD$475)
• An enormous range of accommodation is available at Crans-Montana, from youth hostels, mountain huts, and family and group hotels to luxe chalets and five-star pampering. The best rates are typically Saturday-to-Saturday stays with half-board (breakfast and dinner).
• Swiss Mountain Sports, one of several mountain guide and ski schools in Crans-Montana, offers the finest in instruction as well as off-piste guiding. www.sms04.ch
• Start your engines: Women's World Cup Downhill and Combined, Feb. 23-24, 2019.
• Start your research: crans-montana.ch and myswitzerland.com