Reading Time:
8
minutes
Skiing Switzerland's most famous peak can be surprisingly reasonable.
Bringing buddies: priceless.
For more of Marty's photos from the  Zermatt trip click here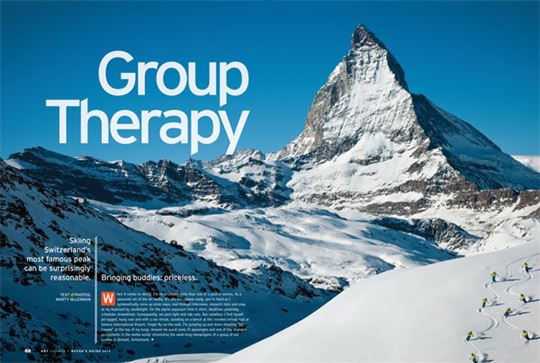 When it comes to skiing, I'm more Littlest Hobo than one of a pack-o'-wolves. As a seasoned vet of the ski media, it's skis-on, camera ready, pen in hand as I systematically carve up piste maps, nod through interviews, research stats and snap at my keyboard by candlelight. For the alpine paparazzi time is short, deadlines yesterday, schedules streamlined. Consequently, we pack light and ride solo. But somehow I find myself jet-lagged, hung over and with a raw throat, standing on a bench at the crowded arrivals hall at Geneva International Airport. Forget fly-on-the-wall, I'm jumping up and down shouting "Ski Canada" at the top of my lungs. Around me stand some 25 passengers and one of the strangest assignments in the media world: chronicling the week-long shenanigans of a group of our readers in Zermatt, Switzerland.
At the arrivals section we form our posse, a kind of Ocean's Thirteen . Just double the size and with half the looks. While it's too early to pick out the Brad Pitt (a toss up between Andrew Bean with his boyish grin as he celebrates is wedding anniversary with Tracy, and Guy Soulière with is good taste in watches, wife and that contagious ear-to-ear grin), certainly Iain, the magazine's editor, gets the Clooney billing, more for stature than actual height. In character, Iain's nowhere to be seen when the gang is getting down and dirty—like now. Rather, it's the lowly technical editor herding cats toward a soon-departing train, while I imagine Sir Iain dining on fine Swiss cuisine and Valais wines somewhere in another canton.
We're not after a heist like our big-screen brothers, nor remortgaging. The idea behind the accounting is austere: use the presence of the magazine, benefit from generous sponsors (shameless plug of thanks to Frey chocolate, Intersport Ski Rental, Helly Hansen and the Swiss, Valais and Zermatt tourist boards) and slave, I mean, free labour from the editors, while profiting from the Keynesian advantages of economies of scale, thus turning a bucket-list dream, a trip to one of the foremost alpine ski villages on the world's map —so chic you cannot bring let alone park your car here—at the height of the recession, into an affordable reality for us and our readers. (We'll be returning to Switzerland again this season)
*************************************************************************************
Despite all the no-car hype, arriving in Zermatt now, I realize that calling this town "car-free " is like calling Toronto Pearson "airplane-free." Disembarking from zippy three-and-a-half-hour train ride from Geneva, we find ourselves at the Zermatt Bahnhof and town centre—all cars or personal vehicles park a half-hour downstream at the village of Täsch. Meanwhile, well-intentioned hotel porters, bustling ski butlers and rushing travellers, from wealthy Russian oligarchs to British tour operator groups, weave through the snowy square. Describing the Saturday change-over scene a zoo might not be an overstatement: marmot is on at least one menu, while a parade of Euro mink, beaver and leather struts the Bahnhofplatz to the beat of clippety-cloppety horse-drawn carriages or sleighs racing off to the finest hotels.
What's left in their wake isn't combustion engines, nor noxious fumes. But some two dozen of us Canadians caught in the headlights like a family of raccoons, surrounded by a posse of whirring little four-wheeled battery-powered vehicles. Surprisingly, Iain isn't behind the wheel of one of them, but has negotiated transport for at least our bags. While reminiscent of carnival bumper cars, here, at the peak of the Swiss Alps, the difference is price (Finance Minister Jim Flaherty and his buddies unapologetically blew $23,000 over a weekend in Davos on these last year), size (they have everything from two- seaters to buses) and velocity —while not made for banging into each other, clearly they're designed for speed as drivers rush frantically trying to ferry enough passengers to pay off their extortionate fares.
As I step off my two-minute tango with death on the slippery streets in front of our snow-covered Hotel Alpen Resort, another comes sliding to a standstill, Dukes of Hazzard – style, with our white-knuckled comrades and second-year veteran Joe —probably the most gentlemanly person I have ever had the pleasure to ski with. This year he's brought two friends. While he claims their names are Joan and Joanne, I can't help but wonder if he's just being generous with us, realizing that Iain and I are too dimwitted to remember three different names. Our eyes connect momentarily in a fresh-off-the-battlefield, shell-shocked nod. " And I thought they drive badly in Montreal," I hear Joanne (or was it Joan?) mumble to herself.
While the drivers' esteem for the lives of their customers couldn't be lower, I read somewhere that the system is the brainchild of lofty ambition: these vehicles actually exemplify the nation's fight against global warming and are just the tip of the Swiss ecological palette of  inventiveness. To save their precious snowfields, they cover them up in the warm season, restrict access and, in the case of the cars, demand emission deductions throughout the Confederation. The idea sounds great, but as we stagger to our rooms, I can't help but wonder if in this instance they're putting the cart before the horse.
********************************************************************************
Throughout the Valais wintertime, he sun rises tantalizingly over this millionaire hobbit town. Unhurriedly, it unveils a precious peak here, picture-perfect gable there, then for effect it drops a little pixie dust and a touch of cloud burst. As a backdrop to it all, the pyrotechnic sky starts in subdued rose-garden red, then moves through bugambilia into the magentas on its inevitable way to high-alpine blue. (Zermatt boasts 300 sunny days per year, and on those days when the snow arrives, as we soon find out, it comes down wholesale). This master show, though, is really filler. The main attraction, the locus of all the colour and beauty is, of course, the Alps's ultimate diva, the craggy Matterhorn. And standing proud at 4,478 metres, it simply basks in all the attention as it has since time immemorial.
Despite the peak's omnipresence (veterans and unofficial trip photographers Patti and Brian Callow from Calgary swear you cannot find a place in this valley where you aren't dumbstruck by the massif, and by the end of the week will have pproximately 11,000 photos and videos documented on their iPad to prove it), we meet with local guide Urs Geissbühler aboard the Gornergrat mountain railway for yet a better view. The half-filled train means we place our skis on racks, take off our packs and jackets, and spread out comfortably (it may be old uphill technology, but talk about civilized!). It ambles steadily through town, over the Visp River that gives Zermatt its picturesque pedestrian bridges, and begins its legendary kilometre-and-a-half vertical rise toward its otherworldly terminus at the massive hotel whose façade is topped with an enormous onion-shaped telescope on each of its twin towers some 10 km skywards.
On he way up Urs tells us that much like Everest, it was tragedy that put Zermatt on the map. Back in the summer of 1865, Londoner Edward Whymper, a somewhat possessed climber on his ninth attempt of the Matterhorn, managed the summit in little more than hiking boots and wool pants. However, fame had its price: the souls of four of his party plummeted to their deaths, the same vertical as today's train ride. Rather than dissuade climbers, it became a mecca for alpine tourism. Those constructing the track we're riding, literally jumped on the bandwagon of the ensuing media frenzy, initiating construction within a year of the tragedy. And the building hasn't stopped. Today there are more than 100 high- speed gondolas, chairlifts, cable cars and cog railways throughout the skiable terrain and over the summit into Cervinia, Italy. This train alone transports some three million every year.
The Gorner peak offers vantages of 29 of Switzerland's 34 highest peaks, each more than 4,000 metres high with a viewpoint and panoramic restaurant never without its share of "oohs" and "ahhs." But the massive snowfall, bluebird skies and the ski area's 2,280 metres of vertical demand our attention. With our eyes finally off the Matterhorn, we get our first look at the slopes, and what becomes immediately apparent is that despite its world famousness, or perhaps because of it, Zermatt has few skiers (but tons of tourists). Those who showed up sure dress well, and most seem to be taking photos, slurping espressos and drinking up the warmth in sun chairs. And when they finally decide to ski, it's the long, winding novice runs that fill.
Iain and I look at each other, eyes wide open. With the legendary 350 km of pistes over four mountain areas and Cervinia awaiting, well tracked since the last dump, there also remain untouched steeps in several directions with nothing but chamois on them.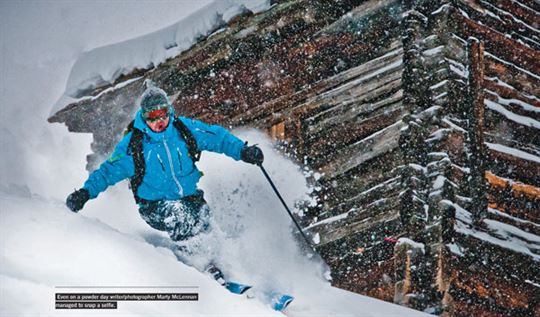 With the threat of glaciers dissolving into rapidly flowing rivers faster than you can crank up a cuckoo clock, in the Alps you get a sense of ski  'em while you can. And the temptation to duck the ropes doubles. Most glaciers descend at around a forgiving and very skiable 15-20 degrees—perfect for intermediates. However, the frozen remains of a 16 th -century soldier, released after hundreds of years in the local Theodul Glacier and displayed in the Matterhorn Museum, remind us that the pitfalls of going off-piste without a guide haven't changed much in centuries.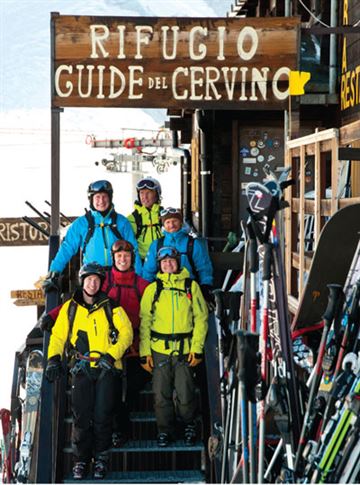 On one of the last days, we gather together a group of intrepid souls at the rustic Rifugio Guide del Cervino, on the Italian side. Here we strap on harnesses under the strict attention of local skiführer Rudolf Steindl ("Eats dee only vay to pull you zout," says our straight-faced guide). We know we got the right guy for the job; not only does he ski like magic, he's bagged some 350 ascents of the Matterhorn. And at just under three hours, is son holds the record for fast ascent. That's three hours with a running start from town! After a couple of warm-up runs on steep pitches, we head for the Theodulgletscher glacier, one of the frozen fingers to the massive Gorner Glacier, which at 57 square km, makes it Europe's second-largest. On this very Alice-in-Wonderland afternoon, we circumnavigate pool-sized crevices, 30-storey frozen icefalls and literally ski through the glacier, exiting through a rabbit hole under an arena-sized block of blue ice.
******************************************************************************************
Beyond the delirium of skiing the panoramic Swiss Alps, there's a certain je ne sais pas of European après that makes it a sport in itself, particularly when you have a few gondolas of Canadian cohorts as your wingmen and women. While we tested Zermatt's finest: drinks at the slopeside Champagne bar, shots at the Snowboat and beers at the legendary Hennu Stall Après Skihütte, the true joys of group travel hit their peak nightly among our four-course meals at the shared tables of the hotel dining room.
On one of our last evenings, just after the raclette was put away, Debbie, another seasoned second-year vet, hopped to her feet with the accordion`s first chord, dancing the Zorba. Instantly transformed, in her present state she wasn`t a day past her sweet 16. Rhythmically and with surprising precision, she began chipping one salad bar plate after the other into fine ceramic confetti. But what was almost as spectacular as the faces of our astonished Scottish waitresses was the radiance of her accompanist —no, not James, who showed up with her at the airport and now has an I'm-having-the-time-of-my-life grin —but rather, the Hungarian accordionist. He was the dourest of fellows after seemingly a life in musician`s purgatory. He had played so much elevator-tinged dinnertime Muzak on the electric organ over the years, that not only his product, indeed his person, just blended into the background. It was a place where presumably, given our musical score at dinner for the night, he has been for the past 40 years—though his seventies moustache and crotch-tight pants with flaring bottoms didn`t suggest otherwise. But with the newest incarnation of Debbie on the makeshift dance floor, he had found his mojo. Back proud, fingers crushing the fleshy part of that instrument, the room filled with adrenaline: damn, that man could play.
In a symbiotic moment over dessert wines and éclairs, we witnessed a metamorphosis,  a passion play between musician and dancer (and dumbfounded waitresses) on that well-worn stretch of green carpet between the buffet`s salad greens and the table of newly arrived Japanese tourists. Bonded by an experience so intimate, so powerful, our oriental cohorts could not leave without due appreciation replicated. And that`s when the power of group therapy really made itself apparent: on that very spot they treated us to a night of no-holds-barred karaoke, peaking just past midnight with Hirosan's moving rendition of "My Way " backed by a chorus of 20-some Canadians crooning at the top of their lungs.
Sure skiing in the heart and history of Switzerland may well be a trip of a lifetime, but doing it with a group is a howl.
What`s There? More than 100 lifts (including Cervinia, Italy); 60kms of marked pistes; top elevation: 3820m; vertical drop: 2200m; 18 budget to lux hotels, countless restaurants, pubs and a couple of clubs, 8 mountain restaurants, 30 sledging runs; 8 indoor swimming pools, an excellent local museum…..and 28 surrounding peaks.
Getting There:

Swiss has daily direct service from Montreal to Zürich and Aeroplan code-share flights from across Canada. Zurich Airport to Zermatt, via Swiss Rail: 3.5 hours
Mountain Guiding:

Rudi Steindl and colleagues will show you a good time offpiste, and keep you safe: www.skiundbergfuehrer.ch