Reading Time:
9
minutes
Ski Canada's first-ever readers' trip headed to Switzerland's Grindelwald and the Jungfrau.
BY IAIN MACMILLAN PHOTOGRAPHY BY MARTY MCLENNAN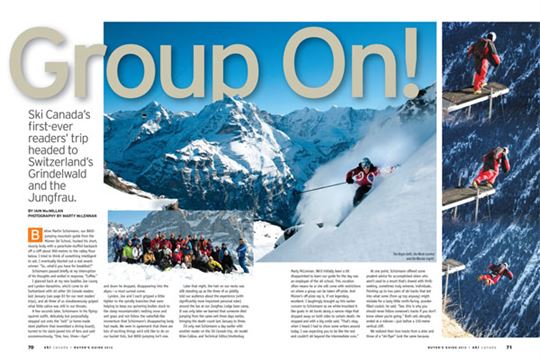 Before
Martin Schürmann
, our BASE-jumping mountain guide from the
Mürren Ski School
, hucked his short, muscly body with a parachute-stuffed backpack off a cliff about 900-metres to the valley floor below, I tried to think of something intelligent to ask. I eventually blurted out a real award-winner: "So, what'd you have for breakfast?"
Schürmann paused briefly at my interruption of his thoughts and smiled in response, "Coffee."
I glanced back at my new buddies Joe Leung and Lyndon Kanashiro, who'd come to ski Switzerland with 40 other
Ski Canada
readers last January, and all three of us simultaneously gulped what little saliva was still in our throats.
A few seconds later, Schürmann in his flying-squirrel outfit, delicately but purposefully stepped out onto the "exit" (a home-made steel platform that resembled a diving board), turned to his slack-jawed trio of fans and said unceremoniously, "One, two, three—bye!" and down he dropped, disappearing into the abyss—a most surreal scene.
Lyndon, Joe and I each gripped a little tighter to the spindly branches that were helping to keep our quivering bodies stuck to the steep mountainside's melting snow and wet grass and not follow the waterfall-like momentum that Schürmann's disappearing body had made. We were in agreement that there are lots of exciting things we'd still like to do on our bucket lists, but BASE-jumping isn't one.
Later that night, the hair on our necks was still standing up as the three of us giddily told our audience about the experience (with significantly more important personal roles) around the bar at our
Jungfrau Lodge
base camp. It was only later we learned that someone died jumping from the same exit three days earlier, bringing the death count last January to three.
I'd only met Schürmann a day earlier with another reader on the
Ski Canada
trip, ski model Brian Callow, and Technical Editor/shutterbug Marty McLennan. We'd initially been a bit disappointed to learn our guide for the day was an employee of the ski school. This vocation often means he or she will come with restrictions on where a group can be taken off-piste. And Mürren's off-piste rep is, if not legendary, excellent. I laughingly brought up this earlier concern to Schürmann as we white-knuckled it like goats in ski boots along a narrow ridge that dropped away on both sides to certain death. He stopped and with a big smile said, "That's okay, when I heard I had to show some writers around today, I was expecting you to be like the rest and couldn't ski beyond the intermediate runs."
At one point, Schürmann offered some prudent advice for accomplished skiers who aren't used to a resort that's shared with thrill-seeking, sometimes truly extreme, individuals. Pointing up to two pairs of ski tracks that led into what some (from up top anyway) might mistake for a tasty little north-facing, powder-filled couloir, he said, "See, this is why you should never follow someone's tracks if you don't know where you're going." Both sets abruptly ended at a rollover—just before a 150-metre vertical cliff.
" See, this is why you should never follow someone's tracks if you don't know where you're going."
We realized then how tracks from a skier and those of a "ski-flyer" look the same because, well, they are. It's just the guy who leaves the latter also has a small parasail on his back; so when the going gets hairy, he just lifts up his legs in a very dreamy setting and soars off down the mountainside dodging rock features, glacial crevasses, avalanches, trees and hopefully everything nasty that gets in the way. Search "ski flying Grindelwald" on YouTube—any bets you'll find stuff eerily close to a lot of your flying dreams.
Mürren, and its delightful little car-free village clinging to the edge of a vertical rock face, has one of the nuttier reputations in the Alps for extreme sports. The other ski resorts that make up the expansive
Jungfrau
ski region, and all on the same pass, include:
Wengen
, with its longest downhill course on the World Cup circuit;
First
, with its excellent reputation for touring and off-piste skiing as well as wide, open groomed boulevards; and, of course, lovely, hard-to-rival
Grindelwald
, in the shadow of the
Eiger
's north face, that's attracted tourists as famous as Julius Caesar and Adolf Hitler.
Despite our trip coinciding with one of the driest winters on record (one expects plenty of sun while on a Europe ski holiday, but our seven days of sunshine in January was exceptional), a 10-minute hike with Martin led us several times to untracked powder and even more spectacular views. While enjoying a backpack snack in a snowbank, looking up at our tracks behind us and a trio of famous peaks in the foreground, we chatted about the area's outstanding climbing history with a man who's been up the north face of the Eiger more than once (where 65 climbers have died) and indeed skied down most of the west side (with the help of a helicopter pilot who delivered the skis).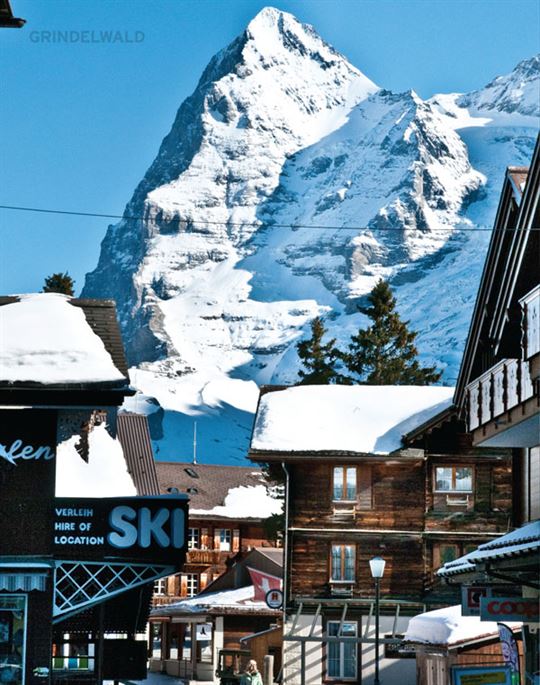 "Here you can easily see the Eiger, or young man, to the left; the Jungfrau, or virgin, to the right; and in the middle, the
Mönch
or Monk watching over her," Schürmann explained to us while adding more chewing tobacco under his lip.
"It's 2011, Martin," I said mockingly, "isn't the Monk more interested in the Eiger than the virgin?"
After a short delay while the humour translated, a roar of laughter belched forth.
Around the dinner table back at our cozy Jungfrau Lodge in Grindelwald that night, others in the group told us about their tandem gleitschirmfliegen, or paragliding, adventure and ziplining that day at First, a ski centre a minute or two by bus beyond Grindelwald's village centre. (Getting to Mürren, on the other hand, involved a bus, two trains and two cable cars. And in the case of Marty and Brian, also a speeding taxi, after they learned the hard way that Swiss trains always run on time—and the conductors give no "All aboard!" warning, even if all your gear is on the train and you're just standing by the door snapping a photo.)
Thanks to our tour operator
Vacation Station
, which picked up the tab, it was in First where our merry band of
Ski Canada
readers enjoyed one of many classic Alps scenarios. A mountain hut outside-lunch of soup, wursts, salad and sauerkraut was perfect to quaff pilsners under a warm winter sun—such a simple yet orthodox part of skiing in Europe. While teammate Ron Dagilis had earlier claimed he joined the trip for the free Swatch that doubled as an electronic lift pass and wife, Marjorie, countered the Frey chocolate swag bag was a better bonus, both agreed lunches outside made great memories.
Earlier that day in First, I was skiing along what in Swiss understatement might be called a "runout" (a cat track that meanders for kilometres down through the staggeringly beautiful alpine scenery collecting skiers and eventually funnelling them back to an arsenal of lifts, or sends them farther down into the valley and village) when I passed by a trim, well-dressed elderly couple with straight backs and apple-doll faces. Slowly but determinedly hiking uphill in the brilliant sunshine, Grandpa was pulling a classic little wooden sledge behind him (very Grindelwald), while beside him Grandma chatted quietly. Both looked up in acknowledgement as I whistled past offering a standard Swiss greeting "Grüezi." I briefly thought about my senior mum hiking above timberline to put in a little morning tobogganing. Umm, probably not.
Near the end of the day, I took in a similar Swiss fairy-tale scenario. As the late sun started changing the colour of the Eiger a warm golden-grey, school children were hoofing it back up to their chalet homes and farms above the town with backpacks of homework and empty lunch bags, dragging their little luges behind them. I couldn't help think how much easier life could be for my family every morning. If you go to school by toboggan, how could you possibly be late?
Marty and I and our merry band of 40 readers graciously accepted an offer one night as guests of the Jungfrau Region tourist board and Switzerland Tourism for an evening of fondue high above Grindelwald at the Bussalp Alpine Hut, followed by an impromptu 20-minute sledge race back down. In the dark. No lights. No lawyers. And plenty of speed. Thankfully, we'd become a very loud group and no one was lost for long.
Most of the roster on the Swiss adventure signed up as singles and couples, with everyone politely getting to know each other in Jungfrau Lodge's dining room. But within a day or two, as the mealtime noise level exponentially grew with chatter, story-telling and laughter, the few other hotel guests not in our group chose tables farther and farther away.With our passport's DOB's ranging from the 1930s to the 1990s, the
Ski Canada
gang was so typically Canadian: friendly, welcoming, boisterous and actually better skiers than they claimed to be at après ski. As suspected, it was hard to get Western Canadian skiers to look beyond their wintry backdoors and join up, despite a minimal airfare add-on from points beyond Toronto, Montreal and Ottawa. Other than Lionel and Jack from Saskatchewan, and Patti and Brian from Alberta, the entire gang hailed from Ontario and Quebec.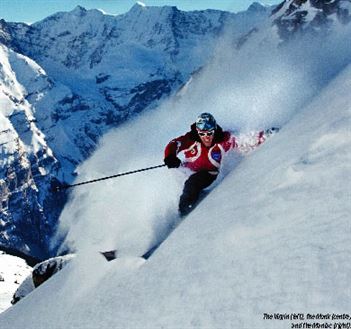 With Catherine on her ninth visit to Grindelwald holding a Q&A court at one table, Lyndon and roomie Stan fiddling on the iPad with the day's photos and helmet cam video clips at another table, I plunked down to an empty place setting at the noisiest table just as Bill was loudly offering his younger snowboarding cousin some worldly advice about their impending visit to the town's impressive spa. "Remember, Scottie, we're in Europe, everyone's going to be walking around the sauna buck naked," he explained to his now red-faced, goofy-smiled, 20-something relative. "And it's a mixed sauna—so don't be looking around too much and pull a boner."
No surprises that our troop had more men than women (how many groups of skiers don't?), but probably the fastest way to speed up the getting-to-know-one-another routine is the simplest. Taking meals in the hotel dining room instead of in your condo or wandering around looking for a restaurant agreeable to everyone is refreshingly old school and makes me always wonder why the half-board option is almost unheard of in North America.
Knowing how loud we could get in our hotel dining room, I was expecting to hear that someone in our gang would be meeting the town's constabulary on the last night—one that involved the discovery of a Peterborough, Ontario, native playing bass in a local band— and instigator Rob's insistence on the entire Eiger Bar dancing to the requested "The Hockey Song." The next morning at breakfast, Rob gleefully retold the end of the evening, which could only happen in Switzerland. "We got shushed!" he said incredulously. "The police were waiting for us when the bar closed and everyone poured out onto the street. But instead of a paddy wagon or Tasers, three officers had their fingers to their lips saying, "Shhhhhh!—ze town ize aschleep!"
How very Swiss. ❄
WHO SAID SWITZERLAND WAS EXPENSIVE?
The Canadian dollar may not be as strong as it was a winter or two ago, but there are still plenty of deals to be had. For 770 Swiss Francs (less than C$1,000 at press time), the three-star Hotel Jungfrau Lodge offered
Ski Canada
readers a seven-night stay (double occupancy) including daily buffet breakfast, four-course dinner, six-day Jungfrau skipass (which includes all valley trains to Interlaken and so on) as well as daily Sport Centre entrance for swimming and skating—and all taxes.
GETTING THERE
Swiss flies daily from Montreal direct to Geneva and Zurich with code-sharing from other major cities in Canada and Europe. Train or bus transfers between Zurich and Grindelwald are about two hours.
www.swiss.com
SKIS FOR RENT
» Some in the
Ski Canada
readers' group chose to rent skis from Europe's most ubiquitous ski shop,
Intersport Rent
, rather than schlep their own from Canada (and pay the airline's second-bag charge). What most didn't realize was that the rental rate included unlimited equipment changes as well as daily tunes. And typical of the Swiss, they know how to tune a ski better than anyone else. Top-end Stöcklis (made in Switzerland) were ready for the racecourse, silky smooth and razor sharp. Rentals have come a long way.
There are 12 locations of Intersport Rent in Grindelwald and the Jungfrau region, so if you feel like skiing powder in the morning in Grindelwald, head out with some wide boys. But after lunch, if you've noticed conditions have coaxed you up and over into Wengen and you want to put in some time on the
Lauberhorn
downhill (won by Ken Read, Toni Sailer, Klammer, the Hermanator, Schifferer, Bode…), you're welcome to swap at any shop for some on-piste cruisers for an afternoon of hardpack.
» Or…let Intersport Rent help you sneak away from the madding crowd. We traded in our equipment one day for complete touring gear, bought some lunch at the supermarket and met up with mountain guide Ralph Näf from Grindelwald Sports. It's always surprising how in such a crowded part of the world you can so easily find such incredible solace. (And all the nice powder that comes with it.) Even if you've never used skins, as long as you're competent skiing ungroomed slopes and are capable of walking (not running) uphill, you couldn't be under better care than a Swiss mountain guide.
Groups up to six can share in the cost (it'll add $100 or more to your lift ticket but since lift tickets are 60 per cent of the price of some North American resorts, it's not hard to justify the cost—and the rewards are well worth it). Soft-spoken Ralph offered mountaineering stories, material on Swiss culture and history, town gossip and several good suggestions for non-ski activities. An outstanding day.
SPECIAL THANKS
www.myswitzerland.com
www.myjungfrau.ch
www.chocolatfrey.ch
www.jungfraulodge.ch
www.swatch.com
www.graf-sportrent.ch