The Feral Cat: Great Northern Snow Cat
---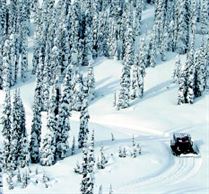 No signs or billboards will lead the way either. It's that kind of place. You have to want to get there. Or you have to have been there once before, like most of Great Northern's guests. After taking the ferry across Galena Bay and driving around ineffectually for more than an hour, we end up in Nakusp, at a pay phone, whose operator could ?nd no listing for either Great or Northern. In the end, we slink into the CMH heli-ski of?ce and ask for directions.
After backtracking down a side road, cleaving through an airborne wall of fat snow?akes in the twilight, we ?nally alight on Trout Lake, where a crusty gas station attendant tells us to turn around and go back where we came from—"to where the road turns from paved to dirt." That the road is covered in half a metre of new snow, and gaining by the minute, is academic to her. We clock two km on the odometer, et voila, the snow-laden Shangri- La of '70s cat-skiing: Great Northern.
We are greeted warmly by Charlotte, the new hostess, and shown to our rooms and given a short tour around the many-roomed lodge.
"Is there just the one cat here?" I ask.
"Yes. One cat, no dogs," she replies deadpan. How amusing. There must be many more cat jokes to come.
"You're not allergic, are you?" she asks. Pause. More jokes is right. Except now she's looking concerned.
"Where is the cat?" I ask, trying to keep up.
"She sleeps in the shed."

Great Northern was opened in 1979 by Brent McCorquodale, not long after his friend and fellow cat-ski pioneer Allan Drury started Selkirk Wilderness Cat Skiing down the road. "When I asked Brent about its beginnings," one of our group tells me with a chuckle, "he said he was looking for a way to make some money." Presumably, with nearly three decades under his belt, it's having the desired effect. The lodge is full, the heavens are dumping and tomorrow is ?lled with promise.
The next morning, we awake excited to see yet more snow—another 18 cm of fresh powder had fallen overnight. Our group of 16, plus guide Brent and rear guide Todd, all pile into the Pisten Bully, the interior of which is velour padded with contrasting padded buttons like a red and silver love van. I found myself looking for the bumper sticker on the back of the cab. You know the one: "If this cat's a-rockin', don't come a-knockin'."
The cat does rock, to be sure. Ours fairly grooves to the soundtrack of one of our fellow skier's home ski videos, which he plays for us on a portable DVD machine. As one of many repeat Great Northerners, he knew the ?rst ride up to the booty was at least an hour and half long so diversions, or a long nap, are welcome. Some play cribbage, while an orthopaedic surgeon reads "Robin Hood" in a large-print hardback.
When we arrive at the top, we are adrift in a sea of white. Deep powder white as far as the eye can focus.
"If there's anything you need to know, I'll tell you," says Brent, clicking into his remarkably long, thin, old skis. Pause. "There's not much to know."
And off we go into Morning Glory, a meadow of soft, slightly weighty snow that's over the knees. He's right, of course, there's not much to know. But there's quite enough to ski. Average runs here are in the 500-verticalmetre range, according to Todd. Our ?rst warm-up runs are about 300 metres on several choices among the bench terrain off the top.
"We've got lots of rolling, lots of naturally gladed runs," he explains in the cat on the way back up. "A few nice tree lines but not a lot of steeps."
It suits most in the group, all competent skiers and a few powder novices. We ski Blender, PB Corner and then S-Turns through lovely well-spaced trees with deep snow and wide-open lines. There's 75 sq km of terrain to ski here and Brent has put his stamp on this bit of Selkirk backcountry, much in the way one feels it's put its stamp on him.
At a break in the action I ask him how long he's skied on his pointy old Völkl 205s. A glacially long pause ensues.
"Quite a while."
"Ever tried the new fat ones?" Snow begins to pile up on our heads.
"I got these ?gured out. I don't need to change."
Evidently, Brent runs Great Northern the way he wants—and it's a style that coincides happily with the way his many returning guests want it, too. Some of the skiers here for the week have been ?nding their way two km short of Trout Lake now for 15 years, driving all day and night from Minnesota and beyond for their annual Great Northern ?x.
"I feel safe with Brent because he's been here so long," remarks one.
Which might be almost as long as his skis.
Cat Facts
LOCATED: One-and-a-half hours south of Revelstoke near the town of Trout Lake, B.C.
SNOW AND TERRAIN: Annual average snowfall is 1,500 cm. Guests have access to 75 sq km of expansive and varied terrain. CAPACITY: Two guides accompany a group of 16 skiers.
OPENED: 1979
RATES: All packages include meals, accommodation and skiing. Three days, $2,235- $2,930; six days, $4,265-$4,970.
MORE INFORMATION: 403/239-4133 or 800-889-0765; Great Northern Snowcat

Tags: Brent McCorquodale, British Columbia, cat-skiing, deep powder skiing, Great Northern, heli-ski, heli-snowcat skiing, heliski, heliskiing, Morning Glory, Revelstoke, snowcat skiing, Trout Lake