Reading Time:
2
minutes
We're all different shapes and sizes, that's why ski boots come in a variety of widths, forefoot heights, heel volumes, and lengths. Ski helmets not so much. Most people can fit in one of the three sizes most models come in, but not everyone has a "normal" shaped dome. For them there is the Giro Range MIPS.
It's the only helmet that I've seen that actually changes shape to fit better. If a helmet fit adjusts it's typically only the inside liner that's changing shape with a dial or click system. This cinches a band around the head, like in a bike helmet, to hold the helmet in place.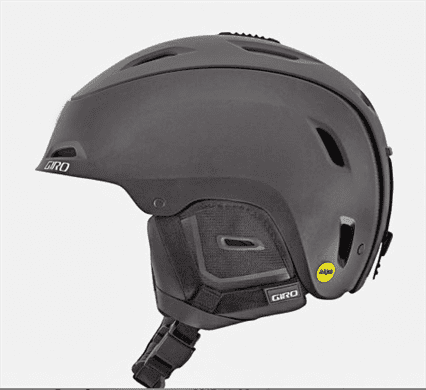 In contrast, the Range's fit dial adjusts the exterior shell of the helmet. The shell is two pieces, one on the summit extending down to the neck and another C-shaped wrapping around the front and sides of the head. Turning the dial brings the two pieces closer together or further apart. It offers about three centimetres of travel at the back of the helmet.
The advantage are two fold: it's a better fit than with an internal band which equals more comfort and safety and without the need for interior room for the fit system Giro could make the helmet lower profile. It's noticeably smaller which means more aerodynamic and less likely to hit your helmet on things.
In addition the Range is loaded with luxuries: ventilation, integrated POV mount, auto locking chin strap and MIPS, a impact absorbing system.
The only other helmet I've seen that comes close to this kind of customization is the UVEX JAKK+ Octo+. The Octo refers to a interior fit system made up of a bunch of independent arms that work like one of those metal head scratcher things. Slide the helmet on and each springy arm adjusts to fit the contours of the head. It's an auto fit system that works well with non-standard shaped heads: this is the only helmet a friend has ever found that fit her very round head. The drawback is the helmet is huge, requiring extra internal room to allow the arms room to contract and expand to fit individual head shapes.
The Range and JAKK are the beginning of a trend I see coming: more custom options for ski accessories. We've already got it in ski boots and skis. Giro has a carbon fibre helmet that may one day be heat moldable too. For those of us with unique shaped body parts – and by that I mean everyone – the days of settling for a less than perfect fit are nearly over.
RYAN REPORT is a frequent web post by Ski Canada magazine's technical editor, Ryan Stuart.