Reading Time:
4
minutes
Knowledge is power when it comes to safety in the backcountry, so continue your higher education at a different kind of ski school.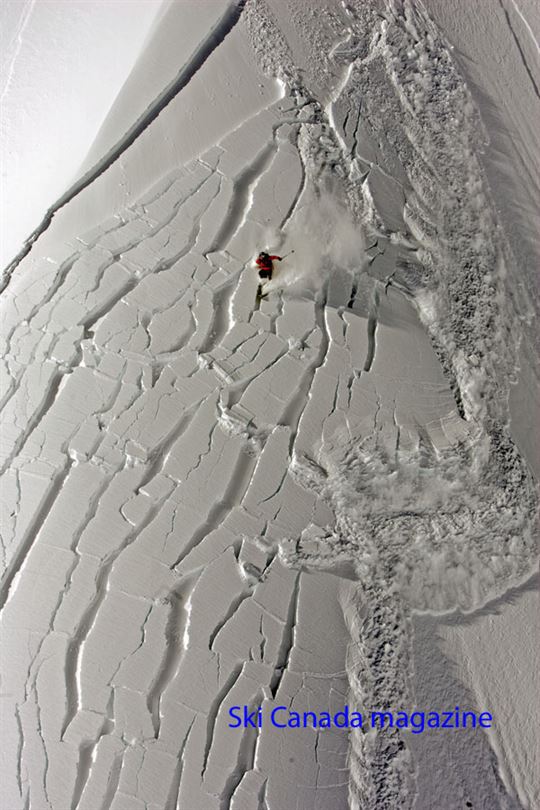 "Let's just go one at a time here and stay off that slope, eh?" I can't really see what Marty is talking about from my position 10 metres back on our skin track, but I trust him. Sure enough, as he stomps down a spot for us to turn around, he triggers a slide on the exact slope he'd pointed to. At 60 cm deep and 30 metres wide, the avalanche is plenty big enough and the debris that piles up on the flats below could clearly bury someone. But from our safe position Marty just nods, finishes his kick-turn and continues on his way.
So, Marty Schaffer is an avalanche wizard? No, but at just 26 years of age he's amassed enough experience and education to clearly understand the avalanche conditions that day and recognize terrain that "could" slide. There aren't a lot of certainties when it comes to avalanches. Even an old mountain guide with the grey beard and distant stare of a true wizard will tell you there are always surprises.
But the more you learn, the more you can limit your risk in the backcountry and enjoy the adventure, scenery and deep powder. Luckily, it's never been easier to start your education. With the wealth of resources and options available, though, it's a good idea to establish your goals early. Decide what type of snow geek you are and consider your academic (and possible vocational) path: 1) the Avid Recreationalist looking to get into the backcountry on your own and often; 2) the keen Weekend Warrior with ambition but limited time on snow; or 3) the Pro In Training who's looking at a career in the mountains. Now grab your book bags and stationery—it's time to get learned!
Everyone
All three classifications of students can get started on their own. Books and crusty old mountain men use to be the only way to learn snow science, but these days you can be entertained while being educated on your couch by watching the action-packed and well-thought-out video, The Fine Line (sherpascinema.com). Afterwards, you'll want to ski like the heroes in the film, but you may also want to delve a little deeper. The Avalanche Handbook by David McClung and Peter Schaerer is the bible of the industry, and no matter how many times you pick it up you will always glean a bit more. Bruce Tremper's Staying Alive in Avalanche Terrain is a lighter, more approachable text and a great place to start.
The Canadian Avalanche Centre (CAC) has developed an excellent online course at avalanche.ca/cac/training/online-course. This program and other educational videos on the site are completely free. Better yet, get paid while you study: surf on a slow day at the office!
The Avid Recreationalist
You need to get out there and get some hands-on training as safely as possible. Luckily, the CAC has developed a curriculum where you can learn from experienced instructors, on-snow, in the mountains. The AST 1 or Avalanche Skills Training course, is the place to begin. A two-day program focuses on the basics of the avalanche phenomenon, identifying avalanche terrain and safe travel practices. Companion Rescue is a major focus as well and participants are required to own, rent or borrow standard rescue gear (beacon, probe and shovel). AST courses are offered in almost every major mountain range in Canada, including Quebec and Newfoundland. For a list of course providers, head back to avalanche.ca.
The AST 2 is a five-day, more in-depth study. It gives participants time to get into the backcountry and practice safe travel while beginning to identify avalanche hazards.
Weekend Warrior
A week-long course could burn half of your annual ski days if you live in the flatlands. That simple math right there keeps a lot of people at the ski resort, but it doesn't have to. Hiring a guide to take you backcountry skiing is not only a great way to ski the best snow and have a safe adventure, it's also a great way to learn first-hand from an experienced backcountry traveller. With the right number of friends, it often costs no more than a lift ticket, and while you won't get a certificate afterwards, you will  be skiing powder while you study instead of sitting in a classroom. In almost every ski town on the planet, you'll find qualified ski guides who can customize a day-trip with just the right amount of tutoring-versus-skiing for you.
There are new twists on the classic avalanche course, too. The aforementioned Marty Schaffer is teaming up with freeski and ski-touring stars Chris Rubens and Greg Hill to provide a three-day instructional shred-a-thon at Rogers Pass. Students will be coached on how to scope and ski lines safely, and get valuable backcountry travel and avalanche safety tips. Think "academia meets faceshots." (skisandmountains.com)
Looking for something more informal? January 19-20 is Avalanche Awareness Days with events held nationwide. Educational options include on-hill rescue practices and tutorials at many resorts, and evening seminars and events. (avalanche.ca, do you have that bookmarked yet?)
Pro In Training
For those looking to work in the avalanche world, the Canadian Avalanche Association (the professionals' wing of the CAC) has developed a three-stage curriculum to become a certified avalanche wizard. Its Level I course is "…for persons seeking employment with avalanche risk management operations. Participants must be advanced skiers or splitboarders and should have considerable backcountry travel experience." This intense, week-long course costs upwards of $1,400—and if you hope to pass, come prepared.
After working in the field for a few years (and saving your pennies), you can take the Level II course. Pass it and you might make a bit more money, which you can then save for the Level III. The Level III is relatively new and it can take years of experience just to get in the door. It remains a secretive sect, but rumour has it that if you pass this year-long exam, you'll be presented with a wizard's staff of your own.