Reading Time:
5
minutes
The other side of Kicking Horse isn't gnarly at all – and that suites some skiers just fine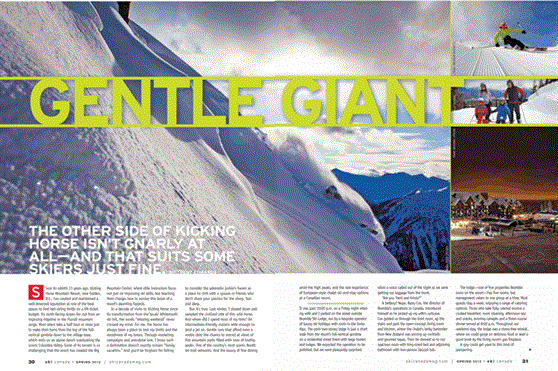 Since its rebirth 11 years ago, Kicking Horse Mountain Resort, near Golden, B.C., has created and maintained a well-deserved reputation as one of the best places to find heli-skiing thrills on a lift-ticket budget. Its north-facing slopes fan out from an imposing ridgeline in the Purcell mountain range. Most skiers take a half hour or more just to make their turns from the top of the full-vertical gondola down to the village base, which rests on an alpine bench overlooking the scenic Columbia Valley. Some of its terrain is so challenging that the resort has created the Big Mountain Centre, where elite instructors focus not just on improving ski skills, but teaching their charges how to survive this beast of a resort's daunting hazards.
In a decade of visits to Kicking Horse since its transformation from the locals' Whitetooth ski hill, the words "relaxing weekend" never crossed my mind. For me, the Horse has always been a place to test my limits and the steadiness of my knees. Through marketing campaigns and anecdotal lore, I know such a destination doesn't exactly scream "family vacation." And you'd be forgiven for failing to consider the adrenalin junkie's haven as a place to chill with a spouse or friends who don't share your passion for the steep, fast and deep.
But it's true. Last winter, I slowed down and sampled the civilized side of this wild Horse. And where did I spend most of my time? On intermediate-friendly cruisers wide enough to land a jet on. Gentle runs that afford even a rookie skier the chance to marvel at views of five mountain parks filled with rows of toothy peaks. One of the country's most scenic Nordic ski trail networks. And the luxury of fine dining amid the high peaks, and the rare experience of European-style chalet ski-and-stay options at a Canadian resort.
****************************************************************************
It was past 10:00 p.m. on a Friday night when my wife and I parked on the street outside Bramble Ski Lodge, run by a bespoke operator of luxury ski holidays with roots in the Swiss Alps. The posh two-storey lodge is just a short walk from the resort's full-vertical gondola on a residential street lined with large homes and lodges. We expected the operation to be polished, but we were pleasantly surprised when a voice called out of the night as we were getting our luggage from the trunk.
"Are you Trent and Krista?"
A bellboy? Nope. Barry Cox, the director of Bramble's operations in Canada, introduced himself as he picked up my wife's suitcase. Cox guided us through the boot room, up the stairs and past the open-concept living room and kitchen, where the chalet's lanky bartender from New Zealand was serving up cocktails and gourmet tapas. Then he showed us to our spacious room with king-sized bed and adjoining bathroom with two-person Jacuzzi tub.
The lodge—one of five properties Bramble owns on the resort—has fi ve rooms, but management caters to one group at a time. Most guests stay a week, enjoying a range of catering options. Those who take fully catered receive a cooked breakfast, room cleaning, afternoon tea and snacks, evening canapés and a three-course dinner served at 8:00 p.m. Throughout our weekend stay, the lodge was a stress-free retreat, where we could gorge on delicious food or read a good book by the living room's gas fi replace.
A guy could get used to this kind of pampering.
But even the nicest cabin can induce fever, so in the spirit of prevention, we walked over to the gondola to spend a day sampling the Horse's offerings. While the resort is heavily weighted toward advanced and expert runs, including 85 inbound chutes, there's enough beginner and intermediate terrain for those in your party to smoothly progress from rookie to ski film star.
The resort's management knows their market niche is steep-'n'-deep, but they also realize that the majority of weekend warriors prefer their runs nice-'n'-neat. "Crystal Bowl is our bread-and-butter slope, because it's all a gentle 25 degrees," said Kicking Horse President and CEO Steve Paccagnan.
Crystal Bowl, just a short ski down the cat-track from the top of the gondola, is a window into big-mountain skiing for the average skier. Protected from wind on both sides by CPR Ridge and Redemption Ridge, the bowl is like the bottom of a massive snow globe. I bounced through boot-top powder here with a wide grin on my way down to Showoff, a popular blue run that barrels straight down the middle of the resort's tenure beneath the gondola.
If your ski group isn't dominated by big-mountain boys, it's easy to plan a gentler ski day. Just step out of the gondola after your ride to 2,300 metres above sea level and turn right by Eagle's Eye Restaurant. Pop into your skis and follow It's A Ten run, which guides you 10 km down to the village base on gentle slopes. Don't forget to stop at bends in the run to take in yet another stupendous view of the Columbia Valley and the Rockies beyond.
"We get 3,000 skiers on a big day, so every skier gets an acre of terrain"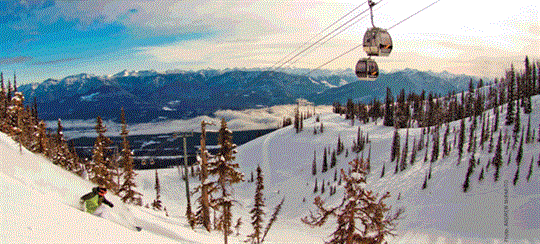 Stay on the wide cat track if you want to play it safe for your first run, or veer off near the bottom to sample other runs off the Catamount. I found the pace of this fixed-grip quad bothersome at first, until I realized that it was forcing me to complete my mission—slow life down. Our favourite easy groomer of the day was Big Ben, which was the fattest of the Horse's many super-wide cruisers. Having the whole run to ourselves on a Saturday afternoon, we made ridiculously wide turns the whole way down. "We get 3,000 skiers on a big day, so every skier gets an acre of terrain," Big Mountain Centre guide Andy Walton later explained.
If you're skiing, you're going to have a big appetite. Parents can sit at a patio table in the base village and watch their kids learn in the beginner fun zone while noshing on California rolls from the Sushi Kama
café or sipping a coffee from Peaks Patio. Or if you remember to reserve a table before your trip, you can take your grumbling stomach and soon-to-be-adoring date back up the gondola to Eagle's Eye Restaurant. On our second night, I brought my wife to this elegant chalet for a special five-course dinner paired with wines from Nichol Vineyards on the other side of Rogers Pass in the Okanagan. The theme of the monthly dinner series that night was Swiss Infl uences, so we dined on cheese and beer soup with apple reduction, and veal tenderloin in mustard cream sauce with a side of wild mushroom roesti.
On a bright Sunday morning, we got a taste of skinny skiing on the little-known gem of a Nordic trail system near the resort. Dawn Mountain Nordic Centre, a minute's drive from the day lodge, offers about 30 km of trails on a network maintained by the Golden Nordic Ski Club. A few hours of kicking and gliding instead of letting gravity pull us downhill on alpine skis was a great way to burn off all the gourmet food stretching our bellies. But our workout kept getting waylaid by stops to absorb the fairytale-setting. Peeking through openings in the forest, we gaped at classic peaks and long lakes, all covered in a fresh coat of white. The only sounds were of spruces creaking in the wind. ❄
Lifts, lodging, rates, reservations, dining, directions, camps, clinics, contests and more: www.kickinghorseresort.com
You can follow Trent Edwards @outdoorwriter