Reading Time:
3
minutes
WRITTEN BY RON BETTS, TEST EDITOR
PHOTOGRAPHED BY JOHN EVELY
TESTPIT CO ORDINATION BY JOE GRIERSON
Of all the wonders of modern convenience that have emerged in my relatively short time on this planet, I have to say that Facebook is near the top of my list of faves. The way it offers an unapologetic, voyeuristic look into the lives of others is simply fantastic. I'm not talking about the instant knowledge that some friend you haven't spoken to since grade school just made a ham sandwich or hung out the laundry, what I dig is the way it connects like-minded people from all corners of the world.
For instance, if you're a skier the odds are that many of your friends are also skiers or riders, and just this week alone I've been distracted by postings about Canadian ski team member Mike Janyk's training progress in New Zealand. I've been taken off course by great video of the World Heli Challenge, a big-mountain event that recently took place in the Southern Hemisphere. I got caught daydreaming after a good friend just posted amazing shots of a storm cycle in Portillo, Chile. You get my point; winter is not just for winter anymore. Like the great Warren Miller says, "It's always snowing somewhere."
One of the posts that really got me thinking recently was about filmmaker Greg Stump re-releasing some of his classic titles. If you were a skier in the late '80s/early '90s, it would be hard to say that you weren't either impressed or inspired by films like License to Thrill or the iconic Blizzard of Aahhh's. These films not only changed the way we looked at the canvas of the mountain, but ultimately influenced the tools we used to draw our lines. The more time skiers spent off-piste, the more we understood that these conditions demanded different skis from the ones being used on groomed runs.
With that in mind, this issue we're taking a look at Big Mountain skis. These skis are, in my opinion, a must-have in everyone's quiver. You might not ski on them every day, or ski the kind of terrain used in their marketing campaigns, but the days you do will be much more memorable—and the pictures you get will look a heck of a lot better on your Facebook profile. So to all my friends out there, less posts about what you just had for dinner and keep the great photos, videos and comments about skiing coming. You've already got me excited about winter.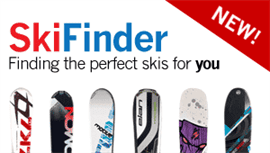 Try our new SkiFinder widget. Input your skiing profile – your weight, your skiing ability, your skiing style and usual snow conditions – and SkiFinder will sort the data in the Ski Canada Test and display top 3 and others based on your inputs.
Individual ski test report links below page layouts. Score is the average of test card scores for Characteristics: initiation, edge grip, stability, agility, versatility, short radius, long radius, overall impression.