Reading Time:
3
minutes
Munich's annual ski industry trade show ISPO is staggeringly massive. Thankfully technical editor Marty McLennan was able to ride between booths with a dedicated transportation attendant (see bikini).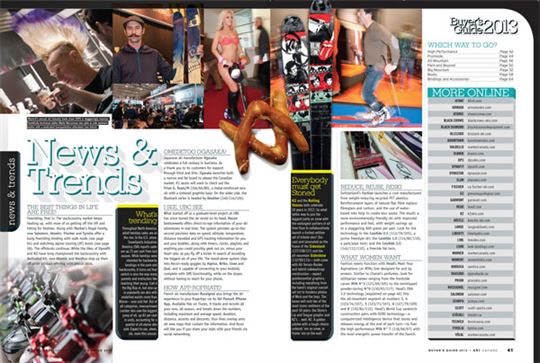 THE BEST THINGS IN LIFE ARE FREE!
Freeriding, that is. The slackcountry market keeps heating up, with more of us getting off the lift and hiking for freshies. Along with Marker's Royal Family, now Salomon, Atomic, Fischer and Tyrolia offer a burly freeriding binding with walk mode and matching alpine touring (AT) boots. The offshoots continue. While the likes of Dynafit and K2 have long championed the backcountry with dedicated kit, now Atomic and Nordica step up their off-piste product offering with precut skins.
What's trending
Throughout North America, adult twintips sales are on the rise. In the U.S. alone, SnowSports Industries America (SIA) reports sales are up 25 per cent from last season. While twintips were intended for backwards landings in the park and backcountry, it turns out that switch is also the way many parents and instructors like teaching their young. Call it the Big Buy-in, but also up in popularity are skis with underfoot waists more than 80mm—and sold flat. But of all categories, reverse/mixed camber skis saw the biggest jump of all, up 83 per cent in units, accounting for a quarter of all alpine skis sold. Expect to see, ahem, ski, more this season.
OMEDETOO OGASAKA!
Japanese ski manufacturer Ogasaka celebrates a full century in business. As a thank you to its customers for support through thick and thin, Ogasaka launches both a narrow and fat board to please the Canadian market. K1 racers will want to check out the Triun G. Team/M (104/66/89), a metal-reinforced race ski with a sintered graphite base. On the wider side, the Blastrack series is headed by Doubler (140/114/126).
I SEE, UBC SEE
What started off as a graduate-level project at UBC has since turned the ski world on its head. Recon Instruments offers direct-to-eye information of your ski adventures in real time. The system provides up-to-the-second precision data on speed, altitude, temperature, distance travelled and GPS tracking information for you and your buddies, along with timers, clocks, playlists and anything you could possibly geek out on, minus your heart rate, as you fly off a kicker in search of recording the biggest air of your life. The stand-alone system slips into Recon-ready goggles by Alpina, Briko, Uvex and Zeal, and is capable of connecting to your Android, complete with SMS functionality, while on the slopes without having to reach for your phone.
HOW APP-ROPRIATE!
French ski manufacturer Rossignol also brings the ski experience to your fingertips via its Ski Pursuit iPhone App. Available free on iTunes, it tracks and records all your runs, all season, and breaks down the numbers, including maximum and average speed, duration, distance, ascents and descents. Your lines overlay onto ski area maps that contain the information. And Rossi will like you if you share your stats with your friends via social networking.
Everybody must get Stoned
K2 and the Rolling Stones both celebrate 50 years in 2012. So what better way to join the biggest party on snow with the rockingest partiers of all time than to collaboratively launch limited-edition set of tribute skis? Die-cast and laminated on the frame of the Sidestash (1137/108/127) and the all-mountain Sideshow (1132/90/1115) —both come with All-Terrain Rocker and hybrid sidewall/cap construction —expect quintessential graphics, including everything from the band's original concert set list to timeless photos of Mick and the boys. The bases will rock two of the most iconic emblems of the past 50 years: the Stone's Lip and Tongue graphic and K2 's…well, K2. A golden jubilee with a tough choice: unleash 'em on snow, or frame 'em on the wall.
Reduce, Reuse, Reski
Switzerland's Faction launches a core manufactured from weight-reducing recycled PET plastics. Reinforcement layers of natural flax fibre replace fibreglass and carbon, and the use of water-based inks help to create less waste. The result: a more environmentally friendly ski with improved performance and feel, with weight savings up to a staggering 900 grams per pair. Look for the technology in the Candide 0.5 (113/79/1105), a junior freestyle ski; the Candide 1.0 (114/82/1110), a park/pipe twin; and the Candide 3.0 (142/112/132), a freeride fat twin.
What Women Want
Fashion meets function with Head's Meet Your Aspirations (or MYA) line designed for and by women. Similar to Chanel's perfumes, look for utilitarian names ranging from the frontside carver MYA N°3 (121/69/105) to the twintipped powder-loving N°9 (130/93/117). Head's ERA 3.0 technology hits the all-mountain segment at numbers 3 , 4 (123/74/107), 5 (123/71/107), 6 (127/79/109) and 8 (130/84/112). Head's World Cup sandwich construction pairs with KERS technology—a computerized intelligence device that stores and releases energy at the end of each turn—to fuel the high-performance MYA N° 7 (118/66/97) with the most energetic power transfer of the bunch.