Reading Time:
3
minutes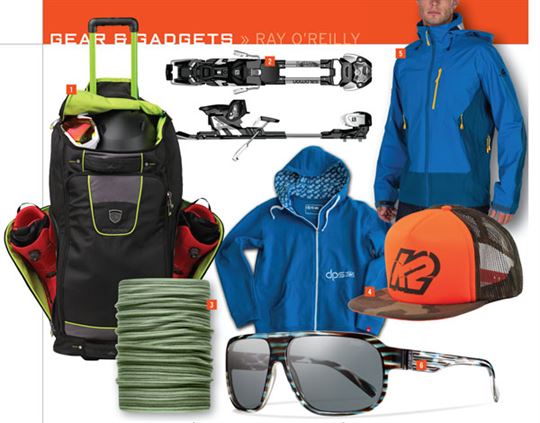 1.  Nice wheels! No, seriously, if you could add a motor to this bag, you'd drive it through an airport. Tough and durable, High Sierra's Pro Series Trapezoid Wheeled Duffel (US$160) isn't so heavy that half of your 23-kg airline limit is taken up just by the empty bag. It's not going to hold a Volkswagen, but if you're a good packer, there's enough room for a five-day ski trip. It also stays upright when fully loaded, keeps your gear dry in slush around airports and holds your boots nicely in separate side pockets. highsierra.com
 2.  Even if you're only on your skins a few times a year, using a touring binding every day has become a standard for many skiers who don't have the coin to keep a quiver of skis at the ready, or can only bring one pair to the mountains. The Salomon Guardian WTR 13 ($479) touring binding offers full alpine performance but still plenty of DIN for lighter bodies, with a low profile and wide platform. Its easy and instant height and wing adjustment, boot compatibility and Salomon's rep leaves you with plenty of confidence when you need your bindings the most. salomon.com
3.  Warm your neck, head, chin and cheeks. The multi-faceted Buff neck muff can be worn as a pirate's kerchief, a habitant's tuque or an under-helmet unisex burka. Change your look with something bright and patterned, or go for the classic black or grey. Buff's merino wool (and also microfleece), high-stretch, seamless, tubular neck warmers are made in Spain and are the definitive must-have for everyone's winter kit—as important as gloves or goggles. If we had a product award at Ski Canada, Buff would win hands down. From $34, Buffcanada.com
4.  It's one thing to pay Roots or A&F so you can wear its logo on your chest and let others know you have an association with, well, a store in a mall, but it's something else when you're proud of your favourite ski company. Even if you're not ready to buy new skis, you can always leave the website with some company swag. K2's Dinner Time Trucker cap ($20, k2skis.com) is sure to impress the ladies (and it's great off-season for fishin'), while DPS's plush Pato Hoodie ($70, dpsskis.com) needs no after-market bedazzling—pure cool.
5. Unlike, well, almost everyone else, Westcomb doesn't manufacture in China, they're made right here in Canada—and all serious outdoor gear companies are paying attention. Westcomb's Apoc Jacket ($480) has an uber-light, full-stretch active feel to it that athletic bodies love, whether they're ripping lines in the Coast Mountains or paddling through a summer rainstorm. Polartec's NeoShell is Westcomb's choice of "waterproof/breathable" and we think it was a wise decision. The 485-gram piece layers up nicely, and the helmet-fit hood is easily snugged up when not in use. The Apoc includes a good venting system as well as extra pockets without overdoing it. westcomb.com
 6.  Of the gazillion sunglasses available by Smith Optics, 21 models (like the Gibson, $230 shown here) now offer ChromaPop, the company's proprietary filtering technology that makes life beyond the lens seem like your brain's dialled up the saturation and contrast levels on PhotoShop. Specific colours are blocked while others are enhanced, with polarization part of the lens, i.e. film free. You recognize depth and detail faster—and look great doing it. smithoptics.com