---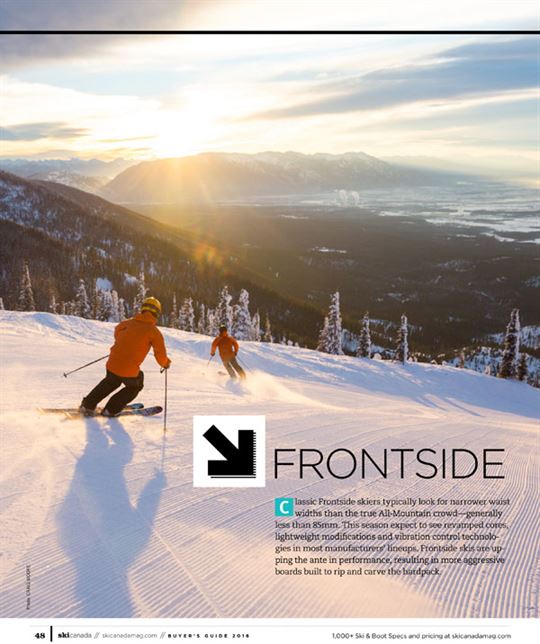 Classic Frontside skiers typically look for narrower waist widths than the true All-Mountain crowd—generally less than 85mm. This season expect to see revamped cores, lightweight modifications and vibration control technologies in most manufacturers' lineups. Frontside skis are upping the ante in performance, resulting in more aggressive boards built to rip and carve the hard-pack.
A NEW CONSTELLATION
Salomon unleashes its all-new women's six-ski All-Mountain Constellation collection that tends toward the frontside with waist-widths from 75 to 85mm. The technologic two-punch of Comfortech and Control Frame seeks to improve confidence in all snow conditions. The former is an under-the-binding, vibration-reducing polymer in a range of stiffnesses depending on the model. Control Frame technology offers torsional stability from the binding out to the extremities, again in a range of stiffnesses depending on the model. Named after stars visible from mountaintops near you, the series comes in lightweight constructions with an easy-turn, frontside-specific Carve Rocker profile and Salomon's re-engineered Lithium binding, now 500g lighter than last year. Expect a 15 per cent reduction from last year's equivalent model. At the widest of the line, the Gemma comes laced with basalt and offers a longer control frame, with higher-density durometer for hard-charging women. "We can't control the conditions," says Salomon, "but we can control the platform underneath your foot."
POWER PLAY
Blizzard upgrades its Power FS series via its new Integrated Carbon Control technology. This season, look for improved stability, reduced swingweight and a reduction in vibration, courtesy of carbon fibre laid at 90 degrees to the ski at the extremities. Experienced skiers will want to ride the Power X8 (125/81/108mm) or the ladies' Viva X8 (124/81/107), complete with an upgraded topsheet, early-rise tip and tail, and camber underfoot.
FOURTH DIMENSION
Elan revamps its award-winning Amphibio by adding to the lineup a brand-new fourth dimension this year. Amphibio's unique technology includes a dedicated, asym-metric left and right ski, each with cambered inside edges for grip and rockered outside edges for slide. However, for this season expect a completely new concept of front/back geometry as its dual layers of titanium come preshaped convex in the front end and concave in the stern, making for a simultaneous increase in stiffness and preciseness in turn initiation, improved exiting properties, and a reduction in chatter and weight (it dropped 10 per cent from last year). Look for the Amphibio 4D technol-ogy in six frontside-ripping skis (five unisex, one women's) this year from 73 to 88 underfoot.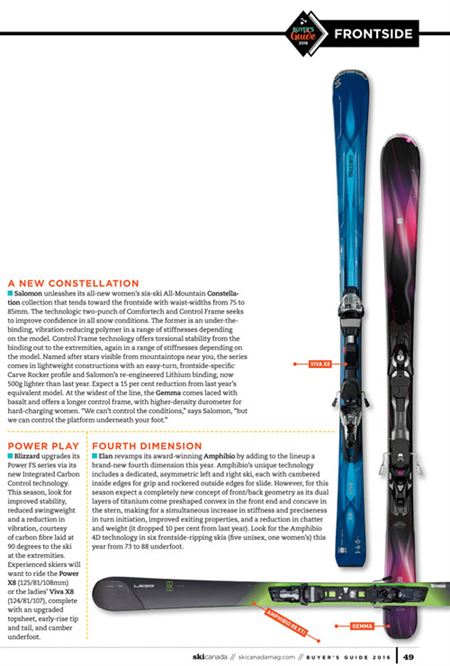 LASER TREATMENT
Stöckli updates its Laser Series with its World Cup-tested Vario Racing Technology (VRT). Look for a reduction in the thickness of the Titanal in the skis' extremities with increased snow contact, precision and control. VRT will be available this winter in the Laser GS, SL and SC. Like the rest of the Swiss company's skis, Lasers are put through a 25-step finishing process to provide the skier with a premium on-snow experience.
THE WERKS
Völkl updates its high-performing carbon-Titanal V-Werks Code (124/75/104mm) with the company's entire arsenal of technologies. The specially milled 3D Ridge Core ups performance by dropping weight at the extremities and making a special one-screw plateless seating for Marker's brand-new R-Motion2 XTRALIGHT wide-ride binding. The V-Werks Code also gains from World Cup technology with the addition of the UVO (Ultimate Vibration Object) in the foredeck and World Cup P-tex 4500 bases. Tip and tail rocker with camber underfoot translates this into a highly manoeuvrable and precise-turning ski.
FIRST INSTINCT
Graphene powers Head's five-ski Instinct lineup. Located underfoot, the material's unique properties mean a reduction of mass—wood and glass fibres get shaved off—for improved responsiveness. The company claims that the skis' lower-profile and its updated ERA 3.0 architecture (a mix of rocker, shape and improved rebound) combine for superior steering, increased flotation and ease-of-turn completion. The top-shelf Power Instinct Ti Pro (124/82/109 at 16.5m radius) comes with full wood core, World Cup-styled sandwich construction with two layers of Ti. Less-aggressive skiers looking for easier turn initiation can look to the trickle-down versions in the 74-83mm underfoot range.
NEW TRIUN
Ogasaka's racy Triun SL gets narrower at the waist, but adds the muscle in construction material. The company says the new specs (118/65/99) and material change bring even better grip and torque in high velocity.
RACE PEDIGREE
You can see the Progressor's race DNA all over its topsheet, but World Cup trickle-down is more than just skin deep in this Fischer lineup. Look for Air Tec construction (where the wood core is reduced by a quarter without performance loss through specialized milling), piste-specific rocker, a dual-radius sidecut and sintered bases. At the top of the line, the F19 Ti (122/75/104) adds on Fischer's storied Racetrack plate, sandwich sidewall construction, twin Titanal layers over a beech/poplar wood core, plus a touch of carbon to stiffen things right up. According to Fischer, these are "not lightweight, but the right weight." No doubt high-level ski instructors will take a close look at these this season.
POWER BY CHOICE
Each of Rossignol's Frontside range is based on power, with high-end skiers who want heft heading for the top-shelf Pursuit 800 Ti (127/71/107). Fueled by Prop Tech, the company's turn initiation technology, the ski offers a novel approach to nuancing the effects of a dual layer of steel by milling lengthwise slots, resulting in improved trans-versal ski flex, power transfer and ski control by improving pressure control at the extremities and concentrating power underfoot—a World Cup innovation at the consumer level. The oversized sidecut makes for a grippy, fast-turning product (the 800 Ti turns a 15m radius). While lightweight Air Tips, rocker and poplar cores are ubiquitous throughout the lineup, titanium isn't. Pursuit 800 and 700 use it, basalt powers the 600, while the entry-level 200 employs carbon.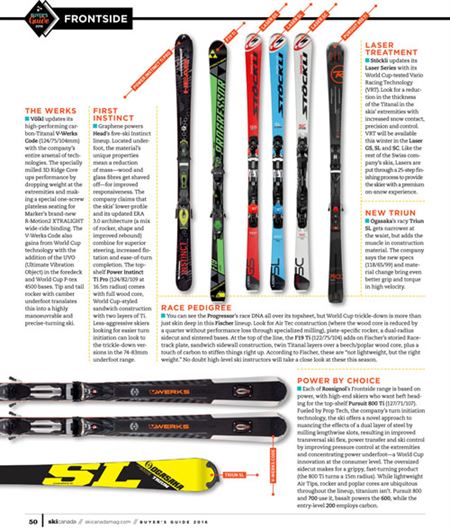 1,000+ Ski & Boot Specs and pricing at skicanadamag.com
---
Tags: Blizzard, buyers guide, Elan, Elan Amphibio, Elan Laser Series, Fischer, frontside skis, Head, Head Instinct, Ogasaka, Ogasaka Triun SL, Power FS, Rossignol, Salomon, Salomon Gemma, ski reviews, Titanal V-Werks Code