Reading Time:
3
minutes
The ski industry considers Frontside skiers as those who dream of sugar-coated
waffles—corduroy bathed in a shimmering layer of fresh flakes.
Their playground lies under and near the lifts, where access is best
and fall lines are guaranteed. The innovations for these skiers come clearly in
the form of rocker technology, which promises easier turn initiation, yet silky
stability, and a solid, grippy edge under pressure of a late-afternoon midwinter
snowpack. Look for sidecuts combining turn-on-a-dime slalom radii with
more cruisy GS profiles. Weight remains a factor, with engineers developing
a plethora of lighter solutions to make your mountain ride better than ever.
The most skilled Frontsiders might also want to turn to the High-Performance
section, for racier carving machines.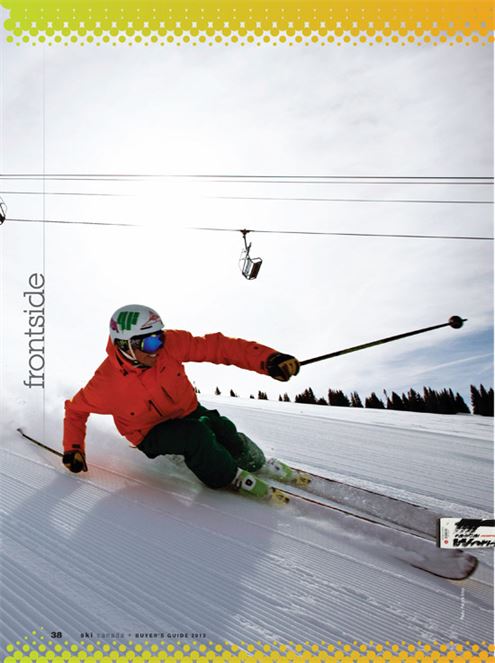 Ride the Mountain
This year Völkl plays a full house with its
all-new Ride the Mountain (RTM) series.
The German manufacturer, whose booth
at the industry ski show ISPO in Munich
was bustling, offers a half-dozen rockered
models, each tailored to fit a different skier
type and ability since each comes with a
different construction. Experts interested
in moderate full rocker for on- and off-slope
prowess should check out the RTM
84, 80 and 77 (each number represents
underfoot width). The RTM 80 and 84 come
with the brand's iPT WideRide bindings
for improved power transmission across
the burlier boards. Confi dence-seeking
intermediates will want to ride the RTM 75
iS, 75 and 73, all packaged with bindings
and featuring slight tip-rocker for ease in
initiating and linking turns.
Dynamic duo
Salomon adds to its 24 Hours series with
a duo of hard-charging models for experts:
Mustang (119/72/103mm sidecut) for those
with a penchant for medium turns and high
speed; and X-Kart (122/71/106) for short-turn
fanatics. Both come with sandwich sidewall
construction, full wood cores, Salomon's
vibration-reducing Powerline Titanium inserts
and double Ti laminates. The former gets a racy
boost from a 3D carbon-enforced frame and
core, while the latter is a semi-twin and proudly
claims to be the fi rst rockered carving ski.

Aggressive Frontside
Nordica has revamped its offering for
aggressive Frontsiders. Check out its Fire
Arrow series, which unites a wide sidecut,
twin spatula tips and an aggressive core with
a slalom tip and GS sidecut. The lineup sells
with 70-80mm waists. Nordica has also come
up with a series of three-buckle boots to match. Demanding women will want to check out the Cinnamon Girl XBI CT.
De-LX
Style and precision come hand-in-hand in
Kästle's LX72, a lightweight, no-compromise
Frontside carver. Designers created a softer
longitudinal fl ex with high torsional stability
in the LX series by enclosing a conventional
sandwich core with titanal layers for optimum
flex and responsiveness, and a multilayer
fibreglass cap. Of course, the ski also comes
with proprietary Hollowtech tip technology
and a 117/72/99 sidecut.
Full-suspension Frontsiders
"Mountain bikers got 'em; time we did, too," say the folks from Blizzard. And here it is in all
its glory: Blizzard's IQ-Power Full Suspension Technology. The industry's pioneers have the oil piston integrated into its stunning IQ binding system, offering chatter-free comfort and control at higher speeds. The G-Power Full Suspension IQ rides on a sandwich compound sidewall construction with carbon details in a 123/72/105 sidecut.

A Cascade of shapes
At the heart of Rossignol's 9GS Cascade Ti
are varying shapes of metal and fi breglass
laminates at staggered lengths, making the
tip lighter and improving swing weight for
quick and adaptable turn initiation. The
uniquely layered shapes combine over a
wood core with titanal laminates flexed with
Power Turn Camber for tip torsion control,
smoothing turn initiation and improving full
edge contact. The ski comes in 162, 168, 174,
180, 186 cm lengths.
Complete 2012 ski specifications and suggested retail prices.