Reading Time:
10
minutes
Lake Louise, Panorama, Fernie and Castle Mountain proved to be the perfect picks for a good ol' ski safari.
Photos by Josie Boulding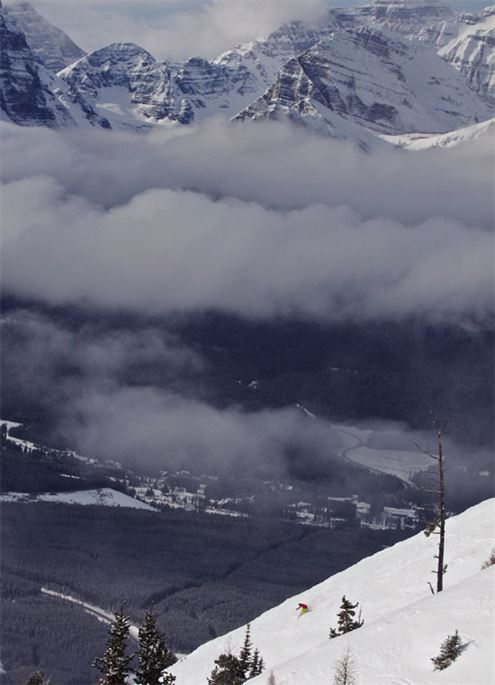 It hasn't snowed in a month." Not the words you hope to hear days before hopping on a plane for a ski trip around the Canadian Rockies. But that's exactly what I was hearing over and over again. From Lake Louise to Panorama to Fernie, after an epic early season last autumn, the snow gods had gone on vacation for the month of February. My mental daydreams, usually images of Rockies powder, steep chutes and soft snow, were replaced with a nightmare of grass, rocks, core shots and vast, icy mogul fi elds. I knew it was bad when my retired dad, a diehard skier who lives in Calgary, declined an invitation to ski with us.
He was turning down six days of skiing at four very different resorts—Lake Louise, Panorama, Fernie and Castle Mountain—and no less than three roadside hot springs, all linked by a loop of some of the most scenic highways on earth. For my two buddies and me, it was the perfect ski road. Two days before our flight the only thing left to do was pray.
The scene out the plane window in Calgary didn't bode well: brown grass and just a few remnant snow drifts. Outside it felt more like May than winter. I was so down I didn't notice the bank of clouds obscuring the mountains. But by the time we rounded a big bend just shy of Canmore, the first fl akes were blowing past the car. Inside Banff National Park it was snowing for real. Things were looking up.
Once in the town of Banff we beelined it to the oldest bath on the tour, the Sulphur Mountain Hot Spring. With the snow now pounding down, we paddled around the pool and prepared our muscles for what was already looking to be more promising than expected. After our bodies were infused with minerals, we were ready for different liquid replenishment, so we headed to St. James's Gate, an Irish pub just off Banff Avenue, or a late dinner and a pint. The new nowfall dominated the chatter around the bar.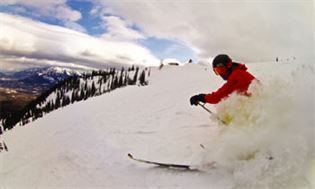 The next morning was calm, clear and blanketed in white – a perfect day n the mountains.I hadn't been so excited to ski in years. As a teenager I skied The Lake exclusively; I had a few old favourites I wanted to revisit. So with our big skis on, we headed straight for the backside, down short shots off Saddleback and the circuit from the top of Paradise Chair to the Poma and then down Whitehorn 1. Back up Paradise we opted for an alpine bump run down the edge of East Bowl and into the tight trees. Shin-deep snow covered everything.
We caught up with our hypoglycaemia at the World Cup Alpine Room in the main lodge with a big plate of made-to-order pasta. The ski area has worked hard to both increase the quality of food as well as mtake it more affordable, Says The Lake's Sandy Best. "Skiing is expensive. This is something we can do to ease the burden."
"This echoes a change I'd noticed all over Lake Louise, renewed focus on customers and staff. Everyone seems friendlier and happier than I remember. And I'm definitely happy, post-lunch, as I follow Best to some of his favourite spots like Rodney's Ridge and Outer Limits. On one lift we share a ride with Richard "Rocket"" Miller, the head of avalanche control.
"People say we don't have a lot of snow this year," Rocket pontificates between squawks on his radio and spitting chew. "But you don't need a lot here. Where else can you ski so much wild terrain with so little now?" I can't argue. Some of the runs, like Gravity Pull, are ridiculously steep and tight. I'd be surprised to see them skied in Whistler, let alone in a low Rockies snowpack, yet they're tracked up by noon. "If you cut your chops here, you can go anywhere and rip like a champion," Rocket says. "To ski hard here you have to be able to avoid crap." And then he pushes off from the top of the lift, pops off at a cat road and races away to help throw some bombs.
A couple of hours later Louise is behind us and we've crossed into BC. on our way to Panorama. Already we've stopped four times for photo ops: aptly named Castle Mountain draped in snow, monochromatic snags in a fresh burn, evening sun on the peaks and the overhanging rock of Sinclair Canyon. We slip into the second hot spring en route, Radium, before heading for our slopeside accommodation at Panorama. With barely dry hair, we notice the massive Panorama Hot Springs pool is right outside our condo, so we compare its waters before walking to the T-Bar and Grill for late-night dinner.
The resort had recently been sold to a group of Panorama lovers from near and far, but Intrawest's fingerprints are all over the compact village. The next morning, as I wander down the village pathways, I feel like I'm in Whistler without the crowds and it's not just the unseasonably warm weather. Modern mountain-rustic lodges sit shoulder-to-shoulder with several estaurants, caés, shops and the ski runs. Monster vacation homes peek from between the trees.
Rick Jensen, the resort's new CEO, is a real estate developer from nearby Cranbrook who's been working in the area building vacation homes for years. He's also a Panorama ski bum. The weekend before, Jensen tells me with pride, he skied 30,000 vertical feet in three days – with his granddaughter. Jensen led the purchase from Intrawest, bringing together friends, former clients and local business owners to buy the resort from the cash-strapped resort conglomerate in January 2010. With a board full of property owners and skiers, the goal is to be the best family-friendly resort in North America.
We begin our day by riding the Mile Quad and then the Champagne Quad most of the way up the mountain. Both lifts are long, but the Champagne, at two km long, seems to never end. And neither do the immaculately groomed runs underneath it. They roll away again and again, the perfect high-speed, roller-coaster warmup.
After a few cruisers we connect with Stu Bilodeau, the head of the Showoff Terrain Park. Fresh off big-air competition win, he spins and hucks while I nail sick straight airs. Bilodeau tells me he tests all the jumps before they open the park to the public to make sure they're safe, and he designs them so there are more launches than kickers, which makes them friendly for terrain park wimps like me and superstars like Bilodeau.
Frustrated at watching him perfectly land yet another switch-360-mute, I point my tips toward Fritz's,a fll-line ripper. The edge of the run is picking up the sun, and my edges bite in with every corny turn. I ski it twice more before ending the day with a quad-burning, summit-to-valley run in Taynton Bowl, where there's surprisingly still plenty of untracked snow.
The drive south through the Columbia Valley is beautiful, with mountains on both sides, grassland in between and elk everywhere. There's also a third hot spring at Fairmont, not that we need any more steamy diversions. It seems as though we're stopping every 15 minutes to take in the quaint downtown of Invermere, Elk wandering across farmer's fields, alpenglow on the Rocky Mountains and a slumping cabin with snowy peaks in the background.
We arrive in Fernie in the dark and are up early to meet with Shawn Clarke. For the last 16 years, Clarke's skied Fernie and taught in the ski school, where he recently helped start a steep-and-deep program. He leads us on a tour of his favourite haunts, from one side of the mountain to the other cross five alpine bowls separated by treed ridges.
We're happily surprised to find plenty of soft snow and ski through the trees, working the terrain for the best aspect and fall line. Almost every run ends with a natural halfpipe or gully and then a high-speed ski-out. After five runs, I'm smitten. Fernie is a skier's playground. Natural features – road gaps, cliffs, jumps, halfpipes, gullies, spines and more – are everywhere.
Exploring on our own after lunch, we quickly realize that Fernie rewards the thinker and adventurer. Understanding aspect, elevation and fall line are crucial. We get lost following a traverse track across Currie Bowl and are soon wishing for Clarke's local knowledge as we skid across sheets of ice and exposed rock. Eventually we stumble onto a thin line in the trees between Currie and Lizard bowls. The convex roll keeps getting steeper and the snow keeps getting better, with fewer and fewer tracks in the old-growth forest. The run goes on and on before spitting us out right in the middle of the resort. I wonder how many other lines like it are waiting to be found.
The next morning, with the weather deteriorating in Fernie and the promise of fresh snow at Castle Mountain, we hit Hwy 3 east through the Crowsnest Pass.The scenery changes again. green and white to brown and grey, as the snow disappears along with BC.
Southern Alberta is a windy place. There's a major wind farm near Pincher Creek, the closest town to Castle, and trees grow almost horizontal in some spots. Wind isn't the greatest, but at Castle it's vital. At the collision point of three major weather systems, Castle can receive 900 cm of snow a season, much of it produced by wind effects. It's highly localized.
I'd been looking forward to skiing Castle. Stories of its epic snowfalls – 70 cm in 24 hours – and steep fall-line terrain have enticed me for years. The final kick in the pants came via the Powder Stagecoach, a new lift-accessed cat-skiing operation, the first of its kind in North America. We'd sample that tomorrow; today we'd ski the hill.
The snow had stopped and the sky cleared as we rode two lifts to the summit, where the ever-present wind was howling. Brian Mills, part of the busiest avalanche control crew in Canada, said he once got off the summit double chair to find the wind blowing 208 kph. The plus side to the wind is that it sifts snow. The morning's eight cm was gone from exposed places and knee-deep in lee aspects. We quickly started to work the terrain, finding rolls, tree lines, ridges and glades that grabbed the blowing snow. Blasting us on every lift and rewarding us on every run, we soon embraced the blow.
The next day while waiting to board the cat, head patroller Darrel Lewko explained that the wind, which blows 85 per cent of evenings and almost as often during the day, is the key to the cat skiing.
The 324 hectares of cat-skiing terrain, 640 vertical metres, is just enough to keep two groups of skiers from crossing each other's tracks for a day. Then Castle relies on Mother Nature to blow the snow around, filling in the tracks before the next group arrives, or the next snowfall. Even in last season's drought, Castle was able to run three days of cat-skiing a week.
Like the resort itself, Castle's cat-skiing is different from anywhere else. For starters, the cat is owned by a private company, while the guides are patrollers from Castle Mountain. Our day starts with an early lift up the Huckleberry Chair to the snowcat waiting just outside the boundary fence. Fifteen minutes later we're high on a ridge with the option of a short bootpack or traverse into open trees and boot-top powder. Mills leads us down the first run, giving us a general lay of the land and pointing out the traverse at the bottom. From then on, we're free to ski with a buddy, while Mills or one of the other patrollers runs sweep to make sure everyone gets down to the cat road. From he road it's a long glide back to the base of the Huckleberry Chair – and the start of another lap. The circuit takes about an hour.
As we get to know the terrain, we figure out our perfect run: we rip high-speed turns along a wind ridge, popping off here and there, carve around some old snags, pick up speed through a tight section of spruce and then launch off a llip into a wide open bowl. A few more turns and the trees get tight and then we're on the cat road tucking toward the resort.
We end the day on the T-bar, the eclectic and tiny après spot at the bottom of the hill. The walls are littered with memorabilia: old T-bars, old hotos, old skis. There's a real sense of community here you only find at local hills. Wrinkled farmers in overalls and gaiters share après snacks with teenagers whose neon pants have crotches that hang around their knees.
There's a real emphasis n the true skier experience at Castle – the skiing. There are no high-speed lifts on purpose. The shareholders care more about the descent than how long it takes to get to the top, " says Brian Rhoades, the resort's general manager. And like your thrifty friend, Castle takes pride in how it saves money: "We're a green hill," Rhoades jokes. "We recycle chairlifts." Almost all the lifts are hand- me-downs from ther ski hills.
On what ends up being my last run, Rhoades leads me to Drifter, a sparsely treed, fall-line beauty. It starts off well, but my ski-safari- weakened legs can't cut the vertical. I stop every 20 turns to let the lactic acid die down. At one break, I can see out to the foothills and beyond to the Prairies. In a few hours we'll be driving through both on scenic Hwy 22, linking our loop into Calgary's south end. But I still have one long run ahead of me.
Insider Info
LAKE LOUISE
www.skilouise.com or skibig3.com
Accommodation: Stay in Banff or Lake Louise; ski shuttles leave regularly.www.banfflakelouise.com
Where to eat: World Cup Alpine Room has three meal choices under $15 made fresh in front of you.
Where to find powder days after a storm: The low-angled, rolling terrain of Rodney's Ridge is often overlooked. Also try Elevator Shaft when it's open.
PANORAMA
www.panoramaresort.com
Accommodation: Almost everything is ski in/out.
Where to cruise in peace: Fritz 's is a swooping groomer that ends at the slow and quiet Sunbird Chair.
Where to go after a dump: Beeline for the summit then let the crowds hike and take B1 or Heli-High for quality tree skiing.
FERNIE
www.skifernie.com
Accommodation: Stay on the hill or in town. www.tourismfernie.com
Where to eat: Skip the cafeteria and eat slopeside at Lizard Creek Lodge, Corner Pocket Brasserie or Big Bang Bagels.
Where to ski on a powder day: While everyone else lines up to ride the White Pass Quad, head to the Great Bear Express Quad and Boomerang Chair.
CASTLE MOUNTAIN
www.skicastle.ca
Accommodation: Stay on-hill at the low-key Castle Mountain Ski Lodge and Hostel.
Where to find good snow no matter the wind: T he open trees of Huckleberry Ridge and The Burn hold snow no matter which direction the wind lows.
Where to test your legs: The non-stop all line of Drifter hurts even the fittest skier.