Reading Time:
5
minutes
"Don't be silly! You'd be mad to drive all that way."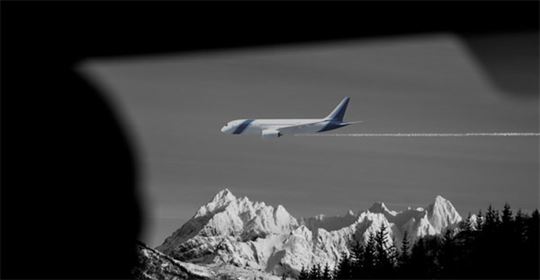 _By GEORGE KOCH
My friend Matty from Portland, Oregon, was screeching at the news that I was planning to drive from Calgary to Whistler (through the hinterland via the notoriously sinuous Duffy Lake Road of course) for a mere five-day visit to do some spring skiing and reconnect with old friends. "I'm heading right past Vancouver Airport, dummy, so fly out and I'll pick you up on the way," I was urged. Sounded like a perfect plan with no conceivable counter-argument. I duly began packing—carefully, for a change, with each item evaluated for weight and bulk, and the mere nice-to-haves left in the closet, rather than the normal two-minute flinging of my ski quiver plus every bit of backcountry gear into the car. Then came the balancing of flight ticketing options versus various baggage fees and limitations, plus booking airport parking in overflowing Calgary.
In the end it was great to catch up with my dear friend and cruise through Vancouver on a lush springtime afternoon and on up the stunning Sea-to-Sky Highway. But notice what we were doing: in "flying" to Whistler I was still behind the wheel for two hours. Adding up the time honestly, from the moment I backed out of my garage, via the drive to the airport, getting transferred from the park 'n' fly, airport security, departure lounge wait, the flight itself, baggage retrieval and our drive up the Sea-to-Sky, to pulling in at the resort accommodation totalled seven hours. Had I waited for a transfer coach to Whistler, plus taken a local taxicab, the time could have exceeded eight hours. I can typically drive the route in about 10 ½ hours. For about one-third the cost, even if I can't split the fuel with anyone.
As you can probably tell, I tend to drive to my skiing destinations. I've never minded winter driving, even in atrocious conditions. When my wife, Laurie, was alive, we had some epic blizzard-bound journeys to and from places like Apex, Red Mountain and Whitewater. Nope, never even went in the ditch. I revel in a snow-choked drive into the mountains, imagining every powder run I'll take. Bare roads are what I find ominous. Facing a snowy drive home is a wee bit harder—mentally anyway—but creates every incentive to extend the visit if one can swing it.
That fatalistic cliché I hate does work in this case: it is what it is. If you want to ski powder, serious winter driving is inevitable. Most Canadian ski resorts and backcountry areas just aren't closely connected to proper airports. The very fact that Banff and Whistler claim to be near international airports underscores the long distances.
Unfortunately, there's a trend of wimpiness detectable among some Canadian skiers. I recall skiing the near-empty slopes of Lake Louise a couple of seasons back with a pair of rather stressed marketing types. Conditions were perfect: dazzling weather and 10-15 cm of fresh snow. Plus that almost deserted terrain. Why? Hundreds of regional destination skiers had cancelled their planned long-weekend visits because of a few fatalistic (non-skiing) weatherheads on the radio and TV forecasting blizzard warnings. Yes, you read that right. The prospect of powder caused them to stay home. Not quite the cause-and-effect process a dedicated skier might expect. As it turned out, the blizzard was downgraded into a mere snowfall and the roads were fine. Everyone who cancelled missed out.
U.S. ski areas are far better tied-in to air travel. Or perhaps one should say that the large majority have either international hubs or regional airports close by. While the infrastructure is great, whether planes will actually show up and depart is entirely separate. On a recent trip to Colorado my regional connector flights were cancelled coming and going. On the way down it meant six hours of stressed waiting, successive fights with rude airline staff, a poor night's sleep in an airport hotel, mad scrambling for a rental car (which turned out to have seemingly bald summer tires) and a seven-hour drive. Had I left out the regional flight leg in my planning and simply driven from Denver to begin with, everything would have been fine. Ditto on the way back: I hurtled down to Durango from Telluride to find two successive cancellations. Additional loud verbal exchanges were required to get aboard the third plane. The lady in the seat next to mine listened to my tale of woe and replied mournfully, "When you fly in my country, you have to be your own aggressive travel advocate, every step of the way."
Choosing the road over the air does leave you at the mercy of closures. In western Canadian ski country that often revolves around Rogers Pass between Golden and Revelstoke, B.C. It's the passageway to numerous ski resorts and backcountry skiing areas, and the principal transit between southern Alberta and Vancouver/Whistler. The pass is low in elevation and an easy drive. But the incredible snowfalls onto the steep slopes above it, plus fluctuating temperatures, as well as ever-more-cautious road maintenance, result in constant wintertime closures. The highway is in a shockingly primitive state, having received few upgrades since its 1960s construction. Additional snowsheds there and in Three Valley Gap west of Revelstoke could erase the problem. I sometimes wonder whether the avalanche control guys and the road maintenance contractors oppose building new snowsheds because it would render their work unnecessary.
Zooming to and from ski resorts at will throughout the winter is, of course, predicated on having an excellent reliable vehicle shod with proper winter tires—definitely not the misnamed "all" seasons. Uncountable are the number of vehicles I've passed on ski trips that are creeping down the road, drivers gripping the wheel grimly or in sheer terror, hating every second of the experience. Can a vehicle itself look frightened? Some of those urban-cliché "crossover utility vehicles" I see on ski trips, driving at city neighbourhood speeds on the open road, seem to exude their drivers' emotions. The reward for their "safe driving" habits is to spend twice as long doing what they hate on the winter-bound roads as those with better tires and greater confidence.
The right vehicle—plus the confidence that comes from having driven hundreds of thousands of kilometres in real winter conditions—may not transform those drives into a pleasure. But at least it reduces them to a simple utilitarian task, accomplished without a lot of stress or worry. And not a factor in whether the ski trip goes ahead. As long as the roads aren't physically closed, we ski!
Driving preference shouldn't become dogma, of course. I'll still fly if the drive is much over 10 hours—or the skiing destination's an ocean away. One very close friend loathes flying to such a degree that he simply won't do it. Wherever he goes, it's by road. If need be, he'll drive to southern Colorado from Alberta. Needless to say, he hasn't yet found a way to ski the Alps, Chile or New Zealand.