Reading Time:
3
minutes
Need help to score that perfect powder line before your friends do? No matter how distracting the lure of skiing fresh powder is, safety must always come first.
by Felix Tanguay
Make your decision to ski an off-piste area an educated one. When choosing a route up or run down, don't get all powder-horny or be bullied into doing something your loved ones will forever regret. Stay calm—if you miss it, there's always another powder day and you'll gain respect by backing down. And if you don't make it to No. 10 here, stay safe by hiring a guide.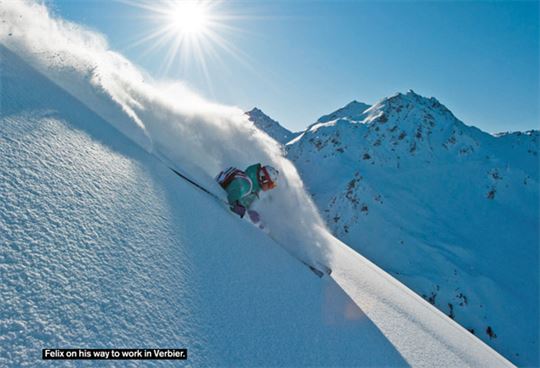 1. Don't go where you heard it was awesome the day before. It's likely too late—you missed it.
2.  Choose the aspect you'll be skiing. North-facing or south-facing lines? Is it cold enough to ski pow in the sun?
3.  Do I ski high (in elevation!) or do I venture to the lower runs in the trees? If the snow is deep and cold enough to ski the trees, start with that. It's not only safer, but the snow will normally transform first because of the lower altitude, plus, in my opinion, skiing untracked deep pow in the trees is the best
4. Where did the wind bring all that new snow? If you find the right aspect with the good stuff, stick to it and hunt every untouched face there.
5. Don't reveal your secrets! If you find some great line that not many skiers know about, be vague when bragging at après. After the next snowfall, it will be a mogul field before you know it. If you post pictures or videos, be abstract with your geography, even better, send your followers back to a known, safe area.
6. Keep your crew small—ski with one or two friends. You'll be faster and more effective, and your secrets will be safer.
7. Choose your powder friends carefully. Don't make ski plans with anyone who will slow you up. Ignore that text message—pretend your phone was out of juice.
8. Be one step ahead! If you're first in line, go for the "main" most accessible rock-star lift queue just under the chair. If you're not, go straight to your backup line, the one that those who did the "main" line first were keeping for their third run. Plan your morning!
9. Start early, finish early. Be the first one on that first lift, ski hard until your legs feel like they can't take any more and quit early (or not if you're a machine!).
10. Skiing powder is serious. If you rock up without a well-researched plan in the morning, you'll be skiing tracked-out pow all day. Or if you don't feel like going to all the trouble of planning and would rather just enjoy your evening before the big day, your best bet is to hire a professional and let him or her guide you to some safe stashes you'll likely never find on your own.
Felix Tanguay is the founder/director of Verbier's freeride coaching powerhouse, Powder-Extreme. Born and raised in Mont-Sainte-Marie, Quebec, the CSIA Level IV Tanguay worked in the ski industry around the world before settling in Switzerland 13 years ago. Felix et al can show you how to become a better, safer, more confident skier. Powder-Extreme.com