---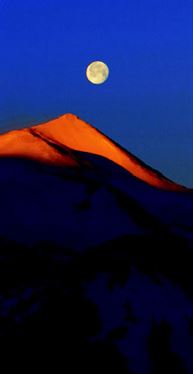 Breckenridge and Heavenly may share a lot in common with?their sister resorts of Vail, Beaver Creek and Keystone,? but they can quite happily stand alone.
As a judge, I wasn't accused of impartiality per se, it was more my observation skills that saw me lose my appointment. Or perhaps it was my math. Needless to say, there have been no calls from the IOC asking me to help out with any judging after my trip to Colorado.
While attending a Vail Resorts Inc. conference last January during Breckenridge's annual Ullr Fest, I, along with several colleagues from other Canadian publications, was invited to adjudicate floats of the prestigious Ullr Parade. The event is the premier experience of a week-long pagan festival honouring the Norse god of winter.
With Main Street reminiscent of a Queen's University Homecoming, the judges' stand was openly treated to all sorts of graft, from fuzzy to frozen and sweet to alcoholic, as hundreds of local performers streamed past in costumes, hot tubs, dance routines, even a volcano. The crowd, including those in the judges' stand, gave demerit points for the artistic snowblower demonstration, and sparks were flying as teams of dogsleds pulling skiers in full kit raced to pass a school bus dragging real-life Homer Simpsons riding beer kegs bareback.
So it's easy to see how one could miss the smallish numbers on each float as they passed by, even if one had a judge's clipboard. Indeed, the parade was three-quarters done before I understood it wasn't flowing in chronological order, as I had been marking. Realizing my reams of judging paperwork were now completely unrelated to what I'd just spent the last 45 minutes critiquing, I instinctively pretended to speak only Norwegian and went merrily along my way to convince my colleagues to declare the Blue Sage Spa the Grand Winner—and then head to dinner. (The tipping point was the creative adaptation of the synchronized back-waxing routine to the Broadway musical Hair.)
It was Thursday night, so another weekend in Breckenridge had long begun but the seven-day celebrations of this particular party also included a comedy night, chili cookoff, the Cecilia's Martini Bar dating game, skating party, Nordic bonfire party and to preempt?Vancouver/Whistler, the Ullympics. My 24-hour visit certainly cemented Breckenridge's reputation in the Vail Resorts family, which also includes big momma Vail, even fancier-pants next-door neighbour Beaver Creek, family-perfect Keystone and Heavenly, the California/Nevada fusion at Lake Tahoe. And now all under one "Epic Pass."
***************************************************
Bright and early the next morning, our posse of seven rolled out of the Crystal Peak Lodge penthouse at Breck's new Peak 7 base area a little groggy. As we made the arduous trudge up the escalator, through the bar and across the five metres or so of heated cobblestone to the Independence SuperChair, Deaner and the girls complained of the altitude. A couple of eye rolls was all I could get for my suggestion that they'd feel better if they stopped sleeping on the top bunk. Probably because it was lost in the English-French translation, Eve thought the joke was somehow a naughty one and laughed. May said something in Australian that translated politely to "Don't encourage him."
Despite the previous long day of work, planes, airports, van shuttle and a late night that continued with some fine Colorado fare at Relish and ended with a lot of pub revellers a lot younger than I, we made it home safely and not too late thanks to the Crystal Peak's attentive drivers. (The new luxe gondola that connects the town with Peaks 7 and 8 base areas currently runs during the?day only.)
About 15 cm of fresh at the lower elevations and who knew what at the top beckoned on our road trip's first morning, and after a quick warm-up run to shock the system, we found ourselves heading up our third chair, Imperial Express, to Peak 8. With fresh snow and only one day at Breckenridge I worked on convincing everyone it was a nice day for a hike.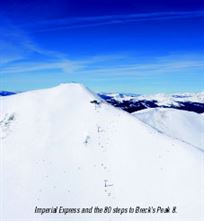 A marker board at the start of the bootpack just off the lift noted the sizable top elevation of 12,998 feet (almost 4,000 metres). I showed everyone the sign, making sure my glove covered the number.
"Look," I pointed out, "it says it's only 80 steps to the Peak 8 Summit."
"Looks more like 800," said a less-optimistic Lori in an Eeyore sort of voice.
"Come on, we'll make a game of it," I said persuasively, then added, "Deaner and Al will help carry your skis."
Swaying and toddling along uphill a few minutes later, it looked as if we were part of the previous night's crowded main street, just slower. Wishing I had a helmet to protect against getting whacked by a swinging, shouldered ski ahead of me, I also wondered about the odds of a domino effect if one of the gasping hikers ahead of me in the Chilcoot Pass queue suddenly lost his or her footing and began to tumble backwards. Thankfully, there were no pushy and aggressive big mountain boys trying to pass like one sometimes encounters hiking beyond a lift. Everyone appeared polite and seemed to accept that we often slog at a different pace and ultimately our goal remains the same.
Peak 8 Summit isn't the highest at Breckenridge—that honour goes to the permanently closed Peak 9 at 13,194 or 4,024 metres. And also, the peak counting begins at 7 and ends at 10, so Peak 8 should really be Peak 2 of 4—but I guess that would sound less impressive. I was mulling over this math sequence, thinking of the previous night while taking in the view, as the last of our gang with racing pulses flopped down onto the narrow but flat ridge at the top of the 80 steps.
Despite having visited both in the past, I hadn't realized how close together Breckenridge and Copper Mountain sit, if one were a crow. Although we'd lost our sun, those no longer on their hands and knees could easily make out skiers and moguls across the valley. "You'd think someone would have suggested a $52-million cable car to connect the two peaks," Vancouver Ann said wryly.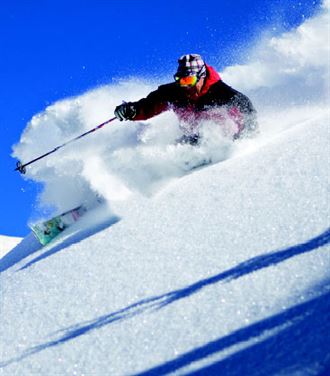 So what did we receive for work done on the Peak 8 Stairmaster? The lovely steep and deep Lake Chutes, for starters, and for half ?the group who made it back up for a second run later, whiteouts be damned, the even deeper and longer but spectacular face of Snow White. Colorado at its very best.
Breckenridge's signature above-alpine terrain remains legendary, but the ski area is incredibly well rounded, as the rest of the group pointed out after an afternoon on Peak 9 and some of Breck's signature intermediate and advanced cruisers lower down. Still, on our second hike up the 80 steps, Calgary Al and I agreed that enough extreme terrain was available in both directions from this one bootpack to keep the hounds at bay for days.
Yes, for local purists, the Imperial Express quad now rockets into the upper alpine hundreds, perhaps thousands, of skiers who in the past wouldn't have hiked an hour off the existing T-bar to get to these spots. But my sea-level red blood cell count and I were only there for one glorious day, so on this issue I agreed with the resort developer: the more energy that came from a chairlift, the less that had to come from my heart, lungs and thighs.
********************************************
Although our race through Vail ski country with our Epic Passes left us with barely a day at each, we figured because Heavenly straddles the California-Nevada border, two days at the Lake Tahoe resort were tantamount. And this was a good thing; the alluring study of contrasts required the extra time.
One doesn't need to hike the final step to Monument Peak, Heavenly's 3,048-metre high spot, for example, to be struck by the dramatic change in the panoramic view. From the Granite Sierra Nevadas to the west, to the massive, still and blue waters of Lake Tahoe in the centre, and the bone-dry brown desert floor of Nevada defined by the Carson Range to the east, it's little wonder where the ski area got its name.
I expected James Kirk and Spock (the originals) ?to energize into our movie set at? any moment.
Of course, when I say one doesn't have to hike, it doesn't mean one shouldn't. With Lori blathering to the office on her new but soon-to-be-lost BlackBerry and Deaner whistling Broadway show tunes, several of us chose to hike off a leisurely lunch like mad dogs and Englishmen in the heat of the afternoon. Under what felt like an April sun, with skis on shoulders and seemingly olive oil on our ski boot soles, we scrambled about on and around car- and bus-sized boulders of smooth granite or possibly granodiorite (university geology was a long time ago), all sitting on beds of perfectly smooth, clean kitty litter- like glacial till. With such a surreal zen-environment, I expected James Kirk and Spock (the originals) to energize into our movie set at any moment. But thenDeaner changed the milieu by calling me Barney and himself Fred (thankfully not Betty) and our conversation digressed enough to leave Lori shaking her head. We lost Al completely.
You can enter the black-diamond Milkyway Bowl with a traverse of the long, connecting Skyline Trail, but our little jaunt let us click in at the top of the bowl above all the tracks. Although 15 days of desert sun left us with no hint of powder, we did have fun reaching top speeds quicker than expected on the smooth, not-quite-corn?surface. The occasional small tree and windscoured whoop-dee-doo was thrown in to keep us from admiring our descent's view too much.
Milkyway led us to Heavenly's infamous Mott and Killebrew Canyons, however, which is my personal cup of tea. The string of übersteep chutes are mostly defined by tight ridges and massive Jeffrey pines, with large eggplant-size cones lying about everywhere. They're also almost perfectly north-facing, especially on the Mott Canyon side, so the snow was that wonderfully grippy, chalky stuff that, lying in almost continuous shadow, stays set up all day. Even the lighting was perfect, making it a delight to pick our way down methodically, analyzing each turn from five metres above, snow rushing down from our edges faster than you'd want to ski, trying not to think of the consequences of a fall and slide. It is as much of a brain workout as it is for your legs or core.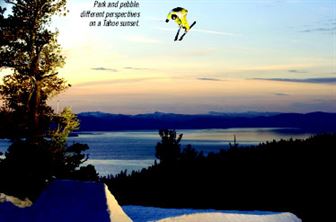 I took several runs back up the Mott Canyon chair before hooking up with the gang, who had been taking it easy on some of Heavenly's wide, open lower intermediate cruisers, for which the resort is well known. On the way to the hotel we checked out a bizarre scene of big, BIG-air park rats, the vast majority of whom were without helmets.
It all seemed so dreamy later in the day when I'd traded my ski boots for runners and was walking along the never-ending beach?admiring the truly crystal-clear waters of extremely deep Lake Tahoe and watching the sun set over the blue-grey and white?Sierras. I was wondering if at the same time, someone else a few miles in the other direction was remembering the day's best turns while watching the sun go down in the desert.
The contrasts within Heavenly, as well as the entire region of South Lake Tahoe, go well beyond the natural. We bedded down at the comfortable new Marriott at Heavenly Village, one of the four base areas (the other three are California Lodge, Stagecoach and Boulder Lodge), where it's easy to wander a few steps to the gondola, a few blocks beyond the main drag to the lake or across the state line to the casinos. Our arrival by Reno airport shuttle late the night before was almost comical in that the driver couldn't cross the "border" by one block to drop the seven of us at our hotel. The Marriott bellhops were quick, however; apparently a licence isn't needed to cross state lines by luggage cart.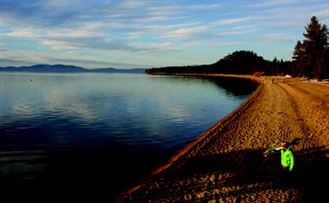 I found the north or lake-side of the busy main drag fascinating, with its cache of tacky but architecturally important bi-level '50s-era motels with neon signage that might woo Lucy and Ricky Ricardo into a night's vacation (or Scully and Moulder into some baleful investigation). South Lake Tahoe on a budget is here and it reminded me how few ski areas these days offer this worthy option to families, students, seniors or anyone in between. On the other side of the proverbial fence, "For Rent" signs on a string of posh lake-side houses surrounded by green forest also suggested a memorable stay.

Fans of the historic Riva speedboat will appreciate a meal at the restaurant of the same name (Lake Tahoe is home to North America's biggest collection of the $400,000 Italian-made mahogany boats). Fourteen coats of hand-rubbed varnish isn't something I'm normally thinking about on a ski trip, but neither is gambling, I suppose. And of course, it would be hard to hit Heavenly without forking out for some chips at the Black Jack table, or at least watching your friends count to 21.

I have to admit, gambling is not something that holds my attention long and I bailed from the Harveys high-rise casino with the earlybirds as the clock struck 12. I'd thought we left first-time gambler May in Al and Deaner's capable hands, but I was admonishing them the next morning when I found out they'd abandoned her at the table an hour later.

In response, May looked almost shocked at my chivalrous concern over her friends deserting her. "Oh, it was no problem," May blurted out in defence. "After the boys left, I stayed with my new friends."

I've only recently wondered if May's "new" friends will be joining us on this winter's road trip.

KEYSTONE's reputation for long, wellgroomed cruisers, all tucked into perfectly cut runs that end in new slopeside condos and purpose-built base area, is a good one. But a surprising alternative is also one of the best deals in Colorado. Guided cat-skiing at Keystone is $225 for the day and it includes a lift ticket (the cat "base" is atop the highest lift), fat ski rentals and lunch in a private alpine yurt catered by the resort's swank Alpenglow Stube. In a dreamlike sort of world, our crew barely left the resort boundary and we were climbing solid but short cat-roads to access?terrain on and around Keystone's 3,660-metre Independence Bowl that was both a perfect introduction to powder skiing but also postcard-perfect powder runs in untouched knee-deep on wide-open alpine terrain. Twelve runs in wispy-dry, blow-off-your-glove Colorado fluff – a fine Keystone memory indeed.

It's all here:

Breckenridge, Colorado, Crystal Peak Lodge, Heavenly, Heavenly Village, Keystone, Lake Tahoe, ski hotels, ski resorts, ski vacations, skiing in America, skiing in the USA, Vail Resorts Inc.