Reading Time:
2
minutes
Volume 43 #2
Fall 2014 issue published week of October 13, 2014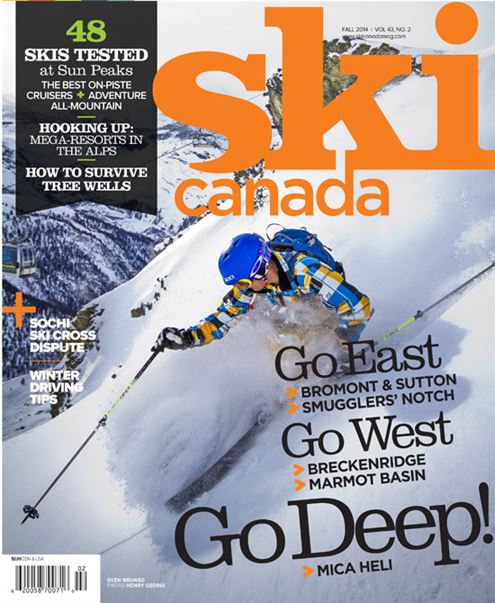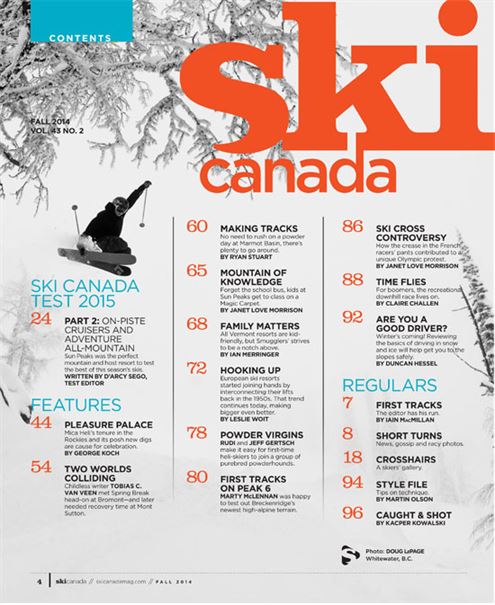 SKI CANADA TEST 2015
PART 2: ON-PISTE CRUISERS AND ADVENTURE ALL-MOUNTAIN
Sun Peaks was the perfect mountain and host resort to test the best of this season's skis.
WRITTEN BY D'ARCY SEGO, TEST EDITOR
 FEATURES
PLEASURE PALACE
Mica Heli's tenure in the Rockies and its posh new digs are cause for celebration.
BY GEORGE KOCH
TWO WORLDS COLLIDING
Childless writer TOBIAS C. VAN VEEN met Spring Break head-on at Bromont—and later needed recovery time at Mont Sutton.
MAKING TRACKS
No need to rush on a powder day at Marmot Basin, there's plenty to go around.
BY RYAN STUART
MOUNTAIN OF KNOWLEDGE
Forget the school bus, kids at Sun Peaks get to class on a Magic Carpet.
BY JANET LOVE MORRISON
FAMILY MATTERS
All Vermont resorts are kid-friendly, but Smugglers' strives to be a notch above.
BY IAN MERRINGER
HOOKING UP
European ski resorts started joining hands by interconnecting their lifts back in the 1950s. That trend continues today, making bigger even better.
BY LESLIE WOIT
POWDER VIRGINS
RUDI and JEFF GERTSCH make it easy for first-time heli-skiers to join a group of purebred powderhounds.
FIRST TRACKS ON PEAK 6
MARTY McLENNAN was happy to test out Breckenridge's newest high-alpine terrain.
SKI CROSS CONTROVERSY
How the crease in the French racers' pants contributed to a unique Olympic protest.
BY JANET LOVE MORRISON
TIME FLIES
For boomers, the recreational downhill race lives on.
 BY CLAIRE CHALLEN
ARE YOU A GOOD DRIVER?
Winter's coming! Reviewing the basics of driving in snow and ice will help get you to the slopes safely.
BY DUNCAN HESSEL
 REGULARS
FIRST TRACKS
The editor has his run.
BY IAIN MacMILLAN
SHORT TURNS
News, gossip and racy photos.
CROSSHAIRS
A skiers' gallery.
STYLE FILE
Tips on technique.
BY MARTIN OLSON
CAUGHT & SHOT
BY KACPER KOWALSKI