---

A Hard Day's Night
If skiing non-stop for 24 hours straight sounds exhausting, you can always team up with friends and alternate relay-style like thousands of others do at Tremblant every year.
December 10 is a fitting date to commemorate the 10th anniversary of eastern North America's biggest fundraising ski event. Three days of festivities bring together celebrities, media, athletes, philanthropists and a slew of sleep-deprived skiers and non-skiers of all ages.
In December 2001, fresh from their huge success in Villars, Switzerland, racecar driver Jacques Villeneuve and his manager Craig Pollock introduced the event to Quebec, hosting the first edition of the 24h de Tremblant. Since then, they've raised more than $5 million to benefit cancer treatment centres for children.
On average, the teams travel a total of 300 km during the 24-hour ski-a-thon. New this year, the 24h solo package is open to those wishing to challenge themselves to the ultimate physical and mental demands (with snacks and necessary nature calls factored in, of course). Wake up the wallet and log on: www.24htremblant.com.
—Marie-Piere Belisle-Kennedy
WEATHER ALERT!
?Planetski.eu posted this apocalyptic headline in late September: Heavy Snow Across the World. They may be right. An extensive cold surface water event along the Pacific equator, a La Niña event, looks set to last well into next year. This typically sets up cold and wet conditions across the northwest, indeed, a cold winter across the entire country. The three-month forecast to the end of December from the National Ski Canada Meteorological and Divination Department continues to show above average temps in the East, a carryover from a very warm spring and summer. Longer term: atmospheric CO2 will likely hit 400ppm by the end of 2012. Sunspot activity is increasing after a lengthy solar minimum. Meaning? We will definitely be skiing this winter. (For George Koch's take on non-global warming, see page 16.)
How green is Ski Canada?
Entertaining, informative—and now, internationally certified eco-responsible! Right now, you're holding a combo of paper made from responsibly managed forests and verified recycled paper. And The Forest Stewardship Council guarantees it:
www.fsccanada.org
The McKaiser
?"Speed is freedom. Downhill racing is freedom," Franz Klammer told Ski Canada at his annual September golf tournament outside London, U.K. The Alpine icon of charm was also embracing another kind of freedom that evening—one known to all Scotsmen who wear their kilts the customary way. Klammer claims the historical right to wear his tasteful brown-backed tartan: a few years ago archaeologists unearthed a fragment of tartan cloth in a peat bog located in Carinthia (southernmost Austria), dating to roughly 320 BC. Some (brave) Austrians have asserted this therefore precedes the oldest Scottish tartan by some 1,600 years. The claim has alarmed bearded, bare-kneed men across the Commonwealth.
—Leslie Woit

No, it's not the Alps…
?New stairs at a resort aren't normally much to sing about, but double-diamond skiers heading for Telluride this winter are yodelling already. With the help of a Canadian helicopter company, Heliqwest, the southern Colorado ski area flew in 4,300 kilos of steel stairs and a bridge to help little ol' skiers across the span between the Gold Hill Chutes 8 and 9. Telluride's rep among the hardcore is a deserved one—that said, all Gold Hill Chutes (including 9 and 10) remain in-bounds terrain.
Feeling lucky? You can't ski for free if you don't enter!
?Winner takes all: three days of cat-skiing and luxe accommodation for two at Island Lake Lodge, famous for its deep, dry powder and award-winning gastronomy; four nights for said two at the fancy-pants ski-in/ski-out Lizard Creek Lodge; three days of skiing at powder-perfect Fernie Alpine Resort – easy to get to, hard to leave. Deets and entry rules: www.TourismFernie.com.
(Contest closes: January 15, 2011.)
?Win a complete winter getaway for two at Sun Peaks Resort! Five nights' accommodation at the Coast Sundance Lodge with lift tickets and demo gear for four days—and maybe a chance to ski with Senator Nancy Greene Raine. One entry per
person online: www.sunpeaksresort.com/win— but stop by the booth at the Toronto Ski Show and sneak a bonus entry into the hat. (Contest closes January 16, 2011.)
Mark your calendar, add it to your daytimer, set the alarm on your iPhone: the 2011 Canadian Open Freeskiing Championships run January 12-22 at, where else, Red Mountain!
ALPINE CANADA BITES
?Alpine Canada's chief athletics officer, 20- year ski coach and a name synonymous with ski racing in Canada, Max Gartner, was named president in September. The governing body for alpine ski racing has more than 50,000 athletes, coaches, officials and volunteer members and more than 200,000 supporting members. Gartner takes over from Calgary businessman Gary Allan and will lead the organization into the 2014 Games in Sochi, Russia.
Earlier in the year, Own the Podium named former Olympic skier Ken Read its director of winter sport. The former CEO of Alpine Canada (ACA) from 2002-'08 spent the last two years with Alpine Alberta, but played a critical role in the founding and startup of the Own the Podium program in 2005.
Ex-Ontario provincial team racer Brianne Law, who pulled the switch to coach Canada's Para-Alpine Ski Team three years ago, was named CPAST athletic director in the spring. She became the first female to do so. Law's team captured 13 of the host nation's 19 medals at the 2010 Paralympics.

With Blizzard using the Greek alphabet and Ski Canada using the Roman, somehow a Blizzard MPower FS photo was inserted into the On-Piste Cruisers test last issue instead of the correct photo (above) of the Blizzard GPower FS. It's all right, now.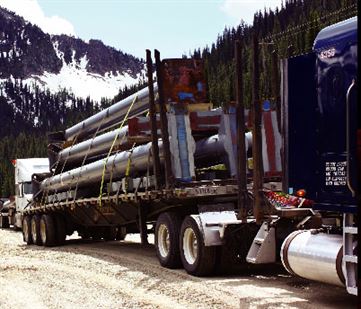 THE POWER AND THE GLORY
?Who wouldn't want a lift to the backside? Whitewater's new Glory Ridge Chair will access eight new (and much-anticipated) selectively logged and gladed runs. The triple chair and runs are part of the first phase of a master plan that, when complete in two years, will add 303 hectares of terrain on 18 new intermediate to expert runs. The expansion will effectively double what's on the Nelson, B.C., ski area's trail map, where those who bother to look will find some of the best lift-served powder in North America.
CROSSING THE FLOOR
?Joining the ACA club this season are the country's Ski Cross racers, who began receiving more support, shared use of facilities, technical expertise and other resources from Alpine Canada by leaving the umbrella of Freestyle Canada. Said now-president Max Gartner: "Integrating Ski Cross and Alpine will enable the smoothest transitions for athletes who are possibly making the switch."
Canada was among the first nations to form a national Ski Cross organization after the IOC announced in 2006 that the sport would be part of the 2010 Winter Games. Ashleigh McIvor of Whistler, B.C., became the first-ever women's Olympic Ski Cross champion in 2010, while the team's success included finishing on top of the Nation's standings following the World Cup Finals in March. "The sport of Ski Cross has its roots deeply embedded in the alpine system," said Canada Ski Cross Sport Director Dave Ellis, "with many current national Ski Cross team members getting their start in alpine."
THE WINNERS' CIRCLE
?New Brunswick skiers Gabrielle Ouellette, Leila Beaudoin, Lincoln Esau and Andrew McLean shared a $1,000 cheque from BMO-Mastercard and the Ski Canada Award for 2011. The fab and fast four hail from different hills around the province (Farlange, Crabbe and Poley), but they're all top K2 racers as well as A+ high school students. Ski Canada MasterCard holders generate funds to help numerous charities, including provincial team racing. Aside from new cards having an enhanced security chip this year, they also have a new photo thanks to Fernie-based shutterbug Henry Georgi and skier Karolina Eckman. www.bmo.com/ski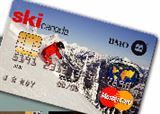 Tags: 24h de Tremblant, Alpine Canada, Andrew McLean, Ashleigh McIvor, Brianne Law, Canadian open Freeskiing Championships, Coast Sundance Lodge, columns, Forest Stewardship Council, Franz Klammer, Gabrielle Ouellette, Glory Ridge Chair, heavy snowfalls, heli-skiing, Heliquest, Island Lake Lodge, Ken Read, Leila Beaudoin, Lincoln Esau, Max Gartner, Red Mountain, relay skiing, Short Turns, Ski Canada, ski fundraisers, ski news, skicross, stairs, Telluride, Tremblant, Whitewater