---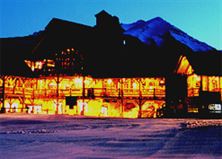 From the Winter 2006 issue
On a stunning day in late April, the snow fields on the Rockies' main spine so dazzlingly bright as to burn through even the darkest sunglasses and force your gaze to the gentler blue of the sky above, my longtime sweetheart Laurie and I carved through fields of smooth, buttery corn snow on the empty groomed runs of Lake Louise. The crowds of mid-winter had long-since departed, most skiers preferring to pretend that spring had sprung on the cantankerous Alberta prairie. They didn't know what they were missing. There wasn't much left to do on The Lake's normally formidable untamed terrain, but the acres of corduroy on the marked runs were as numerous as they were smooth and well-prepared.
Last season in western Canada had the crappiest snow of my nearly 40-year skiing life. Some resorts were plagued by to-thetop mid-winter rainfalls that washed away their snow base. Others had tantalizing but sadly transient instances of copious snowfall followed by weeks of sunshine, wind or crazily warm temps. It was, to put it mildly, a tough time for skiing anywhere off the groomed runs. But the true measure of an alpine skiing resort, I'd say, isn't whether it's fun to ski after a huge snowfall—what meagre acre of inclined earth isn't rendered fantastic by powder?—but rather whether it can show its guests, be they locals, day-trippers, weekenders or fly-in destination visitors, a good time during a challenging season.
I'm happy to report that at the Queen of the Rockies, Lake Louise, the answer is now a big "affirmative." I've skied at Lake Louise off and on for about 35 years. Since moving to Calgary in the early '90s, Lake Louise has been the default day-tripping mountain when time wouldn't permit venturing farther afield, a frequent sojourn during late spring when most other resorts were shut down, a waystation on the outbound leg of a longer roadtrip and a quick hit after sudden storms. I've always loved the mountain's size, the length of its runs, the variety of the terrain, the challenging steepness and the full-azimuth exposures allowing you to hunt for midwinter sun or lee-side pockets of pow.
One thing I could never say, however, was that Lake Louise was a great place to go in a season of thin snow. It's not that the mountain lacked terrain suitable for cruising; it's that the resort's grooming simply sucked. Lake Louise's slope preparation vied for worst in western Canada. But while the other main contenders are small, modest locals' mountains that emphasize the steep, deep 'n' cheap, Lake Louise had no such excuse. Many of its front-side runs are composed of a machine-made base, necessary to get the mountain open in November. For much of the time in past seasons, these were rutted, icy and death-cookie-strewn horror shows.
Larch, a staple for intermediates and a frequent destination of tourists thanks to its lovely views and sheltered aspect, would go days without visitation by a snowcat. Even on weekends, if the groomer made it over on a Friday night, the resort's bosses saw no need for a repeat as soon as the next night. Or it might groom a pathetically thin corridor up the Larch face, forcing the entire clientele into this meagre ribbon to avoid the previous day's moguls and scraped-up dirt and rocks.
Two years ago Matt Mosteller, spokesperson and director of sales and marketing for Resorts of the Canadian Rockies, Lake Louise's owner, announced that the company was placing a renewed emphasis on aspects that the large majority of skiers count on—grooming, the food service and other amenities, like new express-ticket kiosks to eliminate the annoying morning wait for day-tickets. I told him I'd believe his company's promises when I carved on and ate them.
Mosteller should have challenged me to wager a $500 magnum of champagne—for today he'd be bathing in expensive bubbly. As of last season, there was a step-change in the amount and quality of Lake Louise's grooming, confirmed by a series of midweek and weekend visits between February and May. On the front side, there was a solid range of choices every time I went, from mass-people-movers like Wiwaxy and Juniper to solid carving runs like Ladies' Downhill and Men's Downhill. The Eagle zone, previously an afterthought, was approaching carving central.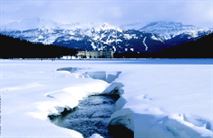 On the back side, coming off the challenging moguls of Ridge Run or the ultrasteep couloirs of ER7 and Whitehorn 2, the run-out on Lower Saddleback was now a series of pleasant carved turns. Ptarmigan, often a mogul field hardly worth skiing in old, hard snow, was groomed flat and fun to ski. And the previously neglected Larch was buffed and cared for lovingly and consistently. I had huge fun swooping down Larch many times last season. I found I had plenty of room even on my 20-metre-radius skis, descending confidently in a fast pure carve thanks to the perfect grooming. The new commitment to grooming has been backed up by purchase of two new snowcats and comprehensive overhaul of two other machines, plus a new Zaugg for the radically expanded terrain park.
The Queen's lift system is seeing similar improvements. Although the long-talkedabout Richardson Ridge expansion remains a distant dream, construction of the new Grizzly Express gondola makes getting onto the mountain much easier. The nearly threekm- long gondola rises from the base area more than 700 vertical metres to the top of the old Eagle Chair, doing the job of two chairlifts in a mere 10 minutes (at full speed), and cutting any lift lines at the base. Riding in covered and seated comfort is great in foul-weather times and on those 25-run days when your legs need a rest. The gondola, which opened last February, came on the heels of replacement of the rickety Top of the World quad with a smooth sixpack two seasons ago.
Nor are Mosteller's culinary claims mere canards. Although duck à l'orange may not yet grace the menu in the base area cafeteria, the new standards should meet any skier's expectations, thanks in part to the Quebecois schooling of chef Michel Robert. First off, the severalyears- old expanded day lodge provides the spaciousness needed to relax rather than rumble during skiing breaks. More important, the variety and quality of food—whether it's the signature prime rib burger, pizza or something more risqué, such as a stir-fried Asian noodle dish made with free-range poultry—have been raised to the level that modern-day skiers expect.
This is all part of a program of improvements totalling $15 million over the past four seasons. There'll be more coming this season. The remnants of the old Whisky Jack Lodge at the base have been remodelled to the lovely log-andstone standard of the Lodge of the Ten Peaks. Within the lodge, the Great Bear Room restaurant has an expanded menu of upscale dining. And the already vast terrain park has a bigger selection of beginner and intermediate features, to which I say—whoo-hoo!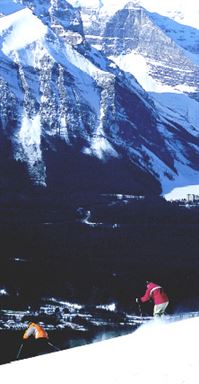 Over on the backside, Temple Lodge still requires attention. While its small Sawyer's Nook offers a menu to match its pleasing sit-down-service setting, the rest of the charmingly situated lodge is disintegrating. The planks of the wooden ?oor are so rounded even the most balanced skiers risk performing a lunchtray- scattering header—although the accompanying loss in gastronomic pleasure will be scant. Seating is still on cheesy and uncomfortable round stools welded to Formica tabletops. And, no matter the time of year, Temple is an icebox, a consequence of slapdash construction that enables one to glimpse the external environment via the gaping cracks between window frames and timber walls.

A place that definitely isn't disintegrating is the lovely Fairmont Chateau Lake Louise on the Bow Valley's opposite side, where Laurie and I stayed during our late-April reconnaissance. Long one of the finest establishments in Canadian ski country, it too has seen a round of recent improvements. Twelve-million dollars spent on renovating hundreds of rooms over the past two years will be followed by a further $6 million invested this winter. This includes everything from numerous incremental upgrades to standard rooms all the way to the new super-highend Belvedere suites, which are two-storey "rooms" featuring private outdoor balconies overlooking lovely Lake Louise.

For the super-high-end guest, Fairmont created a hotel-within-a-hotel concept, the Gold Floor. It has a private lounge, with daily individually made breakfasts, an honour bar and canapés every evening, as well as special skiing packages. At the same time, the mountain aims to help out ordinary punters with this season's "Screaming Hot Deal" that provides an adult lift ticket and a night's stay in the Chateau Lake Louise for just $145 per person, striking value in a hotel where a standard room can be $250-$300 per night.

After a sumptuous repast in the Walliser Stube, a homey Swiss restaurant located at the hotel's eastern end, Laurie and I took the lengthy stroll to the Chateau's opposite end to view the new Mount Temple wing. Opened in spring of last year, a covered arcade of shops led us into a unique museum devoted to the ? ora and fauna and the various ecosystems of Banff National Park. It also included photos and information on some of the unique characters who made the park's history, reproductions of Group of Seven landscapes and huge six-metre-high stained-glass windows showcasing wolves, mountain goats and other animals. The Mount Temple wing provided a restful respite well off the busy establishment's main traffic zones. Remarkably, this lovely wing, which includes 82 new rooms aimed at families and larger groups, required more than 10 years to navigate environmental disputes and court challenges.

For the past several seasons, the industry rumour-mill has been abuzz with informal claims that the skiing public, with the ballooning of options available in the region, has gradually trickled away from Lake Louise. Given that RCR refuses to disclose skiervisitation ? gures for its individual mountains, this is dif? cult to confirm, but it conforms with my own personal impressions. The Queen has always been strong where it counts—in the fundamental requirement of great terrain. But the aspects I've talked about often make the difference between a merely passable skiing day and a great one.

I'm pleased to report that the improvements claimed by RCR's management are real and, in many cases, greatly exceeded my expectations, repeatedly raising the level of the skiing experience in a season when I spent an unusual amount of time on cruising runs. Always a favoured haunt for advanced to expert skiers, Lake Louise has become a wonderful place to ski in all snow conditions and for all levels of ability and interest.

www.skilouise.com; Vacation packages, 877/253-6888; www.fairmont.com/lakelouise

Tags: Alberta, downhill skiing, Fairmont Chateau Lake Louise, Lake Louise, Larch, Lower Saddleback, makeover, Matt Mosteller, moguls, Ptarmigan, Queen of the Rockies, Ridge Run, Rocky Mountains