Reading Time:
5
minutes
European ski resorts started joining hands by interconnecting their lifts back in the 1950s. that trend continues today, making bigger even better.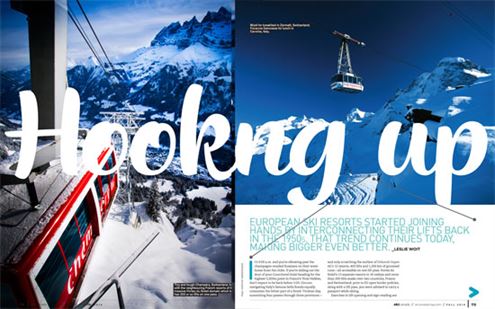 It's 9:00 a.m. and you're elbowing past the champagne-sozzled Russians on their wave home from the clubs. If you're sliding out the door of your Courchevel hotel heading for the highest 3,200m point in France's Trois Vallées, don't expect to be back before 3:00. Circumnavigating Italy's famous Sella Ronda equally consumes the better part of a South Tirolean day, summiting four passes through three provinces—and only scratching the surface of Dolomiti Superski's 12 resorts, 400 lifts and 1,200 km of groomed runs—all accessible on one lift pass. Portes du Soleil's 13 separate resorts in 14 valleys and more than 200 lifts snake over two countries, France and Switzerland; prior to EU open border policies, along with a lift pass, you were advised to carry a passport while skiing.
Exercises in lift-queuing and sign-reading are de rigueur in Europe's biggest interconnected ski areas; the Trois Vallées boasts 600 km (or 500, depending on who's measuring) of groomed runs. For Canadian context, imagine skiing interconnected resorts from Banff to Jasper or between Kelowna and Cranbrook. French ski resorts like to point out that if you took all the lifts in the country and lined them up end to end, one could travel from Paris to Cairo.
Despite Canada's buxom breadth and perky peaks, it can be tough for us to fathom the expanses of these super-sized resorts. Even a schoolboy error in navigating the Zermatt–Cervinia coupling can result in a $500 taxi ride to get from one side (and country) back to the other should you miss the last connecting lift. Whether you're waylaid by fondue und Fendant or rigatoni e vino rosso, that schmerzes in either direction.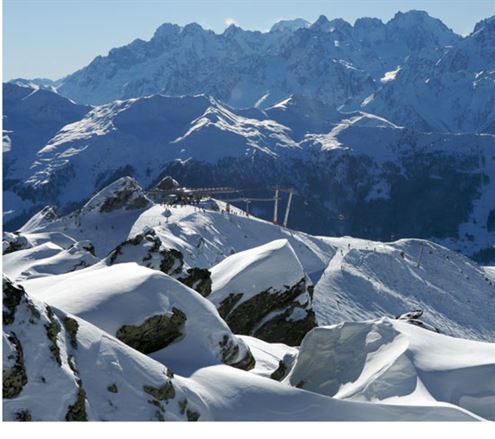 This winter, Portes du Soleil celebrates 50 years of joined-up pioneering. Back in 1964, a scale model proposing an interlinked area of the Portes du Soleil was launched at Lausanne Exposition in Switzerland, an initiative headlined by French ski racer Jean Vuarnet. Les Trois Vallées were hot on the same trail: Courchevel was established in 1946, Méribel in 1939 and the system to ski the interlinked valleys using a single ski pass has been in operation since 1973, one year after Val Thorens was established with good access to the snowsure heights above 3,000m.
Twelve years ago, a 200-person double-decker cable car joined France's purpose-built (some say "soulless") '60s-era resorts of La Plagne and Les Arcs. More than 400 km of pistes are skiable now on the Paradiski lift pass, from wide-open, above-alpine bowls and glaciers to cut runs through the lower forests of Peisey-Vallandry and, with guides, some legendary off-piste routes.
Snow and terrain are the potential advantages of choosing a mega-resort for your holiday. For one, being connected to a near-endless choice of terrain will satisfy every level of skier in your group. Two: how's the weather? It may be a total whiteout from your hotel-room window but blinding sunshine on the other side of the mountain. North- or south-facing? Powder or corn? Goulash and a beer or steak frites and a cheese trolley? For many, the daunting prospect of route-finding a maze of 200 lifts is overridden by the choice factor. (It's also a good reason to pay for lessons or guiding.) The fact remains, there's built-in insurance in variety.
Last season, a rash of new hookups came online for your enjoyment. Several major Alpine resorts joined forces, doubling their terrain in one go. Sliding seemlessly from resort to resort is easier than ever. Planning a holiday in the Alps? You might also consider Italy and France's sprawling Milky Way or Val d'Isère and Tignes's "Espace Killy" lift pass.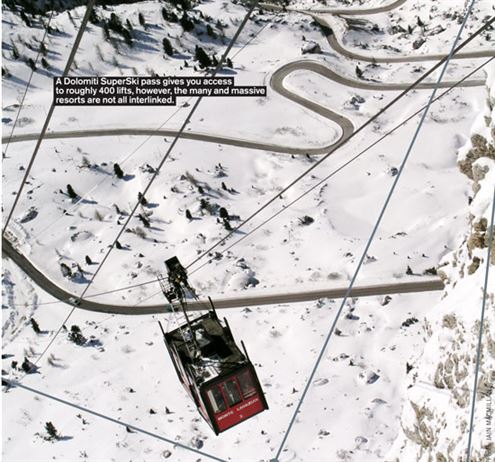 In Austria, the favoured snow-bound haunt of European royals, expanded by 50 per cent with a link to the snowiest resort in the Alps. The newly combined ski area of Lech-Zürs and Warth-Schröcken stretches to 190 km of runs, with Ski Arlberg increasing to 340 km. (Your Arlberg pass is also a passe-partout to St. Anton and St. Christoph, home of the must-do lunch appointment at the Arlberg Hospiz; its large bottle Bordeaux cellar is unmatched in the Alps.) Though the terrain expands, the atmosphere remains bijou. No hotel exemplifies Lech's charm like The Kristiania, more art-collector's private home than hotel—from its ski-butler and bath-butler to the handsome golden retriever behind the desk.
There are cozy couplings for the Swiss, too. One strategically placed bit of metal atop Hörnli Peak et voila: Arosa links with Lenzerheide. Some 225 km of slopes now criss-cross two yawning valleys, instantly making this Alpine playground one of the largest ski areas in Switzerland. The only tough call is where to stay. (On the speed dial could be the Tschuggen Grand Hotel Arosa, a sumptuous piste-side hotel, or Lenzerheide's Priva Alpine Lodge, a newly opened five-star resort.)
A best-kept secret is the Swiss areas of Grimentz and Zinal, which now also form one single area following the installation of the new three-km cable car. The third longest cable system in Switzerland delivers bird's-eye views over Trois Vallées—and one of the Alps' little-known, reliable powder stashes just one valley over from Zermatt.
Whether plummeting down the iconic face of Bec des Rosses or dancing under Farinet's open roof with Prince Harry, Verbier stands for Euro-Winter. Last winter, skiing's first W Hotel opened at the foot of Verbier's Medran Gondola—as well as the lift-off for the new link to Bruson, in the opposing valley. Verbier's Four Valleys lift pass was busy disconnecting last spring—a breakdown in agreement between Verbier and Veysonnaz—but was resolved shortly before press time, happily for the next Ski Canada Readers' Trip that rolls into town in February.

C'est tout? Non! Just when you thought Europe had done enough linking, one last surprise. Experience the ultimate link—by air—with a day of heli-skiing. Val Heliskiing will pick you up in a shiny chopper from Courchevel (and most other neighbouring resorts, including Val d'Isère itself), zooming you to the wildest and highest of nearby Italian peaks.
Different from Canadian heli-skiing with its eight to 10 runs per day from top to bottom, this French experience is one perfect, private descent, perhaps with a welcome pause for an al fresco picnic. A bite of tasty saucisson on fresh crusty bread, a glass of wine and a round of fragrant Beaufort cheese made on the very same mountain you've chosen as your own. It's the ultimate link between the simple and the sumptuous, just as skiing should be.