Reading Time:
3
minutes
Trust is timeless
What happened when a ski racer was thrown into the Chamonix backcountry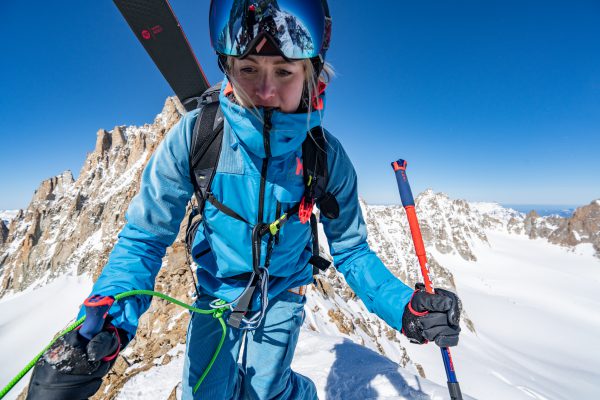 When Helly Hansen invited Erin Mielzynski to climb and ski big mountain lines in the Alps for Warren Miller Entertainment's latest ski flick, she was confused.
"I don't think I'm your girl," responded the Canadian World Cup slalom specialist. "I'm a racer from Ontario who skis ice all the time. I have no backcountry or ski touring experience."
But that was the point. Immediately after the World Cup finals Mielzynski found herself in Chamonix, France with a group of experienced mountaineers and big mountain skiers, clicking into touring bindings for the first time and climbing couloirs with ice axes, crampons and other gear she'd never used before.
"I hate being the weakest link," she says. "I knew going into it I would have to trust the people around me, trust myself to make good decisions and trust my equipment." The experience was eye opening, maybe life changing and a dramatic shift for the skier who hails from Collingwood, Ontario.
"She was really nervous but we had confidence in her," says Damien Etchaubard, marketing manager at Helly Hansen Canada. "I think she felt that because she pushed her comfort zone further than we expected." 
Mielzynski biggest concern going into the trip was ending up standing on top of something she couldn't ski, but it was going up that proved more challenging. She had trouble keeping up in the skin track. It only got worse when they started climbing couloirs.
"I'm not great with heights to begin with and then I'm using an ice axe and crampons for the first time," she says. "They had to show me how to use them."
But Mielzynski is a fast learner, obviously very fit and had good gear on her side. Even something as simple as her jacket, the Helly Hansen Whitewall LifaLoft, made a difference. The breathable insulation kept her warm on early morning approaches and never got too hot as the spring days heated up. 
"It's so important not to worry about equipment and apparel when you're on the side of a mountain," she says. "I was already so uncomfortable. Being comfortable in what I was wearing was so important."
As was trusting her ski buddies to have her back and steer her right. When it came to picking lines, she found that the things that made her nervous, her more experienced partners brushed off, and the things that she thought were no issue, they wouldn't go near. It showed her just how different backcountry skiing and racing are
"On the race course my success and failure doesn't directly effect anyone else," she says. "In the big mountains there are so many dangers, what I do really does effect the whole group."
Making decision with the group in mind changes the whole vibe of the experience. Rather than cut-throat competition, it's fist bumps at the bottom of every run, because "no matter how well you skied the line, you did it together," Mielzynski explains.
The cooperative vibe is the theme of Timeless, the Warren Miller film. It also redefined for the 29-year old racer what a future in skiing could look like. 
"There's a different freedom to skiing in the backcountry that I really like," she says. "It makes me want to be more of an all around skier." It's why she's now bringing her touring gear, and her Whitewall jacket, on all her racing and training camps.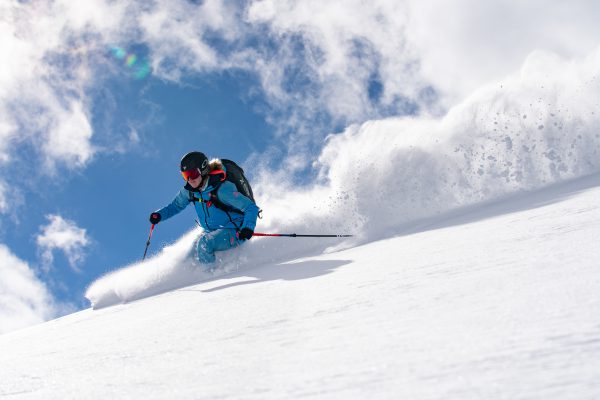 Sponsored content from Helly Hansen Canada