Reading Time:
5
minutes
It's hard to tell who's had a bigger influence over the Swiss town of Verbier, the adoring Brits or the international BigMountain set.
Story and photos by Marty McLennan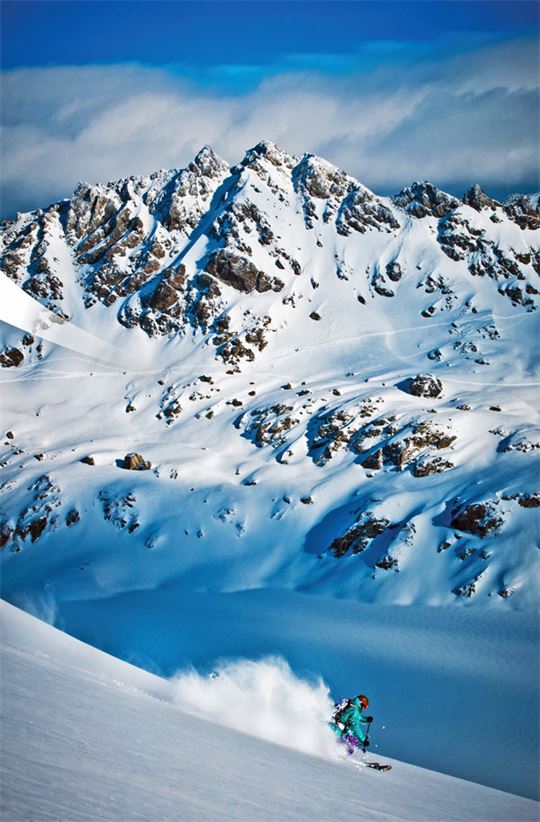 It's a bluebird day, the snows are deep and the giggles have become unstoppable. Life's pretty damn good for this desk jockey with a penchant for riding deep fluff. Forget the perennial aching back and deadlines; I'm knee-deep in the middle of a snow-covered mountain ripped with terrain features I would usually call a maze of scary-as-shite cliffs (pardon my English, but we're in the heart of Switzerland's British-speaking Valais Canton). Camera aimed skyward, I'm awaiting my ski buddies. The unlikely pair are loitering on the precipice above and by the looks of it, about to come down as fast as a Physics 101 gravity experiment.
With our flashy, oversized gear, we look like a B-rated Lord of the Rings recreation on skis: the magazine's two hobbit-sized editors following a swashbuckling Aragorn-like character around towering peaks. However, there's been a change in script. We're not skirting the cliffs, but rather jumping them with our freeride coach, Pierluca Soldano. Through the telephoto, I see him up there, working on Iain with equal measures of sports psychology, professional development and skier technique, sporting an ear-to-ear grin that works as a one-two punch with his chivalrous Italian accent. Before taking off himself, he points out to our intrepid editor how to get the most air: "Knees up, hands forward…and juuuuuuump."
Pierluca launches effortlessly, shedding a perfect spray and taking time to show his sparkling ivories for the lens before carving a textbook landing. Then I get to do some much enjoyed shout therapy and peer pressuring, taunting Iain to launch. The colourful comparisons to chickens come so easily from a subordinate who's out of immediate reach. Finally, off Iain goes. As he moves (what was I saying about flightless birds?) through the air, I can't help but think how satisfying it is to tell my boss to jump off a cliff, insult him on his form and then blast him for not smiling for the folks back home.
Verbier, as we are quickly finding out, is easy to smile about.
Two hours on skis with this multilingual coach has made it clear that Verbier—or Verbs as the upmarket West Londoners around town call it—and the so-called massive FourValleys region, which share a common lift ticket, translates into something like Place-for-Fricken-Awesome-Freeriding in just about every language. A Matterhorn-to-Mont Blanc panoramic view, more than 410 km of runs (with an impressive 2,500m of vertical from its 3,300m peak, Mt.Fort) and access by 89 lifts democratize the appeal. But Verbier has gone the extra step by mapping out massive amounts of "itineraries"—trails famously scattered through the Tortin, Vallon d'Arby and Col des Mines that are marked but not maintained, groomed or patrolled. And that seeming lack of attention is enough to separate the cream from the crop.
While relatively easy to access, the designation to these wide-open bowls and heart-stopping terrain features basically means ski-it-at-your-own-risk. And that requires not only know-how (now made simple with the entrance of fat, reverse-cambered skis), but know-when (and this is why a guide is imperative, as we later found out with a massive slide after we'd returned home). Riding these slopes under Pierluca's tutelage, we're starting to get the picture that Euros have known for decades: Verbs is freeride central in the Alps—if you know your stuff.
The three of us are cliff-side one afternoon at the invitation and inspiration of Felix Tanguay. A decade ago, this Québécois freerider saw the need for envelope-pushing ski instruction. Doing what he loves best, he crossed the pond and created Powder Extreme, a top-ranked collective of freeriding pros (many of them competing on the international circuit) that makes its bread and butter safely carving up Europe's biggest lines with clients through the ski area's renowned features. Felix's service goes far beyond guiding. "It's a school that permits our clients to discover Verbier's off-piste areas safely and within their level," he says.
On the heels of a welcome storm that dropped 60 cm in a couple of days, we truly couldn't have come at a better time to see why Verbier is so well known for its freeriding. However, the village below tells another story, topping the vacation shortlist of the world's freewheeling.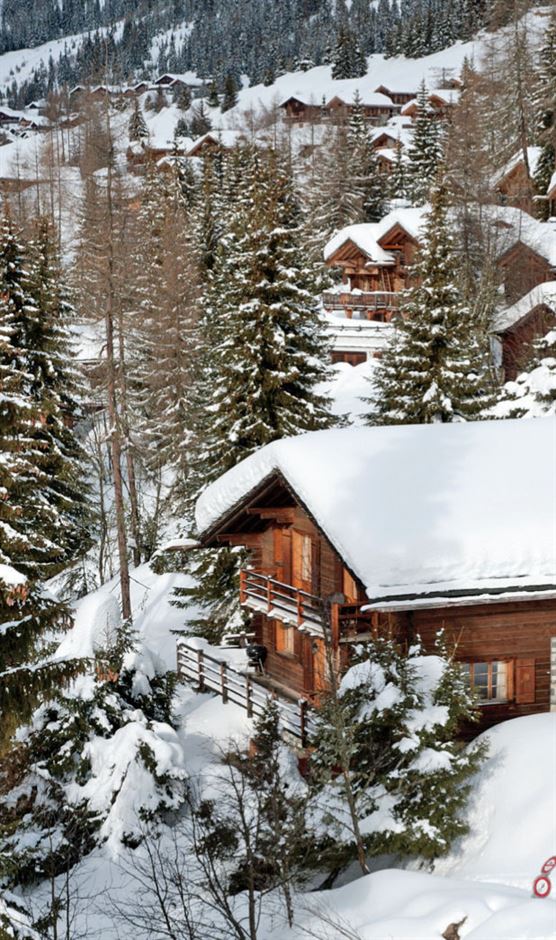 While we're carving up the knee-deep turns, the picture-perfect village comes into view through the clouds. It's one of those magic Swiss Alpine ski towns with timeless low-rise pine chalets with snow-topped roofs and cute little chimneys spouting curls of smoke. What the serenity doesn't show is neither its elasticity nor its heartbeat. The town's year-round population of 3,000 bursts throughout the winter with peaks beyond 35,000 overnighting visitors, and an après scene that on a scale from one to 10 spikes up to 11 regularly. It might just have to do with the money that's splashed about.
Got $150,000 in spare change? Stay at Sir Richard Branson's humble Lodge for a week. A couple of years ago, you could also order what was branded as "the world's most extravagant cocktail"—a $6,000 treat made from Krug Grande Cuvée champagne, Hennessy cognac and other "secret ingredients" over an ice sculpture at the decadent Coco. Today, the outrageous, oligarch-only nightclub has been replaced. Yet the uppity crowds have remained. If you manage to squeeze through the town's most discerning velvet ropes, you may rub shoulders with the likes of Prince Harry and buddy James Blunt, who were caught by the tabloids rolling in the New Year locally. Posh and Becks are known to strut their stuff in Verbs, too.
But fortunately, as our time in the Alpine confirms, you don't have to be a high roller to ski Verbier—but no doubt it helps. It also helps to have the right guy with which to ski it.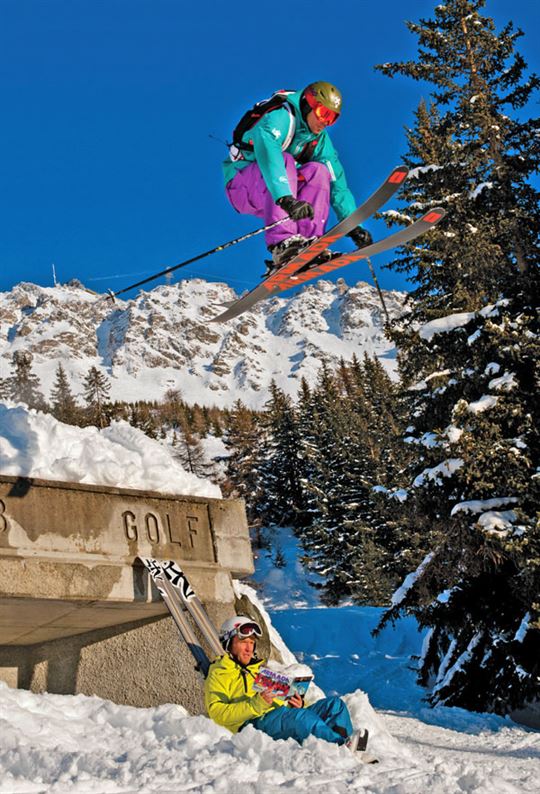 We regroup for the next launch pad. Pierluca comes my way to make sure I don't dart around the corner and take the photographer's easy way down. This time I've bagged the camera and go over the jumping drill. Following his instructions, I lift my knees, push my hands forward and down. The smile comes easily as I hurtle my meat over the side of a craggy rock face. And mid-air I come upon a eureka moment: there is something better than telling your boss to go jump off a cliff.
Powder Extreme offers its services at roughly $650/day for private (or group) instruction and off-piste guiding. powder-extreme.com.
More Verbier: verbierbooking.com