Elan: Slovenian for common sense
---
W hen was the last time you put your skis on the wrong feet? It's normally pretty well impossible to do, but I managed to swap my right and left unintentionally at a sneak peek of Elan's new Amphibio line of skis not long ago—and immediately realized something was wrong.
It also convinced me that Elan has got something right.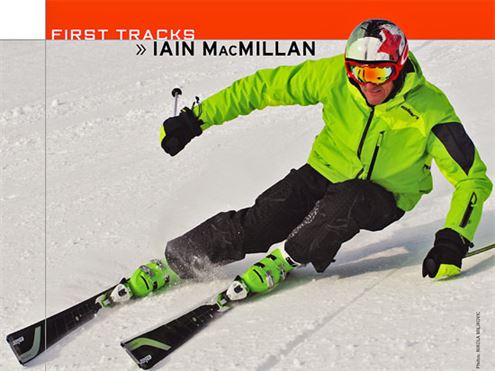 Other than some race skis with specific tips, there's rarely been a difference between right and left skis, but that's about to change. Elan's new Amphibio technology, hitting demo tents later this winter and ski
shops next autumn, has managed to combine the best of both worlds by building a ski (or a pair of skis in this case) that offers different characteristics.
Basically, these left and right skis have inside edges with a traditional camber (which result in excellent edge grip and power transfer), while the outside edges have a slightly rockered design, allowing easier
turn initiation and flotation. All are woodcore construction with the two higher-end models also incorporating double titanium construction into an asymmetic layer.
The Amphibio two-in-one concept will be in four models next year, and in a change of ski industry innovation and marketing, the technology isn't trickling down to allmountain skiers after starting in the racing or powder genres. Elan is instead starting this new wave for the masses who make up the vast majority of skiers in the lift line, i.e. the all-mountain skier.
For a few days back in late November, I was hanging out with a bunch of new Slovenian friends with names seemingly from the Ikea catalogue. They're a happy lot, especially when you have something to show off. It was their predecessors who started the carving revolution back in 1994 when Elan introduced to the world the first shaped ski (or parabolic as it was then called). The lower-speed carving concept of Elan's SCX (Sidecut Extreme) spawned a whole new direction in ski design by all manufacturers. And looking back, it's hard to believe we were all once on straight and narrow skis.
Earlier this decade, Elan introduced the concept of an all-in-one ski-binding system and, five years ago, the benefits of WaveFlex technology. (Think softer flex with torsional stability through the concept of corrugated strength.) Elan's WaveFlex technology has been incorporated into all models of the Amphibio line.
Elan's neat and tidy—and only—factory is just south of the Austrian border in a little town whose name just rolls off the tongue, Begunje na Gorenjskem. Nearby sit the ruins of the 12th-century Kamen Castle as well as a museum and psychiatric hospital in the 15th-century Katzenstein Castle, where during the Nazi occupation in the Second World War, the Gestapo set up a prison. Farther off in the background, Slovenia's highest peaks, the three-headed Triglav in the Julian Alps, frame the view of the Elan factory.
Aside from some impressive yachts emerging from the marine division, Elan builds more than a half-million skis here every year, including loads for other brands. (On my visit, I saw racks of Kästle, Black
Diamond, Head, Nordica, 4FRNT and many others both well known and obscure.)
But this 24-hour factory is no assembly plant; it's full of men and women making skis from the most basic raw materials, such as different species of hardwoods, and continues right up to the hand-silk-creened topsheets. I saw one fully automated industrial robot on my tour. Both sandwich construction skis (about a third of production) and poliuretan injection moulded skis are built at the one Elan factory. Most impressive.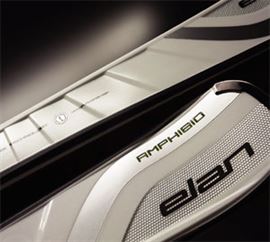 Part II of my Amphibio-palooza Fest 2010 tour involved a trip to the heated chairlift seats of Kaprun, Austria, chasing early-season snow to test out the four new models. I started low-end with the Amphibio WaveFlex 12 and in one run, indeed several turns, knew Elan was onto something big. Perhaps because I'm a light guy, I didn't even feel the need to move up to big-brother models 14 or 82XTi, the 12 was plenty of ski for me. But of course I did, and was equally impressed by the whole line of on-piste carvers. The initiation on these skis is effortless, especially the 12 and 14, and the edge grip and speed control obvious. The rocker design on the outside edge was simply easy, no slap in the face. A much less hooky tip could result in fewer stumbles—and possible injuries. And at C$899 for the 12 and Insomnia models and C$999 for the 14 and 82XTi, the suggested retail price with bindings seems more than fair.

This is a technology that assumes skiers continue to weight their downhill ski more than their uphill (unlike a World Cup level racer or a heli-skier). Again, this is an innovation for all-mountain carvers, although it will be interesting to watch as it trickles off in the freeride direction the following year. I'm personally used to a much wider ski, but our test days with 74 and 82 mm underfoot did leave me questioning the marketing of fatter and fatter skis to the masses who don't need them.

It's indeed refreshing to finally have a ski manufacturer not catering solely to the elite few who are doing crazy stuff for magazine covers and YouTube, but instead create and market something for high-end intermediate to expert all-mountain skiers. Combined with cosmetics from the Porsche Design Studio, it looks as though Elan has got things right. And left. ❄

Tags: All-Mountain, Amphibio, camber, Elan, Elan Amphibio, Elan SCX, Kaprun, parabolic, rocker, WaveFlex