Reading Time:
11
minutes
MID-RANGE PERFORMANCE IN LONG AND SHORT TURNS
These skis are expected to offer excellent value, but also strong performance at intermediate to advanced speeds on groomed slopes. Appropriate criteria such as ease of initiation and stability were given a lot of attention in identifying the best skis in this category. Easy Cruisers represent, for many skiers, their first carving skis and skis that can 
grow with them as speed and skills increase. 
Waist 70-75 mm.
Mind the Gap: While reading the Easy Cruisers Test, note the price difference between skis, as much as $830. Models submitted by manufacturers for this category range from progressing to more of a high-performance ski.
Atomic | Blizzard | Elan | Fischer | Head | K2 | Kastle | Line | Nordica | Oagasaka | Salomon | Volkl
FIND SKIS using Ski Canada's interactive ski test tool – SkiFinder. Also available as a free app from the iStore & Google Play.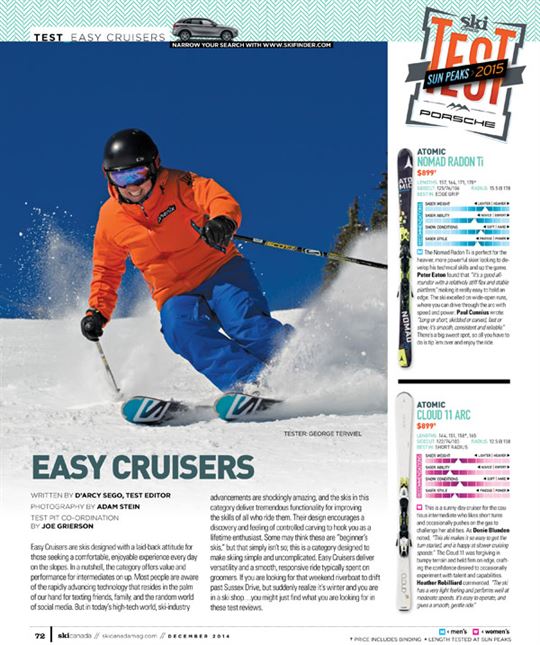 † Price includes binding  * Length tested at Sun Peaks
ATOMIC NOMAD RADON Ti
$899†  *  LENGTHS: 157, 164, 171, 178*  *  SIDECUT: 125/76/106   *  RADIUS: 15.5 @ 178
BEST IN: EDGE GRIP
MEN:  The Nomad Radon Ti is perfect for the heavier, more powerful skier looking to develop his technical skills and up the game. Peter Eaton found that "it's a good all-rounder with a relatively stiff flex and stable platform," making it really easy to hold an edge. The ski excelled on wide-open runs, where you can drive through the arc with speed and power. Paul Cunnius wrote: "Long or short, skidded or carved, fast or slow, it's smooth, consistent and reliable." There's a big sweet spot, so all you have to do is tip 'em over and enjoy the ride.
ATOMIC CLOUD 11 ARC
$899†  *  LENGTHS: 144, 151, 158*, 165  *  SIDECUT: 122/74/103   *  RADIUS: 12.5 @ 158
BEST IN: SHORT RADIUS
WOMEN: This is a sunny-day cruiser for the cautious intermediate who likes short turns and occasionally pushes on the gas to challenge her abilities. As Donie Blunden noted, "This ski makes it so easy to get the turn started, and is happy at slower cruising speeds."  The Cloud 11 was forgiving in bumpy terrain and held firm on edge, crafting the confidence desired to occasionally experiment with talent and capabilities. Heather Robilliard commented: "The ski has a very light feeling and performs well at moderate speeds. It's easy to operate, and gives a smooth, gentle ride."

BLIZZARD POWER 800
$1,049†  *  LENGTHS: 160, 167, 174*, 181  *  SIDECUT: 120/72/104  *  RADIUS: 16 @ 174
BEST IN: INITIATION, EDGE GRIP
MEN:  Some of our Sun Peaks testers specifically commented on how this would be an incredible teaching ski and was a dream to be on. The Power 800 offered a huge sweet spot with a damped, consistent feel and a smooth ride immune to any sudden movements or hidden on-hill surprises. Chris Candow found it a "great cruiser, and the transitions to short turns easy. It's stable at speed in both medium and long turns. An aggressive intermediate will like this one." And when Chris says "aggressive," rest assured this is a purchase into which you can grow.
BLIZZARD VIVA 600 FS IQ
$849  *  LENGTHS: 153, 160*, 167  *  SIDECUT: 119/72/102   *  RADIUS: 13.5 @ 160
BEST IN: INITIATION, AGILITY
WOMEN: The Viva 600 was poppy and quick, like a Porsche on Red Bull—a fantastic ride that was super-easy to initiate and felt solid through the arc. The flex pattern and torsional stiffness blended perfectly to produce snow-hugging, eye-popping stability. Gillian Browning noted the ski was "energetic and lively, full of fun. I was able to push this one as fast as I wanted to in both short and long turns." Heather Robilliard let up on the gas and still found it "beautifully stable at slow and moderate speeds." The Viva can easily move a beginning intermediate to a more advanced rider.
ELAN AMPHIBIO 78 Ti FUSION
$799†  *  LENGTHS: 160, 168*, 176, 182  *  SIDECUT: 127/78/107  *  RADIUS: 14.9 @ 168
BEST IN: EDGE GRIP
MEN:  The Amphibio 78 was an elegant cruiser on long, easy runs, with enough performance to come alive when power was applied through the turn. Matt Barnes felt it would "develop confidence in an intermediate skier. And when I got it up to speed, I was surprised by its energy." Elan has created an easy-turning ski with a soft tip that makes initiation a breeze and absorbs any bumps or crud that might be in the way. Marc Ledoux had reassuring advice: "Relax and enjoy the ride on this ski. It feels at home at moderate speeds, is easy to pivot and delivers a smooth ride."
ELAN INSPIRE FUSION
$749†  *  LENGTHS: 152, 158*, 166  *  SIDECUT: 127/78/107  *  RADIUS:13.3 @ 158
BEST IN: EDGE GRIP, LONG RADIUS
WOMEN: Elan nailed the Easy Cruiser category with this one. The Inspire is a super-happy ski that's not overly aggressive and is a great confidence-booster. Donie Blunden found that it "makes skiing easy. Short, long, fast or slow—it does it all. Predictable and lively will make it very appealing for many riders." It's dependable, grippy, goes anywhere, does anything and puts a smile on your face. Wendy Anderson rocked on this ski: "No matter where you stood, you were balanced and supported, and it was solid and stable at speed. An intermediate would progress through to expert in no time."
 FISCHER PROGRESSOR 800
$1,049†  *  LENGTHS: 150, 155, 160, 165, 170, 175*  *  SIDECUT: 122/74/103  *  RADIUS: 16 @ 170
BEST IN: EDGE GRIP
MEN: Lighter riders who enjoy moderate speeds and a smooth, calculated James Bond feel throughout their turns will enjoy the Progressor 800. Peter Eaton felt it had "great energy and easy, smooth initiation. It performed best in short-radius turns." This ski is not your point-and-shoot cruiser; it likes to turn. With a big juicy sweet spot and beautiful flex, it provides effortless performance for those who steer through the entire turn. Drew Bragg liked his run: "Smooth from start to finish. This ski carves with a consistent feel of the snow and arc of the turn. It's easy to change from big to small turns."
FISCHER IVORY
$849†  *  LENGTHS: 150, 155, 160*, 165  *  SIDECUT: 118/68/100  *  RADIUS:13 @ 160
BEST IN: EDGE GRIP
WOMEN: Fischer upped the competition with a softer more forgiving ride that helps progress a skidded turn into a carved turn more easily. Consistent tester comments indicated a preference for moving at moderate speeds. Joanne Younker said: "This is a fun ski that turned easily in all turn shapes and sizes. It was stable and held really well when carving." Patty Goodhand found the Ivory to be an "all-round sweet ride. A lovely ski that's very easy to turn!" Intermediate riders looking to advance will enjoy the sassy attitude in this bubbly cruiser.
HEAD REV 78
$499†  *  LENGTHS: 142, 149, 156, 163, 170*, 177  *  SIDECUT: 127/78/110  *  RADIUS: 13.6 @ 170
BEST IN: SHORT RADIUS
MEN:  The Rev 78 is particularly forgiving with its floaty tips, making it playful and lively in all conditions. All our Sun Peaks testers mentioned how effortless the ski turned, and how it would grip and hold on demand. Stress-free transitions through short and medium turns will make you look like a million dollars and wow the crew you roll with. Chris Candow said it's a "great all-round cruiser and incredibly versatile, allowing for easy skill development." Drew Bragg felt it would best suit "the weekend cruiser who likes to let the ski go a bit. Everything about this ski rings positive."
HEAD PURE JOY
$499†  *  LENGTHS: 143, 148, 153, 158, 163*  *  SIDECUT: 128/73/108  *  RADIUS: 11.6 @ 163
BEST IN: EDGE GRIP
WOMEN: The Pure Joy is a graceful ski with the ability to hold on hard snow and effortlessly float in and out of the rough stuff. Wendy Reade liked the "great turning radius on this ski. It was easy to handle, and could really arc across the hill. At higher speeds it held well."  Technical ladies wanting exceptional performance will find the most pleasure here. Wendy Anderson noted that "the sweet spot is slightly back of centre, but once you find it, the ski performs well. It takes a little effort to initiate the turn, and it's solid as a rock at speed."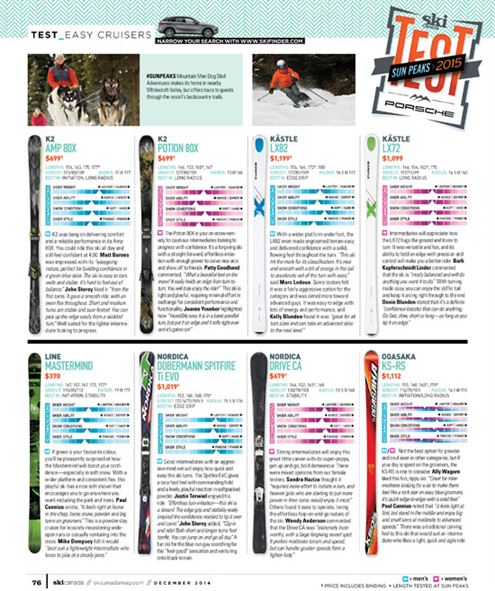 K2 AMP 80X
$699†  *  LENGTHS: 156, 163, 170, 177*  *  SIDECUT: 125/80/109  *  RADIUS: 17 @ 177
BEST IN: INITIATION, LONG RADIUS
MEN:  K2 was bang on delivering comfort and a reliable performance in its Amp 80X. You could ride this ski all day and still feel confident at 4:00. Matt Barnes was impressed with its "easygoing nature, perfect for building confidence in a green-blue skier. The ski is easy to turn, wide and stable. It's hard to feel out of balance." John Storey liked it "from the first turns. It gave a smooth ride, with an even flex throughout. Short and medium turns are stable and sure-footed. You can pick up the edge easily from a skidded turn." Well suited for the lighter intermediate looking to progress.
K2 POTION 80X
$699†  *  LENGTHS: 146, 153, 160*, 167  *  SIDECUT: 127/80/109  *  RADIUS: 13 @ 160
BEST IN: LONG RADIUS
WOMEN: The Potion 80X is your on-snow remedy for cautious intermediates looking to progress with confidence. It's a forgiving ski with a straight-forward, effortless initiation with enough power to carve nice arcs and show off to friends. Patty Goodhand commented, "What a beautiful feel on the snow! It really holds an edge from turn-to-turn. You will truly enjoy the ride!"  This ski is light and playful, requiring minimal effort in exchange for consistent performance and functionality. Joanne Younker highlighted how "incredibly easy it is in a basic parallel turn, but put it on edge and it rolls right over and it's game on!"
KÄSTLE LX82
$1,199†  *  LENGTHS: 156, 164, 172*, 180  *  SIDECUT: 127/82/109   *  RADIUS: 16.5 @ 172
BEST IN: EDGE GRIP
MEN: With a wider platform underfoot, the LX82 even made ungroomed terrain easy and delivered confidence with a solid, flowing feel throughout the turn. "This ski hit the mark for its classification. It's nice and smooth with a bit of energy in the tail to accelerate out of the turn with ease," said Marc Ledoux. Some testers felt it was a fairly aggressive option for the category and was aimed more toward advanced guys. It was easy to edge with lots of energy and performance, and Kelly Blunden found it was "great for all turn sizes and can take an advanced skier to the next level."
KÄSTLE LX72
$1,099  *  LENGTHS: 146, 154, 162*, 170  *  SIDECUT: 117/72/99  *  RADIUS: 14.5 @ 162
BEST IN: LONG RADIUS
WOMEN: Intermediates will appreciate how the LX72 hugs the ground and loves to turn. It was versatile and fun, and its ability to hold an edge with precision and control will make you a better rider. Barb Kupferschmidt Linder commented that the ski is "nicely balanced and will do anything you want it to do."  With turning made easy, you can enjoy the stiffer tail and keep it arcing right through to the end. Donie Blunden stated that it's a definite "confidence-booster that can do anything. Go fast, slow, short or long—as long as you tip it on edge."
LINE MASTERMIND
$370  *  LENGTHS: 147, 157, 167, 172, 177*  *  SIDECUT: 115/85/112   *  RADIUS: 19 @ 177
BEST IN: INITIATION, STABILITY
MEN:  If green is your favourite colour, you'll be pleasantly surprised at how the Mastermind will boost your confidence—especially in soft snow. With a wider platform and consistent flex, this playful ski has a nice soft shovel that encourages you to go anywhere you want including the park and trees. Paul Cunnius wrote, "It feels right at home in the chop, loose snow, powder and big turns on groomers." This is a powder-day cruiser for leisurely meandering wide-open runs or casually venturing into the trees. Mike Dempsey felt it would "best suit a lightweight intermediate who loves to play at a steady pace."
NORDICA DOBERMANN SPITFIRE Ti EVO
$1,019†  *  LENGTHS: 152, 160, 168, 176*  *  SIDECUT: 122.5/72/105.5  *  RADIUS: 15.5 @ 176
BEST IN: EDGE GRIP
MEN: Good intermediates with an aggressive mind-set will enjoy how quick and easy this ski turns. The Spitfire EVO gives a racy-fast feel with commanding hold and a lively, playful reaction in softpacked powder. Justin Terwiel enjoyed his ride: "Effortless turn initiation—this ski is a dream! The edge grip and stability really inspired the confidence needed to tip it over and carve." John Storey added, "Clip in and ride! Both short and longer turns feel terrific. You can jump on and go all day." A fun ski for the blue-run guy searching for the "feel-good" sensation and venturing onto black terrain.
NORDICA DRIVE CA
$679†  *  LENGTHS: 144, 152, 160*, 168  *  SIDECUT: 130/78/108  *  RADIUS: 13.5 @ 160
BEST IN: STABILITY
WOMEN: Strong intermediates will enjoy this great little carver with its super-poppy, get-up-and-go, bold demeanour. There were mixed opinions from our female testers. Sandra Haziza thought it "required more effort to initiate a turn, and heavier girls who are starting to put more power in their turns would enjoy it most." Others found it easy to operate, loving the effortless hop-on-and-go nature of the ski. Wendy Anderson commented that the Drive CA was "extremely trustworthy, with a large forgiving sweet spot. It prefers moderate terrain and speed, but can handle greater speeds from a lighter lady."
OGASAKA KS-RS
$1,112  *  LENGTHS: 155, 160, 165*, 170*  *  SIDECUT: 116/70/101   *  RADIUS: 16.1 @ 170
BEST IN: INITIATION/LONG RADIUS
MEN & WOMEN:  Not the best option for powder and crud seen in other categories, but if your day is spent on the groomers, the KS-RS is one to consider. Ally Wagorn liked this fun, zippy ski: "Great for intermediates looking for a ski to make them feel like a rock star on easy blue groomers. It's quick edge-to-edge with a solid feel." Paul Cunnius noted that "it feels light at first, but stand in the middle and enjoy big and small turns at moderate to advanced speeds."  There was a traditional carving feel to this ski that would suit an intermediate who likes a light, quick and agile ride.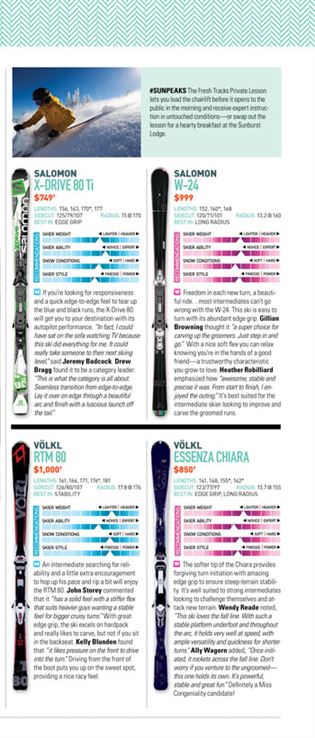 SALOMON X-DRIVE 80 Ti
$749†  *  LENGTHS: 156, 163, 170*, 177  *  SIDECUT: 125/79/107  *  RADIUS: 15 @ 170
BEST IN: EDGE GRIP
MEN: If you're looking for responsiveness and a quick edge-to-edge feel to tear up the blue and black runs, the X-Drive 80 will get you to your destination with its autopilot performance. "In fact, I could have sat on the sofa watching TV because this ski did everything for me. It could really take someone to their next skiing level," said Jeremy Badcock. Drew Bragg found it to be a category leader: "This is what the category is all about. Seamless transition from edge-to-edge. Lay it over on edge through a beautiful arc and finish with a luscious launch off the tail."
SALOMON W-24
$999  *  LENGTHS: 152, 160*, 168  *  SIDECUT: 120/71/101  *  RADIUS: 13.2 @ 160
BEST IN: LONG RADIUS
WOMEN: Freedom in each new turn, a beautiful ride…most intermediates can't go wrong with the W-24. This ski is easy to turn with its abundant edge grip. Gillian Browning thought it "a super choice for carving up the groomers. Just step in and go."  With a nice soft flex you can relax knowing you're in the hands of a good friend—a trustworthy characteristic you grow to love. Heather Robilliard emphasized how "awesome, stable and precise it was. From start to finish, I enjoyed the outing." It's best suited for the intermediate skier looking to improve and carve the groomed runs.
 VÖLKL RTM 80
$1,000†  *  LENGTHS: 161, 166, 171, 176*, 181  *  SIDECUT: 126/80/107  *  RADIUS: 17.8 @ 176
BEST IN: STABILITY
MEN: An intermediate searching for reliability and a little extra encouragement to hop up his pace and rip a bit will enjoy the RTM 80. John Storey commented that it "has a solid feel with a stiffer flex that suits heavier guys wanting a stable feel for bigger cruisy turns." With great edge grip, the ski excels on hardpack and really likes to carve, but not if you sit in the backseat. Kelly Blunden found that "it likes pressure on the front to drive into the turn." Driving from the front of the boot puts you up on the sweet spot, providing a nice racy feel.
VÖLKL ESSENZA CHIARA
$850†  *  LENGTHS: 141, 148, 155*, 162*  *  SIDECUT: 123/77/97                       RADIUS: 15.7 @ 155
BEST IN: EDGE GRIP, LONG RADIUS
WOMEN: The softer tip of the Chiara provides forgiving turn initiation with amazing edge grip to ensure steep-terrain stability. It's well suited to strong intermediates looking to challenge themselves and attack new terrain. Wendy Reade noted, "This ski loves the fall line. With such a stable platform underfoot and throughout the arc, it holds very well at speed, with ample versatility and quickness for shorter turns." Ally Wagorn added, "Once initiated, it rockets across the fall line. Don't worry if you venture to the ungroomed—this one holds its own. It's powerful, stable and great fun." Definitely a Miss Congeniality candidate!