---
by Iain MacMillan
from Winter 2011 issue
Both the similarities and contrasts of TELLURIDE and SILVERTON in southern Colorado are what make them so perfectly complimentary

photo: SCOTT DW SMITH
By the time we'd made it back to
Denver and wrapped up Seth-and-Iain's
Excellent Roadtrip, I was so
bagged I could have been shipped home via
UPS. An ironic thought, since earlier in the
day we'd been on one exceptional hard-earned
run after another—and finished off
the final leg of each in the back of a
decommissioned UPS van.
The trip had started off quite luxuriously
with two nights at the swank Lumière
boutique hotel in Telluride and two days
boosting our red blood cells by sauntering
beyond the top chairlifts with our skis on our
packs choosing our steeps and looking for
leftover powder pockets for me to shoot Seth
being Seth. Telluride's solid rep as an expert's
mountain continues to forge ahead with
more impressive inbounds out-of-bounds-like
terrain opening up in the Gold Hill and Black
Iron Bowl areas of the trail map.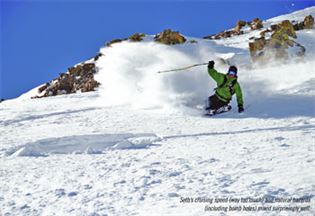 My camera lens and I were frustrated trying
to take advantage of Seth's ski prowess and
seemingly limitless audacity (and his new
titanium leg). Although easily goaded into
leaping off all sorts of natural features that
ended in relatively soft landings, I couldn't
focus fast enough for him and my camera
wouldn't let me take more than four frames at
a time—I needed about 40.
Telluride's tough shell is a curious
character. For all the black-diamond skiing
right onto the Victorian mining town valley
floor, there's also an enormous number of
gentle runs, including stuff where powder is
groomed so perfectly, with a pitch that's so
mild, you could confidently take your two-year-
old and your grandmother without a
harness and leash on either.
The resort itself is full of contrasts:
plenty of dirtbags with beards and tele-skis,
trustafarians (ski bums with trust funds and
dreadlocks "slumming it"—for one winter
anyway), People magazine covers avoiding
the brighter lights of Aspen and Vail, groups,
singles, boys-weeks, families—and a few
hilarious and entertaining locals like Tom
Watkinson who were born, raised and will one
day be buried in Telluride.

The resort's historic town scored firsts for
things like being electrically lit before any
other "city" in the world, as well as home
to Butch Cassidy and the Sundance Kid's
first bank heist. It's a world away from the
mountain village that was created on drafting
boards in the last 15 years or so.
Most who stay in town walk a few blocks
back to their often less-flashy digs through
a village that Dickens might have designed
had he been a skier. The majority now stay at
the quieter but always expanding suburb of
Mountain Village (which sits at 2,908 metres) and ski to the door of chic digs like Lumière, where a footman hands you your warm and dry shoes in exchange for your boots and dripping skis before you head upstairs for après-ski sushi and a choice of private or group hot tubs.
Meanwhile, back in the town of Telluride,
events and performing arts range from a giant
puppet show of The Hobbit to the Vienna
Boys Choir, Comedy Fest to the Telluride Jazz
Festival. In a perfect world, a free multi-million-dollar gondola would whisk visitors 13 minutes up and over the 3,211-metre
elevation St. Sophia Station between town
and village—to avoid a 20-minute drive. And
that's exactly what does happen, seven days
and nights a week. (A drunk bus does run into
the wee hours, Thursday to Sunday. Stragglers
take note: the somewhat appropriate meeting
spot is in front of the County Court House.)
The dramatic peaks that loom over the
box canyon that the town sits in are home
to almost 600 km of underground mining
tunnels in the area. They're also much closer
to the Canadian Rockies in appearance than
the ostensibly big hills where so much of
the skiing in the relatively uninspiring U.S.
Rockies is done. If you squint a little in
Telluride, the elevated, snow-covered tailings
pile just beyond the end of town and the
craggy, grey peaks behind are reminiscent of a
Lake Louise view.
**************************************************
As much of a contrast as the town and village
of Telluride are, it ain't nuthin' compared to
the contrast of Telluride (or any ski area in
North America for that matter) with the 100%
off-piste, 100% steep powder paradise of
Silverton Mountain.
The way the crow flies, Telluride and
Silverton are less than 20 km apart and during
the mining heydays, the 30-km trip up and
over the Ophir Pass was the only way to get
to Telluride. The circuitous (and guardrail-less)
drive today along the Million Dollar
Highway is 120 km—and hairy at best. But
when promises of powder and a few friends
with whom to share it beckon, driving an
unfamiliar and narrow shelf-road on a dark,
snowy night after a full day of skiing Telluride
steeps is a small price to pay. And it is SO
worth it.
A smaller and decidedly ungentrified
Victorian mining town, Silverton is full of
magic that's just not plausible at a purpose-built
resort. Bagged upon arrival, Seth and
I checked into the Triangle Motel with what
appeared to be other Seths and Iains on
the same powder pilgrimage. Despite the
drive, we were too excited to head straight
to bed so we wandered down the quiet,
snowy, and getting snowier, main street for
a nightcap at the Grand Imperial Hotel. The
GI came complete with high ceilings, antique
furniture, a player piano, creaky floors and
ghosts everywhere. We wished we'd upped
the travel budget by $20 and stayed here.
Our bartender was more mountain guide than
prospector, but he did point out the bullet
still lodged in the wall that came from the
pistol of a wounded sheriff as he fell in a
duel 90 or so years before our visit.
We wandered back to the motel as
gargantuan-sized fluffy flakes quickly filled
in our footprints. And it wasn't long before
visions of sugar plum fairies were dancing
before my eyes as I drifted off to sleep.
Jen and Aaron Brill opened Silverton
Mountain, a 10-minute drive from town, less
than a decade ago. Their story of owning an
experts-only, private powder mountain is the
stuff of hard work—and dreams. After buying
up mining claims on 350 acres 10 years
ago (and later securing rights to another
1,300), installing a used chairlift by hand,
and surviving the permitting process and a
lawsuit with a neighbour, the snowboarding
couple (Aaron with poles) began a unique
operation many in the ski world are just now
hearing about: guided off-piste skiing, open
by reservation-only, four days a week.
To the niche in the know, the idea was an
instant hit. Silverton is the highest ski area
in North America—and with no easy way
down, easily the steepest. Roughly 80 guests
per day enjoy the heli-ski-quality powder
and spectacular terrain. Five or six runs are a
typical day. Bring your own avi gear or rent
theirs. Pre-and post-season are the onlyunguided skiing days and in order to ski itwithout help, you must be qualified.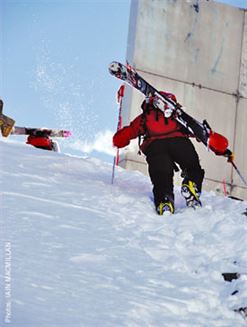 Although I'd been in Vail for five days before meeting up with Seth, then Telluride for two, I only have one speed hiking at high altitude: slow. With a base area of 3,170m the lone chair tops out at 3,750m, but for most groups, especially in the morning, the fun doesn't quite begin there. Hiking another 20 or 30 minutes takes you to the top elevation, 4,110m, where an old radiowave relay antenna that would fit into a Sean Connery James Bond movie makes a fitting destination. From there, the world opens up with spectacular views and skiing options normally reserved only for those heli-, cat- or backcountry skiing in B.C. or Alaska. (Of course, more hiking is always possible.)
The powder? Above the knees, light,
dry, fluffy. The terrain? Far better than
imagined for our group from Colorado,
Canada and the U.K. Only one narrow
shaft of a drop was too steep and nasty
for anyone, even Seth, to forgo the
rope offered. Bowls, chutes, cliffs… the terrain and vistas are spectacular
especially on a sunny day after a storm, like Seth and I were offered.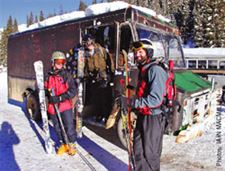 Runs typically bottom out onto
logging roads that collect groups and
funnel skiers to somewhere the UPS van
or old school bus can in turn collect
and return them to the chairlift. During
appropriate weather, the helicopter
used in avalanche control will get
you back up quicker, for $159 a ride.
A typical day averages 3,000-3,500
vertical metres—with some very tired
but happy faces at the end of the day.
The day of our visit was a total
sausage-fest; the only females I saw
at the après-ski keg party in the base
lodge yurt were mountain guides.
Despite our wildly varying ages,
professions, even nationalities, our
group of ones and twos were quickly
best friends and enjoyed emailing
photos afterward.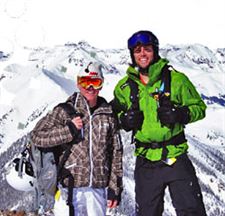 During the rare moments when Seth
and I were simultaneously awake on our
seven-hour drive back to Denver that
night, we discussed serious subjects
like what we considered the single most
important attribute to the best ski day.
Things like snow depth vs. slope pitch
or speed vs. solitude are non-winnable
debates. One thing we did agreed on
was that the one-two punch of Telluride
and Silverton Mountain sets a new
standard. ❄
Iain & Seth
Silverton Mountain
› Average annual snowfall midmountain: 10 metres.
› $139 includes guiding and lift ticket/shuttles.
› Avalanche gear rental, $39.
› Private mountain guide, $425 ($650 for two skiers).
› Rental powder skis and boards available.
› Also, the entire mountain is available for groups to rent.
Telluride Ski Resort

› Average annual snowfall midmountain: 7.6 metres.

› Sunshine? Look at the locals' faces.

› 18 lifts, 120 named runs.

› Telluride Airport, 8 km; Montrose Airport, 100 km.

› Drive time between Telluride and Silverton,

2 to 2 ½ hours.

Canadian tour operators offering Telluride packages (and Silverton add-ons) include:

Merit Ski Vacations and Skican

Tags: Colorado, Grand Imperial Hotel, Jen and Aaron Brill, Lumiere, Million Dollar Highway, Mountain Village, Silverton, St. Sophia Station, Telluride, Ton Watkinson, Triangle Motel, USA