---
From the Travel Guide 2011 issue
Odd, but some of my strongest memories of the Olympics last season are of women in push-up bras and men in leather trousers pushing up a big Maypole. Oh, and the hats. Great hats.
I know Maypoles don't go up in February and no, this isn't another story about my dreams. I just somehow managed to hook up with a bunch of Germans for my visit to Vancouver and Whistler during the Games last season. These weren't the serious kind of Germans from the north like Col. Klink; my new friends were the oom-pah-pah party-gang from Bavaria, like Sgt. Schulz. Well, not just like, but you know what I mean. They set up in fancy digs as well as a city-sized beer tent in downtown Vancouver, and also flew Deutschland's flag at the Nicklaus North Golf Club in Whistler for most of February.
Aside from spreading the gospel of the sausage and the beer stein, the Bavarians in the group were taking lots of notes to try to help them win the 2018 Games. Like the Vancouver bid, Munich is the name in the barrel (along with Annecy, France, and Pyeongchang, South Korea), but the snow events would take place at such rock-star resorts as Garmisch-Partenkirchen, where local girl Maria Riesch could show off her favourite speilplatz and Berchtesgadenerland. If successful, Munich will be the only city to host both the Summer and Winter Games. On the other hand, Korea hopes to be third-time-to- bid lucky.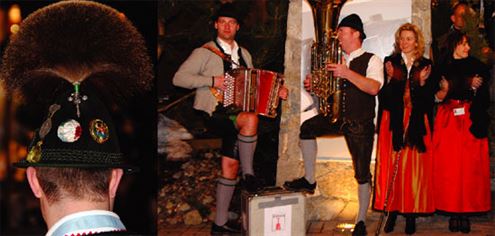 Now, if I were on the selection committee, the advantages of the German bid would seem obvious. Just over this season and next, they're holding four World Championships in the Olympic events of Alpine skiing, Bobsleigh and Skeleton, Speed Skating and Biathlon. In fact, the majority of venues in the bid could welcome Olympic athletes and spectators this season if they were asked to. My proud Bavarian friends told me the relatively minor construction part of Munich's bid includes some roadwork and adding more and longer trains to an existing rail infrastructure. It makes Sochi, Russia, look like the anti-Christ bid.

One tear in the lederhosen, and something always seems to happen when you're bent over in leather pants and trying to raise a Maypole in February, involves the historical land ownership on which some of the snow sports would take place. In a situation not uncommon in the Alps, 80 farmers own the land where many of the sliding events would take place for two weeks in 2018 – all but two are still not ready to sign on the line for the IOC.

Imagine the slopes of Whistler and Blackcomb being owned by a co-operative of 80 different farmers. It's fascinating the Bavarians can all set out and agree to rules dictating who receives how much of, say, the lift-pass revenue each season let alone adding, subtracting and dividing every other income and expense. Suddenly a ski resort on Crown Land and provincial park land in Canada seems incredibly simple.

Olympics and politics go hand-in-hand so well, there are no lines left to blur. But there are always the benefits, like tourism, that follow.

El Niño's weather effects, especially on Cypress, were still reverberating at the ski show in London, England, eight months later, thanks to the perennially dour British press. (They were obviously in the beer tent over the five sunny days I was there, when lawns were being cut in Vancouver and we were slathering sunscreen on at Whistler.) And at home, I read in a Canadian ski industry newsletter that the Olympics in Vancouver and Whistler were to be blamed for a drop in equipment sales. (I wonder if sales had increased, would the Games have been credited?)

Riding up the Whistler gondola during the Games with seven Canadian skiers, my buddy and I quizzed everyone with grand-prize offers of a free Ski Canada subscription. In the days of the ski world breaking into genres of freeride, freestyle, backcountry, park and pipe, all-mountain groomers and so on, there was a lot less knowledge about racing than I thought. Yes, it was a diminutive sample size, but I wasn't all that surprised. No one could name a current member of the Canadian Alpine Ski Team, and the closest they could come to naming one of the original Crazy Canucks was Nancy Greene Raine.

I guess there's a lot of work to be done, everywhere.

Tags: Cypress Mountain, drndl, El Nino, Garmisch-Partenkirchen, lederhosen, Munich, Olympics, Vancouver, Whistler