Reading Time:
2
minutes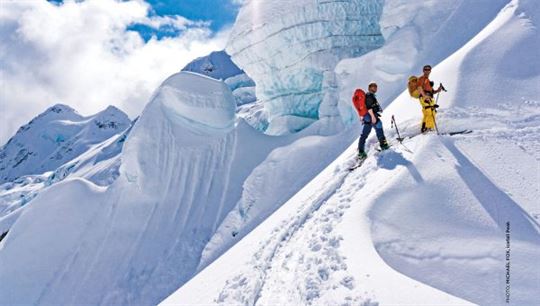 Icefall Lodge
Where: A trio of backcountry huts high in the Canadian Rockies, northwest of Golden.
Why: Long tours, tree laps, peak bagging and huge terrain.
Suggested ski: Fischer Hannibal
When storms climb over the Canadian Rockies, they hang up on the 3,350-metre pinnacles right above Icefall Lodge, shedding a little more of the white stuff. Perched at treeline, the main lodge is positioned for skiing in any conditions. And when it's really good, two outlier huts, both on massive icefields, sit within a day's tour.
Fischer Hannibal

BEST FOR: A week in a hut * LENGTHS: 162, 169, 176, 183 * RADIUS: 21@176 * SIDECUT: 126-96-114 * WEIGHT: 2.6kg/pair * $749
A debate on the ideal waist width for a one-ski backcountry quiver could last for days, but if you ask Fischer, it will have a quick answer for you: 96mm. That's the waist width on the Hannibal, its solo, do-it-all backcountry ski. After several days in all kinds of terrain, testers were clicking "like" a lot. It's soft and floaty enough for deep days, nimble for tight trees, light for going up, and still held an edge on handpicked groomers. The Hannibal borrows technology from Fischer's downhill and cross-country ski business: milled-out paulownia wood core, carbon stringers, and ABS sidewalls for durability and dampening. Compared to last year's Hannibal, which we also liked, its tip is 10 per cent stiffer to help with drive in tricky snow and float all the time. "I'm amazed how well this skis," said Vancouver Island tester Chris Baikie. "The powder performance is what you would expect, and then it carved amazingly well for such a light ski and plowed through heavy powder with confidence." One of the lightest skis in the test proved to be one of the best downhill performers, too. Impressive!