Reading Time:
2
minutes
GROS MORNE NATIONAL PARK
Where: On the west coast of Newfoundland, where the earth's crust meets the ocean.
Why: The steep hillsides of the park's "ponds" are ideal ski terrain.
Suggested ski: K2 Wayback 88
Gros Morne protects a series of freshwater fjords that cuts deep into The Rock's coast. Carved by glaciers, the same steep hillsides that create the iconic images in summer fill with snow in winter. Ski or snowmobile down the ponds to two backcountry huts, and then explore the slopes above for turns in one of the most unlikely backcountry destinations in the country.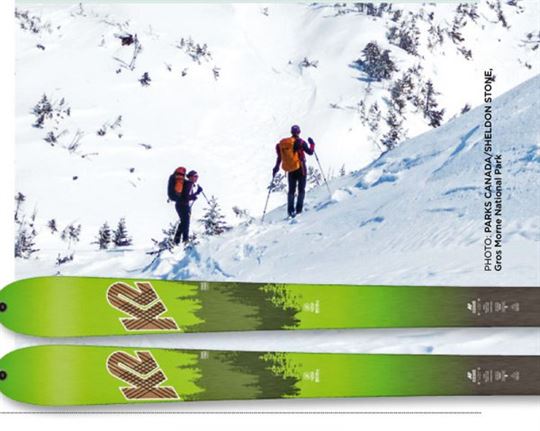 K2 WAYBACK 88
BEST FOR: Eastern touring * Lengths: 160, 167, 174, 181 * Sidecut: 122-88-113 * Radius: 17@174 * Weight: 2.6kg/pair * $700
The middle width of the five-ski Wayback family (there are 104, 96, 82 and 74 models, plus Talkback for the women), the 88 is likely the most versatile. It's thin enough to easily edge on wind-buffed ridges and resort pistes, but wide enough (126 at the tip) with tip rocker to turn smoothly in powder without taking away the submarine ride that makes skinny skis so much fun in the deep stuff. It's the ski of choice for many of the guides in Verbier, Switzerland, who found it ideal for the demands of a job that carried them from screaming groomer laps to bump fields, and mountaineering to glacier tours. "Good at everything!" is how one of the guides described his trusty sticks. Construction is a mix of balsa and flax core, a carbon weave under the topsheet, and a hybrid sidewall construction that blends toughness with dampening. At 2.6kg/pair, without bindings, there are lighter skis, but few that can handle the mixed bag of conditions that defines backcountry skiing in Eastern Canada, particularly on The Rock.