---
"You drive manual transmeession?" Arnauld stated more than asked.
"Yes, of course," I answered, wondering where our instructor-guide's next idea would take us.
"Okay, then! You weel drive zee ski-school bus to zee trail'ead—but first, I must stop at my house and collect my veezor."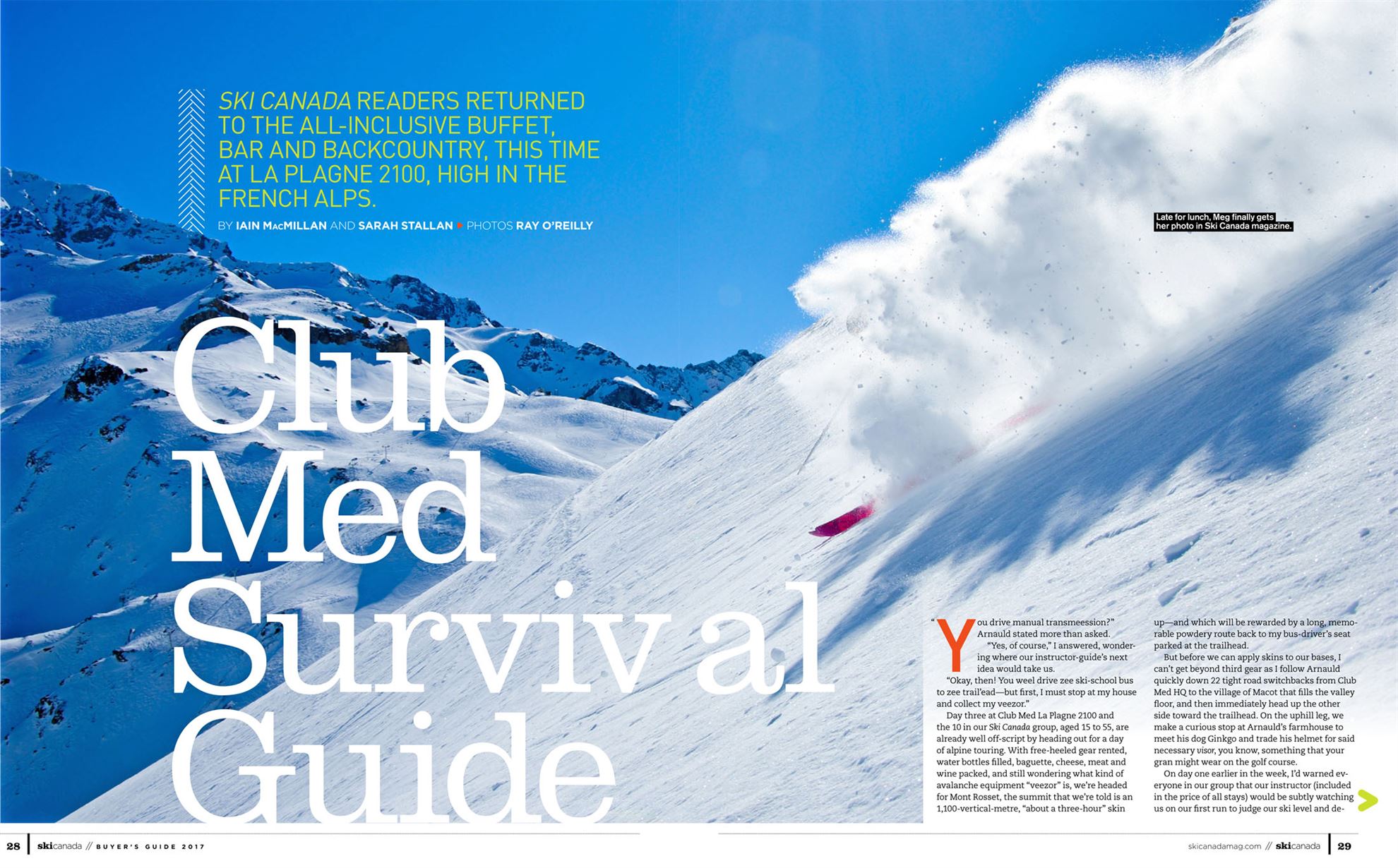 by IAIN MACMILLAN and SARAH STALLAN * photos: RAY O'REILLY in the Buyer's Guide 2017 issue
Day three at Club Med La Plagne 2100 and the 10 in our Ski Canada group, aged 15 to 55, are already well off-script by heading out for a day of alpine touring. With free-heeled gear rented, water bottles filled, baguette, cheese, meat and wine packed, and still wondering what kind of avalanche equipment "veezor" is, we're headed for Mont Rosset, the summit that we're told is an 1,100-vertical-metre, "about a three-hour" skin up—and which will be rewarded by a long, memorable powdery route back to my bus-driver's seat parked at the trailhead.
But before we can apply skins to our bases, I can't get beyond third gear as I follow Arnauld quickly down 22 tight road switchbacks from Club Med HQ to the village of Macot that fills the valley floor, and then immediately head up the other side toward the trailhead. On the uphill leg, we make a curious stop at Arnauld's farmhouse to meet his dog Ginkgo and trade his helmet for said necessary visor, you know, something that your gran might wear on the golf course.
On day one earlier in the week, I'd warned everyone in our group that our instructor (included in the price of all stays) would be subtly watching us on our first run to judge our ski level and determine what kind of slopes and terrain we could handle (as opposed to what level we'd self-judged and signed up for on arrival the night before). With 50 readers from the magazine on the trip, my ski group for the week consisted of 10 friends and family who'd all chosen Level 5, or off-piste guiding. Not wanting to let anyone down on our first day, the group interpreted my instruction as "on your first run, Arnauld will be judging us, so ski as aggressively and quickly as possible." When beautiful-skiing, 20-something Arnauld abruptly stopped on a plateau, he expected to observe us as we eventually caught up. Instead, he barely had time to turn around and avoid 10 hockey-stopping Canadian bowling balls who had been almost on his tails.
"Oh!" he said surprised, "you are all very good! Hmm…I sink I weel change some plans. Let's go directly to Couloir des Canadiens." In a spectacular setting, this north-facing off-piste run off the mountain Bellecôte looks at western Europe's highest peak, Mont Blanc, and remains one of the Alps' classics. More than half of its 1,650 vertical metres is consistently steep fall line. (And yes, there are other less-advanced ways down which other groups chose.) It was here that Arnauld barked out for the first time his oft-repeated advice for the week: "Remember everyone, NATF!"—i.e. Not Allowed To Fall.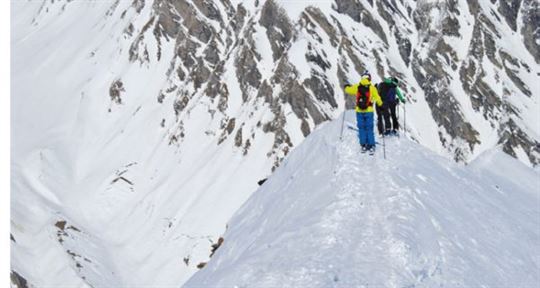 Watching some of the skiers in our group attack it, while others finessed it, the scene was rewarding to watch unfold: apprehension turned to self-kudos, serious faces to smiles, our guide like a puppy who'd been let out of the box. So close to the firm groomers that had seen nothing but sun for two weeks, most in our group were surprised to find so much dry, light and grippy snow. Untouched powder stashes deeper than our knees were everywhere, setting up one GoPro moment after another for the 15- and 50-year-old boys and girls. The only major yard sale wipeout happened, much to the glee of his unsympathetic teammates, when gnarly Trevor relaxed too much (with too much speed) on an icy cross-country track down in the valley.
An early lunch on a sunny deck at restaurant l'Ancolie, just off the woodsy runout, was a delicious culinary respite of local specialties at a lovely historic building—and all agreed it would have been a difficult find without a guide. For some in the group, the whole experience was a proper welcome back to the Alps (if a littler sooner in the ski week than expected); for others, it was an eye-opening initiation to what "just off the piste" can mean in the Alps.
When a new 200-passenger double-decker cable car hooked up La Plagne and Les Arcs in 2003, the combined one-lift-pass area, known in marketing brochures as Paradiski, became the largest ski domain in the world. Nearby Trois Vallées has since stolen that size-crown, but nevertheless, no matter how hard you ski, you can only experience a taste of the massive area in six days.
Whatever the weather, conditions, group's ability or desire, there's something for everyone with a Paradiski lift pass: higher up, wide-open alpine bowls and glaciers follow one after another; at lower elevations, cut runs through the trees of Peisey-Vallandry remind North Americans of skiing at home. Less wind, more sun? Just choose the direction you want to face. Don't like the feeling of being lost on the vague trail map? Ski with your guided group. The variety remains endless.
The area's stats are staggering, as well. La Plagne and Les Arcs combined as Paradiski had almost four-and-a-half-million skier days last year, although in March when we visited you wouldn't have known it from the half-full lifts, all 121 of them. The number of guest beds in the 10 villages of La Plagne and seven of Les Arcs adds up to just under 100,000. An impressive vertical of 2,050 metres (that's metres, not feet) tops out at the highest lift of 3,350 metres, which services 435 km of groomed pistes and a dizzying array of countless off-piste possibilities.
Purpose-built in 1961, the on-mountain villages of La Plagne are about as far as one can get from a quaint historic valley-town setting that you'd find in, say, Switzerland, which is what has always attracted me to cross the pond to ski. Some understandably find the mix of high-rise brutalism architecture of apartment blocks (like the one next door nicknamed "the cruise ship," for obvious reasons) and rustic to futuristic collections of slopeside chalets in shocking contrast to their idea of a historic Alps setting. But I, and several others in the group, found it grows on you. One of four Club Meds in the Paradiski domain, our four-star resort sat mid-mountain at 2,100 metres, offering a truly snow-sure, ski-in/ski-out location.
The sheer size of the complex, number of guests and all-inclusive arrangement meant one's curiosity to explore much after skiing was hugely dampened. Just finding the other Canadians onboard through the maze of bars and buffets at après and mealtimes proved to be a significant hunt, although made simpler by searching feet for Glerups of Denmark (trip sponsors and makers of the ultimate après-ski footwear), and JYTTE custom-made helmet-hair-hiding toques. As well, Bollé provided prize material for the week's worst (or most-entertaining anyway) anecdotes shared in a private dining room of assorted bubbling cheese and meat fondues on our last night.
Of course, everyone skiing with Club Med has the opportunity to get to know a guide like Arnauld. Included in the Club Med family of instructors at La Plagne 2100 is Arnauld's wife, Annaelle, and brother Damien. Of all the inclusions of a Club Med week, the five days of instruction or guiding repeatedly comes out on top with Canadian skiers. Indeed, while planning 2017 trips, Ski Canada and local tourist boards have arranged for several days of group-guided skiing in February (Disentis, Switzerland) and Saalbach-Hinterglemm, Austria, in March to offer as complete a ski week as possible.
Club med survival Guide_
Slip into something more comfortable
As in past years, from ski locker room to après ski, dining room to the dance floor, Glerups of Denmark proved to be the world's most perfect après-ski footwear—and everyone onboard a Ski Canada Readers' Trip receives a pair. Got helmet hair? Or you're old enough to still ski in a toque? Thank you JYTTE, custom merino-wool team toque supplier, for solving such pressing problems. And finally, a shout-out to Bollé for helping the gang see straight and awarding the week's most embarrassing moments on the final night with prizes of a pair of sunnies or goggles.
Lunch alternatives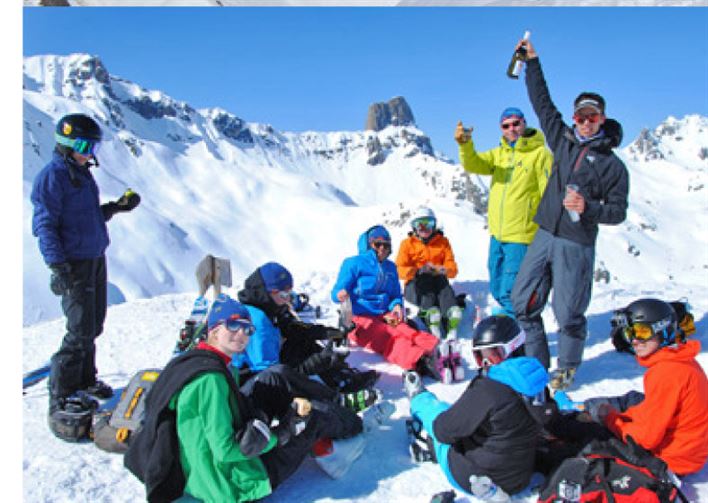 While the buffets are impressive, unlike other Club Meds in the Alps there are no on-mountain huts for lunchtime alternatives, and in such a massive ski domain it's a long way back just for the free lunch. With reservations, or sneakiness, one can eat at another Club Med village, but on a few days we found the alternatives of splurging on a sunny cushiony deck and ordering from a proper French menu as well as packing a lunch for a snowbank-with-a-view all memorable options. If you are burying your haul, try to make your hiding spot at least marginally inaccessible, lest someone literally eat your lunch.
Après doesn't end until you say it does
Just because the après-snacks buffet has been packed up, the dining room is officially closed and they appear to be closing the bar, never fear—more fun awaits. A few days into our trip we made the alarming/surprising/exciting discovery that our hotel had its very own nightclub. While some of us never managed to find the entrance, others never seemed to leave and the shenanigans became breakfast fodder—for those who made it to breakfast.
Après before après
Don't forget, the off-piste fun isn't limited to the end of your ski day. La Plagne and Les Arcs are practically littered with stone-and-timber chalets, huts and everything in between offering snacks, libations and sun chairs to help you work on the ultimate goggle tan and warm up to après back at Club Med. Try not to overindulge and miss the last chairlift home, sacre bleu! Check out Fort Colorado; it's truly on-piste, has a fun vibe and is entirely outdoors, save for the wooden fort wall built around it. Bonus: if you have too much fun, you can catch the Telemetro back to the hotel!
Is that indoor snow?
Club Med's after-hours nightclub, that often sees more staff than hotel guests, turned it up a notch one night with a full-blown foam party. Not just bubbles drifting down from the ceiling, but buckets and buckets of soapy foam covering the noisy and slick crowd. "It's a good idea to cover your glass when it's dumping," warned Nancy Palermo, one frequent nightclub patron, "but at least when you're showering afterward you don't need to shampoo." Advised Rob Reed, a Ski Canada trip veteran known for his slippery dance floor moves, "While certainly optional, and it can make for good photos, it's not necessary to stick one's head directly into the foam machine."
Stick to the plan, or don't
Time on the mountain can be carefully curated by your assigned École du Ski Français host—or you can choose the life of a rebel and strike out on your own. It's all included—the choice always remains yours. Our group of 50 Canadians had supporters of both camps. The diehard skiers of all abilities explored phenomenal terrain, while others in the more relaxed group enjoyed the rare pleasure of a quiet breakfast buffet each morning and an empty ski locker room after the last of the frenzied groups had departed. Feel free to be indecisive and switch gears every day—you're on holiday!
Extend your stay in Geneva for a day
You're all the way over there…take advantage of it and explore this unique lakeside city before heading home. Spend a night (or two) at the young, urban and hip Hotel N'vy. The shiny, LED-lit boutique hotel is central to everything, but plan to eat in or at least stay for cocktails. An excellent menu in combo with beautiful-people watching is part of the tour. Manotel.com
And if you still have time…
Non-ski activities are plentiful around La Plagne/Les Arcs. Start with a bobsleigh run (where a pro drives at speeds up to 130 kph), or Speed Luge and Bob Raft (where you drive a poky 80 kph
down a noisy, icy track. Like your ice more vertical? An ice-climbing harness for beginners or competitive types is waiting to tighten around your bum. Ziplining, fat biking, guided snowshoeing…better plan to stay an extra week.
Come back in one piece
Whether it's a torn ligament, you've wiped out into a fast-moving mountain stream (ahem…) or something more serious, heli-evacuations are standard transportation off the hill for those injured almost everywhere in the Alps—and often the only way down. Check that your out-of-country medical plan covers heli-evacuations and if not, buy insurance that does—it's cheap.
2017 SKI CANADA READERS' TRIPS TO THE ALPS
Go on- or off-piste with your university-aged kid (and a guide, included) during February Reading Week, or maybe get your kids or your buddies into dirndl and lederhosen while you lose yours at March Break après ski. Mosey up to the bar or buffet anytime at Club Med in January… Since 2000, the Ski Canada Readers' Trips by Glerups have welcomed, and welcomed back, beginners to experts to the Alps. On the sched for this winter: Club Med Tignes (France) in January, Disentis and way beyond (Switzerland) in February and Saalbach-Hinterglemm, Austria, in March. Contact tour operator James@TheVacationStation.com for details.

Tags: Club Med, Club Med La PLagne, Europe, France, La Plagne