---
Bienvenue Au Canada
Club Med Québec Charlevoix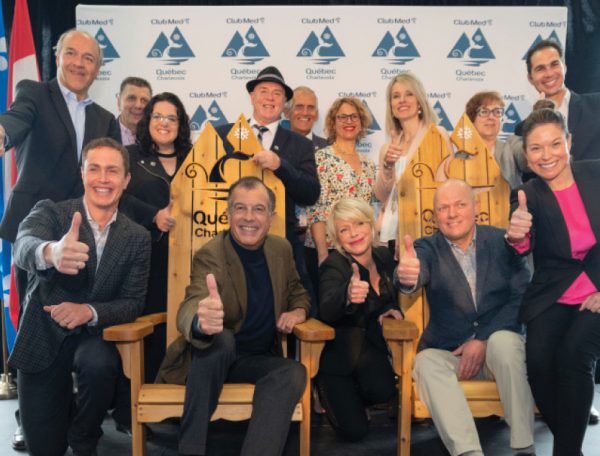 Cirque du Soleil co-founder and Le Massif owner Daniel Gauthier may not have been successful at convincing the IOC that his home hill's 770 vertical metres was enough for a men's downhill run, but he has many supporters who prefer his successful wooing of an 850-bed, all-inclusive Club Med village to Quebec's lovely Charlevoix region over two weeks of Olympic Games anyway.
With smiles and suits from far and beyond in attendance, the ceremonial shovels went into the ground in June with an opening bash for CM's $120-million return to North America planned for December 2020.
Although Club Med has had an office in Canada for 40 years, its Colorado ski villages at Crested Butte and Copper Mountain shut the doors more than a decade ago. Le Massif and the Charlevoix have different plans.
"At the beginning, the main market for Club Med Quebec Charlevoix will be North and South Americans during winter and some European," said a beaming Gauthier in a chat with Ski Canada, "but in summer there are a lot of Frenchies and Europeans who are coming to Quebec."
And here lies the key difference between Le Massif's plans and other Club Med ski destinations: four seasons. While many of its ski villages in the Alps, for instance, get sleepy or shut down for the summer, Charlevoix promoters can't wait to share and show off their region year-round. The region has been a UNESCO-designated Biosphere Reserve since 1989.
"We all have the same vision: nature," says Gauthier, but of course the Charlevoix's renowned gastronomy will pair just as nicely with the picturesque bucolic shores of the St. Lawrence, the history of nearby Quebec City or excursions by train, trail bike and hiking boot. "First Nations immersion is a big interest with Euros," added Gauthier.
"We expect the North American market, which will dominate winter stays, to be shorter, while summer guests from Europe will have longer stays." Although the standard one-week ski holiday in Europe remains solid, a full week for Canadians evidently remains a tougher sell.
A new pitchman will certainly help. Retired Canadian Cowboy Erik Guay signed on almost a year ago. "No, I won't become a GO," says Guay chuckling, "but I'm really looking forward to a brand I feel close to. With four daughters, I understand completely the family focus of Club Med and the easier [we} can make life on the parents, the better the holiday."
Despite the smaller trouser size, now that he's not racing on the White Circus, Guay says, "I'm still a big fan and tune in every morning," but adds, with his trademark enormous grin, "I enjoy being a family man, a more fun kind of pressure. I'm more of a dad-taxi now." Guay may have a life-long connection to Tremblant, but his ski plans are to "definitely try ski-touring and right here in Le Massif powder!" (The Charlevoix typically receives more than six metres annually.)
Club Med President (and son of former French president) Henri Giscard d'Estaing was also at the fête in June and was happy to praise foreign markets, including Brazilian. "We're expecting 50,000 guests [a year]," said Giscard d'Estaing, "half from Canada—of which about half from Ontario, half from Quebec—and the rest from Europe and Brazil."
Giscard d'Estaing pointed out that 95 per cent of Brazilians who ski Europe choose Club Med. Nevertheless, "there's a long and common history with Canada…more than 300 GOs [Gentil Organisateurs] come from Canada each year." Rumours of two more Club Med villages on North American slopes to come (B.C. Interior and Utah?) were well discussed by everyone, apart from Giscard d'Estaing.
Belgian water polo champion Gérard Blitz began the all-inclusive Club Mediterranean camping village on the island of Majorca almost 70 years ago, providing basic pleasures and unadulterated happiness to post-war Europe. Success came quickly and by 1956, Club Med had opened its first ski village in Leysin, Switzerland. Legally it was a "not-for-profit-club" until 1995. In 2010, after a two-year battle and bidding war over ownership, an Italian offer was trounced by Fosun of Shanghai. Fosun also owns or controls big names like Thomas Cook Group, St. John clothing and Cirque du Soleil. Its cheque for more than US$1 billion is opening doors to the Chinese and other emerging markets like India and Russia.
CM has undergone a lot of changes over the decades, including a rep as "Club Bed" in the '70s and later, with a tip of the beret to its culinary excellence, "Club Fed." The "all-inclusive" ski holiday still includes all food and drinks, ski and snowboard instruction or guiding, and, in the case of Charlevoix, non-ski activities. Today's family focus and higher-end clientele continues, as many of its lower-end offerings close and fancier digs open. Club Med's roots and heart remain in France, but its multilingual and multicultural mantra continues to ring loud and proud while the countdown to Canada continues.

Charlevoix, Club Med, Le Massif, Québec