Reading Time:
3
minutes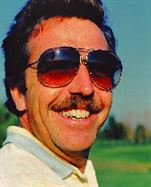 from Fall 2011 issue
About a thousand years ago, I joined
the publishing house of Maclean
Hunter as a very junior editor at
Canadian Yachting magazine. With serious
neighbours farther down the hall at Maclean's
and the Financial Post, our office (which also
housed Ontario Out of Doors and Ski Canada
magazines) was more what I thought Mad
magazine would be like.
Editors, art directors and quirky layout
artists, loud ad sales people, circulation
moles, publishers trying to control the whole
lot…it had all the makings of a TV sitcom.
Budding and faltering office relationships were
frequent and inappropriate behaviour wasn't
saved for the annual Christmas party—it was
standard at pub night, which could be any
night after work.
Sitting centre-court was Ski Canada
editor Clive Hobson, whom the day we met,
I immediately liked. I'm still using his desk
today. From across the dividers, and through
the haze of cigarette smoke and noise of the
art department, I eventually learned that Clive
wasn't the best skier, nor writer, or copy editor
for that matter, but he had an incredible gift
of the gab and knew how to surround himself
with experts who put out a magazine that
entertained, informed and challenged the
Canadian skier.
I never worked directly with Hobson,
however, almost all who did are still in the biz
today. A former Ski Canada asssociate editor,
John Barber, moved to The Globe and Mail
decades ago but, like all, has strong memories:
"Clive couldn't ski worth a damn, but he
was a true expert in the serious business of
having fun. I never shook the feeling while
working for him that I was getting away
with something—it felt more like Peter Pan
mischief than work—but looking back I am
proud of the journalism we did."
"Clive livened the scene with his endless
good humour and a whiff of scandal," recalls
Paul Green, publisher and owner of Ski Canada
since 1990. "When Maclean Hunter bought
the magazine and their corporate men came
in, you knew there would be fireworks.
Clive didn't disappoint. His run-ins with the
financial guys were classic office wars of the
free spirit vs. the button-downs."
"Ski Canada would never have become
the publication it is today without his
involvement in the early days," said James
Doran, a long-time ad rep and friend. "He took
chances (including supporting the On Slope
Ski Test, which was the first of its kind in the
industry) and helped a lot of journalists and
photographers get their start. He was one of
the most amazingly vibrant, fun, mischievous,
adventuresome, positive, indefatigable,
helpful, loyal, creative, supportive and
generous people I've known, an excellent
story-teller (frequently embellished, although
he would accuse me of the same thing)—and
a definite rogue."
Like many colleagues, Clive's co-host on the
TV show Ski Base, Lynn Warll "loved Clive!"
reminding us of his passion for the lifestyle.
"On location or on the set of Ski Base he
was incredibly supportive of the entire team,
enthusiastic about the ski industry…and an
amazing judge of people. I still remember
his many one-liners…working with Clive was
productive and fun!"
A typical ski day with Clive began by being
locked out of his condo or rental car—perhaps
still running—remembers David Harkley, Ski
Canada's man in Whistler. "He was notorious
for losing keys. On the hill, the girth of
Clive's entourage would rise and fall in size as
contributors, magazine clients, movie stars,
faded racers and hopeful models joined and
were lost from run to run.
Last run flowed into après and if you were
with Clive, doors were open to crazy-event
crawls that might see him in his SX 90s past
midnight, rear-entry buckles still clacking like
alpine spurs. All this was, of course, a clever
ruse for serious 'grassroots journalism,' as Clive
referred to it, from which the articles and
stories for the magazine were hatched."
Clive passed away at home in August
of a massive coronary. His ashes were
scattered atop Whistler Mountain. Although
he infamously modelled once for a Crown
Royal ad, Clive always lived the life of a beer
commercial. ❄