---
All epic descents take hold of our collective psyches – some become "classics"

There are probably a thousand great off-piste runs in Western Canada. These are the runs that skiers dream about, spend the off-season aspiring to and remember longer than any other. Here's the Hjertaas list of a few of those runs that have earned "classic" status. Some are easy to get to, others are extra challenging, but all the runs on this list offer unique ski experiences and are worthy of a pilgrimage. So pack up your gear and go find them. Powder and memories will be your reward.
It should go without saying that off-piste descents, whether they're in the remote backcountry or just a hike beyond a ski area's access gates, have a whole laundry list of hazards. It is always your responsibility to carry the right gear and even more importantly, have the knowledge and experience necessary to travel safely in these areas. To keep the inexperienced or less dedicated from getting in over their heads, we've been purposefully vague about some of the route finding. Go searching with a guide or an experienced local and we're sure you'll find what you're looking for, hopefully at the same pace as your mountain knowledge and experience grows.
MOUNT ROBERTS
LOCATION: Red Mountain, Rossland, B.C.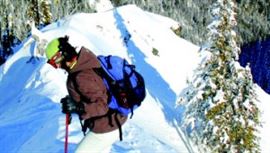 DETAILS: There's a cat road from Badger run that locals and experienced visitors can use to skate out to the bottom of the climb. Then it's a 40-minute skin to the peak, which is the best way to get up even though some people bootpack or post-hole their way up through Red's infamous snowfall. A left-hand traverse near the bottom of the face brings you back to the Paradise chairlift, approximately 360 vertical metres down. Mount Roberts is the main venue for the Canadian Freeskiing Open.
LOCAL KNOWLEDGE: Even though it skis like an extension of the resort, Mount Roberts is true backcountry terrain with no dedicated avalanche control or ski patrol. The northeast aspect and glades on Roberts create a perfect powder trap and the solid hike keeps the number of skiers down, so if you're hunting for fresh tracks and you have the experience, head here. Local ripper Peter Velisek won the Canadian Freeskiing Open in 2005 on this peak and he knows every inch of the face. "There's a real variability of terrain on Roberts. There are very technical lines and fast smooth lines. Or you can just ski the main chute as a powder run—it skis great as just a powder run." It's this versatility that makes Roberts the perfect venue for the Canadian Freeskiing Open, but it's the length of the run that makes it a true classic. "You're puffing at the bottom. You definitely have to be fit."
GEAR: Avalanche beacon, probe and shovel; skins and touring bindings a thankful plus, but not absolutely necessary.
LEVEL OF COMMITMENT: Though it drains back toward the resort, Roberts is backcountry skiing with all the usual risks and responsibilities associated with it.
SUPER BOWL
LOCATION: Kicking Horse Mountain Resort, Golden, B.C.
DETAILS: It's a 15-minute hike off the top of the gondola—there's usually a welltrodden bootpack to welcome you. Climb to the 2,401-metre peak and do not traverse the south-facing avalanche slope. From the top, all lines naturally drain back down to the resort base area.
LOCAL KNOWLEDGE: Tim Grey, local skier and the man behind Biglines.com is a definite fan. "I love Super Bowl," says Grey. "You can see it from town but still get fresh tracks the day after a storm. You can work all day and go up there for one late-day run. It's just a two-and-a-half-hour lap from my house." But it isn't just easy access that makes Super Bowl a classic. It's a fantastic run no matter what you like to ski. "It fits every type of backcountry enthusiast. There are big lines, big hucks, rollers and tree skiing, and it all feeds back to the lift." The skiing is just one part of the Super Bowl experience. Sitting on top you can soak in the panoramic vista of big peaks of the Rockies, the Selkirks and the Purcells as well as look down to the town of Golden and the Kicking Horse River. If you are still not convinced, check out Tim's video by searching YouTube: "The Real Super Bowl Commercial."
GEAR: Avalanche beacon, probe, shovel— and definitely your camera.
LEVEL OF COMMITMENT: Super Bowl is beyond the ropes and it's completely the user's responsibility to play safely and, if necessary, rescue yourself. It's big-mountain terrain with a Rocky Mountain snowpack, so there is definite avalanche danger at all times. Super Bowl is a classic example of "Just because it has tracks, doesn't mean it's safe!"
YMIR PEAK
LOCATION: Whitewater, Nelson, B.C.
DETAILS: You can't miss it. Around an hour-and- a-half skin from the top of the lifts, the 2,400-metre peak offers a 760-vertical-metre run down to the base area.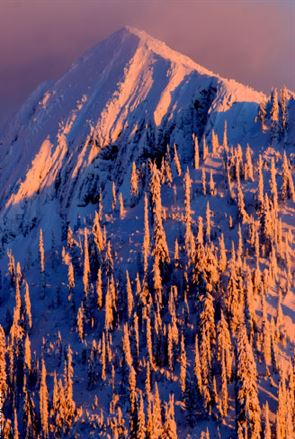 LOCAL KNOWLEDGE: Though most everyone from Nelson skis this area regularly, professional ski photographer Matt Scholl knows the angles better than most. "Visually it's a classic line. You can't go to Whitewater and not say, 'Wow, what an epic run'." There are lots of challenging options for charging freeskiers who like cliffs and tight chutes, but there are also clean lines that tamer backcountry skiers enjoy. "The top 150 metres or so are steep," says Scholl. "Then most people take a simple exit left into Kuba's and ski the bowl down." The real challenge with Ymir can be catching it in perfect conditions. It's a face so "any wind blows the snow right off it and it sees a lot of traffic." The best recommendation is be among the first skiers up Ymir after a storm—snow stability permitting. Then all you have to do is ski powder all the way to the lodge, sit on the patio with a beer and admire your tracks.
GEAR: Avalanche beacon, probe, shovel, skins and touring bindings.
LEVEL OF COMMITMENT: Don't be fooled by the traffic, Ymir is pure backcountry. Though right off the resort, Ymir has no avalanche control or ski patrol help. Bring appropriate gear and experience with you.
DELIRIUM DIVE
LOCATION: Sunshine Village, Banff, Alberta
DETAILS: A five-minute hike beyond the access gate near the Continental Divide Chairlift earns you a 550-vertical-metre descent down to the base of Goat's Eye, where you can hop on the gondola and do it all again. Daily opening of the Dive is dependent on avalanche conditions, visibility, snow coverage and conditions. Four laps is a good day, but as many as 10-12 are possible if you really charge.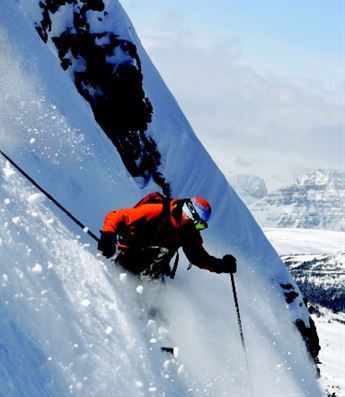 LOCAL KNOWLEDGE: Delirium Dive is different terrain. While technically within the resort's boundary, skiers are expected to treat it akin to beyond—well beyond. Snow safety team member Tim Haggerty has been blasting the Dive (with bombs and skis) since it opened in 1999. "It was the first terrain of its kind and it opened people's eyes to what could be opened at ski areas." While there are smooth, easier lines, there are also large cliff bands throughout the vast area that are not marked and could result in serious consequences. "You have to scope lines and treat it like big-mountain terrain in the backcountry. It's not terrain you want to screw around in." Skiers are instructed to ski one at a time from safe area to safe area to avoid hazards from above, like rockfall, falling skiers or small slides. As a high, north-facing cirque, The Dive holds wintry snow right up until the end of Sunshine's season on Victoria Day in May.
GEAR: Avalanche beacon and shovel; must be accompanied by a partner.
LEVEL OF COMMITMENT: Ski patrol responds to accidents, but skiers are expected to take extra responsibility and ski with more caution than in normal "in-bounds" terrain. Hazards are not marked and there is always potential for horrible falls.
DE PENCIER VALLEY
LOCATION: Mount Seymour, Vancouver.
DETAILS: Off the Mystery Peak Chairlift with no real hiking, you can ski down to De Pencier Lake and afterwards skin back up the obvious, mellow drainage. You earn 300 metres of glades and tree skiing for your modest efforts.
LOCAL KNOWLEDGE: Jordan Manley, local award-winning ski photographer, has explored the nooks and crannies of this, his home resort, as much as anyone. "For me it's about how you feel remote and how you are skiing in these big-mountain hemlock trees." Skiing down to De Pencier Lake doesn't offer a long run, but it does have some steeper rolls up to 45 degrees. Jordan suggests the time to ski this area is the rare time when Vancouver itself gets snow. "Inevitably, the problem is the altitude. We get lots of snow, but it can be pretty coastal. Seymour receives as much snow as Whistler, but it's usually quite a bit heavier." The obvious allure of De Pencier is its proximity to the city. If you are reading this from your Vancouver office, remember: "It's a run where you can get off work, catch the lift and be at the top in an hour and a half from your desk."
GEAR: Avalanche beacon, probe, shovel, skins and touring bindings.
LEVEL OF COMMITMENT: It may be near town, but you're skiing away from the hill right into the backcountry and you will have to climb back to civilization afterward, so self-rescue is a concern—as is getting lost.
SEVEN STEPS OF PARADISE
LOCATION: Rogers Pass, B.C.
DETAILS: It's a major ski tour up to Young's Peak via either the Illecillewaet or Asulkan drainages. If you can't find and plan your route on a map, it's a good idea to hire a guide from either Golden or Revelstoke. You'll be skinning up (and then skiing down) roughly 1,200 vertical metres, so your fitness level is a real concern.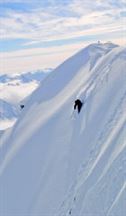 LOCAL KNOWLEDGE: If you ski tour at all and haven't heard of Greg Hill, do yourself a favour and check out his blog at greghill.ca or greghill.squarespace.com. Greg gets more powder skiing in a season than some helicopter skiing guides but it's all under his own power. Rogers Pass is his backyard, so needless to say he knows the fabled Seven Steps of Paradise well. "That run is all about powder skiing. It just keeps going, benching out and then giving another step." Clearly visible from the Trans-Canada Highway, this slope has beckoned skiers for years. While Greg easily gets up and down in a day, mere mortals will enjoy the trip more if they stay at the welcoming Asulkan Cabin. As you watch the sun set from this high alpine hut, you may think you've already reached paradise, but the real reward for your climb awaits you the next morning just out the back door. "There's nothing like stepping out of the cabin, climbing 300 metres and then skiing 1,200 metres of wide-open powder." All but the most experienced parties should hire a guide for this epic. As Greg puts it, "The top step is a bit interesting off Young's Peak. It's a steep route-finding crux. And there's some blue glacier ice at the bottom." Paradise doesn't come easy!
GEAR: Skins and touring bindings; avalanche beacon, probe and shovel; glacier gear; overnight pack.
LEVEL OF COMMITMENT: Backcountry in the true sense of the word. Crevasses, avalanches and simply the size of it make the Seven Steps by far the most committing line on this list. Hiring a guide is highly recommended.
MOUNT DECKER
LOCATION: Blackcomb, Whistler, B.C.
DETAILS: From the T-bar atop Blackcomb Glacier, check for closed signs and traverse beyond the ropes to climb up the East Col on Blackcomb Peak. Descend to and then skin up the Decker Glacier and the peak itself. It's roughly an hour-and-a-half from the resort to the top, and you can ski right back to the resort.
LOCAL KNOWLEDGE: Because of its proximity to Blackcomb, this backcountry area in general sees a lot of traffic, however, Mount Decker itself gets skied less than you'd think. And that's why it's a favourite with local pro skiers like Dominic Melenson. There are a few options, but Dom's favourite is Decker's North Face. "The North Face is sick. It has the Finger Chutes, which offer four different lines and some spines. The South Side has wider, longer chutes, and the West Face has one main chute and a nice bowl." Part of the appeal of Decker is the remote feel of it. "You're pretty much guaranteed to get fresh tracks. Not a lot of people go there. You're on a big, wide-open glacier with great views and some impressive crevasses and blue ice." For the ambitious and more experienced, Mount Decker offers a great backcountry adventure that is relatively easy to access.
GEAR: Avalanche beacon, probe, shovel, skins and touring bindings—plus glacier travel/rescue gear.
LEVEL OF COMMITMENT: Glacier travel increases the hazard and you're also away from the safety of the resort. Parties need to be versed in avalanche and crevasse rescue and avoidance.
HONORABLE MENTIONS
For those looking for a more accessible off-piste lap to hone their skills on, Big White's Easter Chutes offer steep glades with lots of smaller cliff drops that may be the ticket. Only a 20-minute lap on the Blackforest Express, skiers get a lot of powder in a day in this rewarding little area.

If you're hunting for a true steep-skiing descent near a lift, head to Castle Mountain and take the mellow ski tour above the Huckleberry Triple Chair. At the top of the ridge you'll find KC's chute dropping down the north face. Castle's website lists it as "Extreme"—we're not arguing.

Fernie's Fish Bowl is an off-piste powder bowl requiring virtually no uphill hiking. A long climbing traverse will get you to this often deep, but also highly avalanche-prone gem. In the right conditions it can be the run of your life. Just make sure it's not the last. Ask a mountain guide and knowledgeable locals before you go.

On a clear day the views from the top of Purple Bowl, above Lake Louise's Larch chairlift, are enough to make the 20-minute bootpack worthwhile. If avalanche conditions permit, the wide-open bowl below your feet is the icing on the cake. If it's too dangerous, you can drop back into the Elevator Shaft, which is controlled by ski patrol.

Atop Marmot Basin's Knob chairlift is a 30-minute hike that rewards the dedicated with a choice of two true alpine powder runs. Peak Run and Suzie's both see little traffic because of the hike and offer wide-open alpine cruising, but still in the safety of the ski hill boundary.

Mount Washington's Outback is the north-facing backside of the mountain offering double-diamond glades with cliffbands and even more snow than the deep frontside. A short hike from the top lift earns you exciting double-diamond in-bounds terrain. Perfect for adventure seekers who aren't comfortable in the backcountry yet.

As soon as you drop into Panorama's lift-serviced, inbounds Taynton Bowl you'd swear you were alone in the backcountry. The glades here offer cliffbands and chutes coated in better powder than anywhere else on the mountain without any hiking or backcountry gear needed.

Revelstoke's Northbowl started off as backcountry skiing two seasons ago but is now part of the mountain's controlled terrain. A short hike to a peak above The Stoke chairlift reveals the steep-and-deep bowl options to the north. Any line you choose returns you to the new Ripper chairlift, the start of your ride back to do it all again.

The Gils are a backcountry-starter and a five-minute skate from the gate off Sun Peaks's Burfield chair. This rolling, treed playground ends in a cat track that leads you back to the safety of the resort. Uncrowded, desert-dry powder, a gentle pitch and an easy scoot back to the resort breeds complacency—but it's still the backcountry. Remember: proper gear and training.

Tags: Alberta, backcountry skiing, Banff, best descents, best drops, Blackcomb, British Columbia, classic runs, De Pencier Valley, Delirium Dive, Golden, Kicking Horse Mountain Resort, Mount Decker, Mount Roberts, Mount Seymour, Nelson, off-piste runs, Red Mountain, Roger's Pass, Rossland, Seven Steps of Paradise, ski travel, ski vacations, steep, Sunshine Village, Super Bowl, Vancouver, Whistler, Whitewater, Ymir Peak