---
Whether it's for yourself or your loved ones, you can't go wrong with the gift of gear.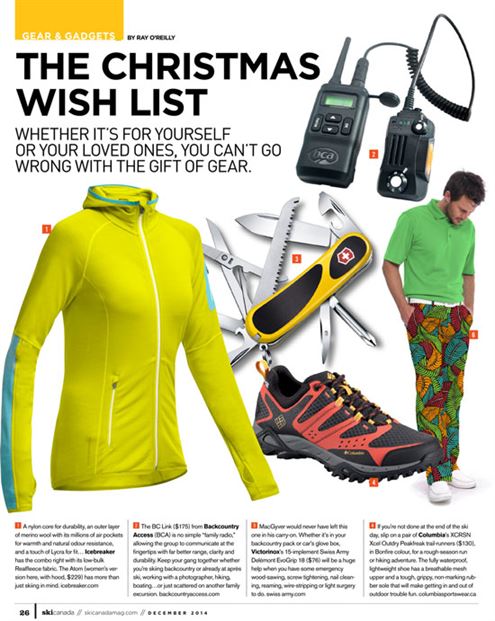 1.A nylon core for durability, an outer layer of merino wool with its millions of air pockets for warmth and natural odour resistance, and a touch of Lycra for fit… Icebreaker has the combo right with its low-bulk Realfleece fabric. The Atom (women's version here, with hood, $229) has more than just skiing in mind. icebreaker.com
2. The BC Link ($175) from Backcountry Access (BCA) is no simple "family radio," allowing the group to communicate at the fingertips with far better range, clarity and durability. Keep your gang together whether you're skiing backcountry or already at après ski, working with a photographer, hiking, boating…or just scattered on another family excursion. backcountryaccess.com
3.  MacGyver would never have left this one in his carry-on. Whether it's in your backcountry pack or car's glove box, Victorinox's 15-implement Swiss Army Delémont EvoGrip 18 ($76) will be a huge help when you have some emergency wood-sawing, screw tightening, nail cleaning, reaming, wire-stripping or light surgery to do. swiss army.com
4.  If you're not done at the end of the ski day, slip on a pair of Columbia's XCRSN Xcel Outdry Peakfreak trail-runners ($130), in Bonfire colour, for a rough-season run or hiking adventure. The fully waterproof, lightweight shoe has a breathable mesh upper and a tough, grippy, non-marking rubber sole that will make getting in and out of outdoor trouble fun. columbiasportswear.ca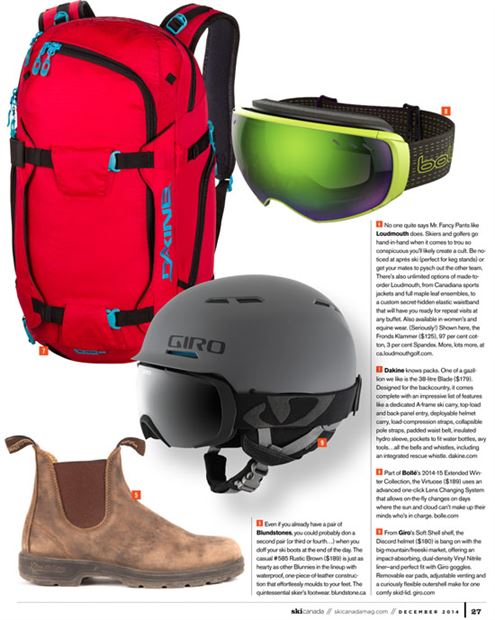 5. Even if you already have a pair of Blundstones, you could probably don a second pair (or third or fourth…) when you doff your ski boots at the end of the day. The casual #585 Rustic Brown ($189) is just as hearty as other Blunnies in the lineup with waterproof, one-piece-of-leather construction that effortlessly moulds to your feet. The quintessential skier's footwear. blundstone.ca
6.  No one quite says Mr. Fancy Pants like Loudmouth does. Skiers and golfers go hand-in-hand when it comes to trou so conspicuous you'll likely create a cult. Be noticed at après ski (perfect for keg stands) or get your mates to pysch out the other team. There's also unlimited options of made-to-order Loudmouth, from Canadiana sports jackets and full maple leaf ensembles, to a custom secret-hidden elastic waistband that will have you ready for repeat visits at any buffet. Also available in women's and equine wear. (Seriously!) Shown here, the Fronds Klammer ($125), 97 per cent cotton, 3 per cent Spandex. More, lots more, at ca.loudmouthgolf.com.
7.  Dakine knows packs. One of a gazillion we like is the 38-litre Blade ($179). Designed for the backcountry, it comes complete with an impressive list of features like a dedicated A-frame ski carry, top-load and back-panel entry, deployable helmet carry, load-compression straps, collapsible pole straps, padded waist belt, insulated hydro sleeve, pockets to fit water bottles, avy tools…all the bells and whistles, including an integrated rescue whistle. dakine.com
8.  Part of Bollé's 2014-15 Extended Winter Collection, the Virtuose ($189) uses an advanced one-click Lens Changing System that allows on-the-fly changes on days where the sun and cloud can't make up their minds who's in charge. bolle.com
9.  From Giro's Soft Shell shelf, the Discord helmet ($180) is bang on with the big-mountain/freeski market, offering an impact-absorbing, dual-density Vinyl Nitrile liner—and perfect fit with Giro goggles. Removable ear pads, adjustable venting and a curiously flexible outershell make for one comfy skid-lid. giro.com
---
Tags: Backcountry Access, BCA, Blundstones, Bollé, Columbia Sportswear, Dakine, gear, gifts, Giro, Icebreaker, Loudmouth Golf, Swiss Army, Victorinox