Chasing down Manuel Osborne-Paradis
---
Sochi 2014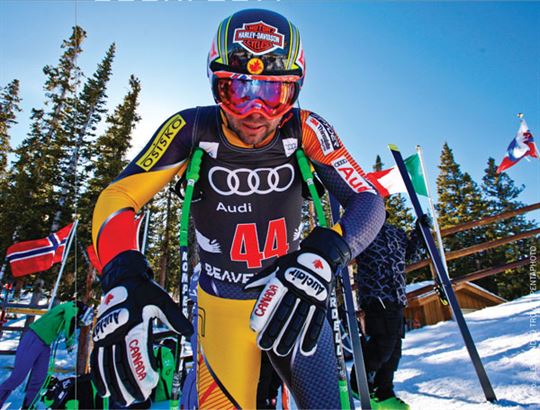 Risk versus reward. It's something we all contemplate, whether it's a complicated business venture or simply deciding if the chance of getting a speeding ticket makes it worth driving that little bit faster. Often the greater the risk, the bigger the reward—but the penalty for failure is also more severe.
As a young downhill skier Manuel Osborne-Paradis favoured risk. In his mind risk could compensate for any lack of technique. It would recompense for time not spent in the gym or working on his equipment.
And the risks Osborne-Paradis took did reap some rewards. He earned nine World Cup podium finishes, including three victories. But there was also disappointment. Mistakes cost him races. There was the frustration of not reaching the podium at the 2010 Winter Olympics at Whistler.
The 28-year-old Osborne-Paradis will take a different view of risk versus reward into this winter's Games in Sochi, Russia. Part of that vision comes with maturity. It also was brought into focus by his battle back from an injury that cost him almost two seasons of racing and from dealing with an embarrassing personal episode that made headlines two years ago. The Osborne-Paradis who will race in Sochi is a more committed, dedicated athlete than the one who made his first Olympic appearance in 2006 at Turin, Italy, and was left looking for answers after Whistler.
"Those are huge time gaps in maturing and really knowing yourself as a skier and as a person," the North Vancouver native said in an interview. "These Olympics I've taken a much more professional approach to my career and skiing. In 2010 I came into the Olympics with two wins and a 2nd place that season. That was more as a reckless skier. I didn't work on my equipment as much. I just kind of pushed the limits and hoped for the best. That paid off quite a few times and it was a way to achieve success. It's a much riskier way to achieve it and it's probably not a great long-term way of approaching your sport."
Osborne-Paradis comes into this season in the best physical shape of his career. Besides the time spent in the gym and dryland training, he's also mentally stronger after working with sports psychologists.
Paul Kristofic, Alpine Canada's vice-president of sports, has seen the transformation from an athlete looking to take shortcuts to one willing to put in the long hours. "He's had some moments of brilliance in the World Cup, he's won some races," said Kristofic, "but he's lacked a bit of consistency to really be a full-season contender at all the venues. You've got a window of opportunity to be able to do something like this. I think he's realized it's a special opportunity and he's doing everything he can to maximize his potential."
Osborne-Paradis's first ride down the Rosa Khutor course in Sochi will be at the Olympics. He missed the 2012 test event due to injury. "I've raced lots of courses for the first time and done well," he said. "I know what the terrain looks like. I've seen the videos and watched other racers. I think it's all how you mentally prepare yourself and how confident you're feeling on your skis when you get to that point of the season."
At 3.5 km, the Sochi course is long. The upper half is technical, with steep and narrow turns. The bottom half, with its gliding sections and large jumps, is better suited to Osborne-Paradis. When he was younger, he skied on raw talent and courage. He tossed himself down courses with a take-no-prisoners attitude. The rush to succeed didn't always leave time for developing skills or looking at the broader picture of what it takes to be a champion.
"I always knew I didn't have the technical abilities to be as good as some of the top guys," he said. "I knew I always had to take more risk, put my nose into the racecourse a little more. As I've gotten older, my technical skills have improved. I think it's a more competitive way of skiing. In 2010 I would win a race and then I would blow up and be 40th the next race. Coming back from an injury, where I was starting super far back, the consistency is there. That's what I've always wanted to try to push for, to be more consistent. That's how you're going to be a contender every weekend."
Osborne-Paradis's career came to a crossroads in January 2011. He crashed badly in a downhill race at Chamonix, France, breaking his left fibula and tearing his ACL. He was recovering from that injury when in July, in Calgary, Osborne-Paradis jumped onto the back of a moving bus but lost his balance. He was dragged approximately 80 metres before the bus stopped, leaving him with severe road rash. The bus incident proved to be a lesson in maturity.
"It wasn't on purpose. I didn't wish that upon anybody or myself," said Osborne-Paradis. "During the whole process I became such a better athlete, a better person." The plan for him to race again in the 2011-12 season was derailed when he suffered a ruptured disc in his back.
Finally healthy, Osborne-Paradis returned to the World Cup last season. His time away meant he had fallen out of the top seed. Instead of being among the top 30 out of the gate, he was starting in the late 40s or even the 50s. Even though he often was forced to ski in bad light, on courses that were rutted and broken down, Osborne-Paradis managed a string of impressive results. He was 4th in a downhill at Kvitfjell, Norway, 7th in Val Gardena, Italy, and won the downhill at the Canadian Championships. The hard work and perseverance resulted in him beginning this season ranked 13th in downhill and 30th in super-G.
To move up the rankings Osborne-Paradis learned "a different tactical way of skiing." He became better at assessing risk, plotting strategy. "You have to work so much harder to get back where you were. Now I'm working that hard not coming back from injury and it's paying a lot more dividends."
The experience rejuvenated him and made skiing fun again. "I was so burned out before I broke my leg. I was having a hard time visualizing the whole course," he said. "I don't know if stepping back just kind of charged my batteries or it really showed me this is what I love to do. This is what I'm good at and I really like to ski race."
At the 2010 Olympics, racing on the hill he grew up on, Osborne-Paradis was 17th in the downhill and didn't finish the super-G. The last two years have proven to Osborne-Paradis that he's capable of much better results at this year's Games. He believes he's among the group of 10 to 15 skiers who have a legitimate chance of winning a medal.
"I'm there to be a contender," he said. "I would be very depressed if I went to the Olympics thinking I was going to have just an okay finish. That's not why we train so hard. You need to put yourself in a position to be a contender. If you're a contender, you know you can push out and be a winner."
---
Tags: Manuel Osborne-Paradis, Paul Kristofic, Rosa Khutor, Sochi 2014, Winter Olympics, World Cup