Reading Time:
6
minutes
Charlie Locke's return to the grande dame of Alberta ski areas was both unexpected and predestined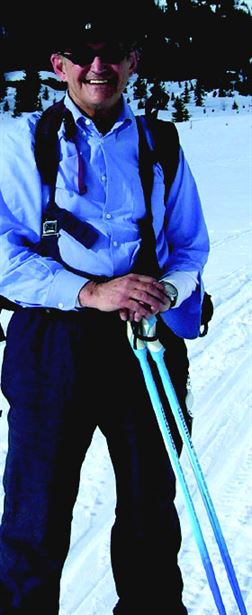 Alberta encapsulated: beef cattle grazing on undulating emerald grass slopes, rusty oil wells, a stately ranch house/mountain lodge perched over a spectacular valley northwest of Calgary, diesel trucks and horse trailers, mud, many farm dogs—and much talk of skiing. Granted, no shotguns or rye whiskey (it was 10:00 on a Monday morning). But otherwise it was Charlie Locke in full: cattleman, oilman, businessman, mountain man, Albertan, expounding upon the one-year anniversary of his re-entry into the ski business five years after being ousted from the top position at Lake Louise ski area.
During a long talk at the kitchen table of the family home, Locke recalled the moment a year earlier that he and his wife of 38 years, Louise—a huge force in Charlie's life—decided to exercise his option to buy back into Skiing Louise Ltd. "Louise and I said we'd probably make more money doing other things, but the ski business is more fun and the mountains are my passion, with my background as a mountain guide."
It's a satisfying memory for Locke, a defining moment in his long and varied career. Most people in our politically correct age would leave it at that, or mumble something clichéd and insincere about the vendor of Resorts of the Canadian Rockies (RCR) and its owner, the enigmatic business titan Murray Edwards. But Locke can't help himself. "We also saw things happening at Louise that weren't quite as customer-friendly as they could be," he readily added. "It was being operated purely as a business. It'd been losing market share to some of the other resorts."
Perhaps it's some hard-wired aversion to BS or an innate sense of mischief, or maybe the impatience with euphemism that comes with life-or-death decision-making as a mountain guide, and later responsibility for hundreds of employees and many millions in capital. Either way, the Lockean style drives opponents bananas, middle managers muttering incoherently and journalists hitting "record". Were Locke a politician, he'd be a controversy-spinning quote machine single-handedly reviving the flagging careers of hollow-chested Globe and Mail columnists.
But beneath the sly grin, the unruly hair, the perennially askew glasses and the rumpled clothing there's a core with serious purpose and business pride. Back in 2001 supporters and detractors alike were shocked when RCR, the skiing empire Locke had built up over the previous decade, was suddenly insolvent. The resort chain had been loosely modelled on the Intrawest Corp. (Whistler-Blackcomb) concept, minus the latter's vast access to credit. RCR began with Locke's core holding of Lake Louise, where he'd been involved since 1974, and had progressively added Fernie and Kimberley in B.C., Fortress, Nakiska and Wintergreen in Alberta, plus Stoneham and Mont-Sainte-Anne in Quebec. Locke still maintains it was a good concept. But after a poor snow year, an economic downturn and some overinvestment in new resort real estate, RCR faced ruin.
Edwards, an investment banking genius who'd focused on oil and gas for years but recently morphed into a Calgary cultural patron, engineered a rescue and became RCR's majority shareholder. Locke, it was announced, would retain a key role. But buried in their agreement were "cash calls" or periodic demands for new capital imposed on each shareholder. As Locke now explains, "Murray had $800 million, and I didn't." In fact, Locke lacked even the $8 million required by the cash calls. Suddenly in 2003, Locke was out altogether.
Some were glad—environmentalists especially, but also some Parks Canada bureaucrats, disgruntled employees, World Cup organizers stung by Locke's past verbal barbs, and that certain customer type who always knows better than the owner. But everyone agreed Locke sincerely loved the mountains— his mountain in particular—and understood skiing. What would become of Lake Louise in the hands of a business guru who had barely even stood on skis?
On the plus side, two new lifts went in under Edwards, notably the Grizzly Express Gondola, creating fast mountain access. Notoriously poor grooming picked up at last. Food service improved at the main lodge. But Temple Lodge languished, while Whitehorn was shuttered. At a mountain legendary for late-season skiing, the operating season was cut by weeks. Most controversially, RCR oxymoronically removed all jumps from its terrain parks across the country, in the case of Louise sending hundreds of jibbers to archcompetitor Sunshine Village. Annual skiertraffic sagged—though RCR stopped providing figures.
The Lockes spent these years travelling (they have two grown daughters) and attending to their two other careers. As the five-year buy-back option neared expiry last year, they decided to act. Locke won't name the price. He returned as president, operator and majority shareholder, with an option to buy out RCR's remaining share. How was Locke's first day back in charge? "The great feeling was that virtually everyone I ran into was pleased I was back. Staff morale became the highest it's been in years. Customers came up and said, 'Welcome back.'"
Despite the formal corporate ties, Locke engineered a surprisingly sharp operational break from RCR. There's still a four-area season's pass, but there's no more joint discount card or website. Internationally, Lake Louise markets through Ski Banff Lake Louise, Alberta Tourism and the Canadian Tourism Commission. In Locke's view, his is the strongest destination product of the old RCR lineup. "When British charters land in Calgary, about 75 per cent go to Banff and Lake Louise, with the balance shared between Jasper, Panorama, Fernie and Kimberley," he notes pointedly. In effect, Lake Louise and RCR are now competitors. "Lake Louise is absolutely a viable business model," Locke insists. "It was the most cash-flow-positive of all the RCR resorts."
Up on the mountain, Locke's first season focused on small changes—plus restoring the terrain park's air features. Whitehorn Lodge was reopened to house children's programs. The season was pushed back out into May. The rest was about management style.
"People aren't restricted to the policy manual," says Locke. "Because RCR is a big company, the staff has to be driven by formal process. My view is people need to be happy. It's about making sure that customers are having fun." That customer-first, cash-flow-second philosophy seems the inversion of Edwards'. Locke's key mountain people are Rick Werner, area manager, Bruno Mannsberger, operations manager, Dave Schebeck, head of slopes, John Ross, marketing manager, Derek Kwasney, finance, and Dan McLellan, head of ski patrol, all Lake veterans.
"I am perhaps the most hands-on operator of any ski area in North America," Locke continues. "Because of my ranching background, I can do anything. I can make an apple pie, I can run the lift, I can sell tickets. I'm a generalist who understands absolutely every aspect of the business. That plus finance." He's up on the mountain four days a week, and gets out skiing for a couple of hours each day. Favourite run? He laughs: "They all are."
As for major new investment, that will have to wait until skier-visits can be rebuilt from the current 450,000-ish back to the 550,000+ that Lake Louise used to enjoy. Locke insists he can get there, despite intense competition for the big-mountain skier from Kicking Horse, Revelstoke and Fernie. Ever the builder, Locke hankers after completing Lake Louise's build-out—a key source of past environmental controversy. "We want to finish our long-range vision that would see new terrain opened up, including Richardson Ridge plus Wolverine and perhaps Purple Bowls," he says. "Our lease is like a canvas, it has some white sections in it; we just want to fill those in." He has launched preliminary dealings with Parks Canada. Most of the new terrain will cater to novice and intermediate skiers, key for servicing the full spectrum of destination visitors.
While he recognizes that local skiers have grown much more finicky with their leisure dollar—scanning mountain webcams before deciding whether to spend a Sunday skiing or playing indoor golf, for example—Locke boasts that his lifelong pride and joy has world-winning advantages: "We're blessed at Lake Louise. Our scenery is unparalleled. We're the closest Banff-area resort to accommodation. We're about 50 per cent true destination visits, plus we have a large local market, unlike the eastern B.C. resorts. We can compete on quality and price with the best destination resorts in the world, because we have high-end local accommodation providers for whom winter is low season." Locke notes that despite global recession, destination bookings in Banff are up for this season, and there'll be six charter flights a week from the U.K. coming into Calgary.
The return of Charlie Locke is ultimately one step in a long personal journey that began in Springbank, west of Calgary, saw a young man in 1967 become the then-youngest certified mountain guide in the British Commonwealth, then blossomed into a multifarious career with numerous ups and a few downs—and one core venture that's clearly his true calling. "I intend to be involved in Lake Louise for the next 25 years or until I die, whichever comes first," says Locke, grinning broadly. "We ski hill guys whine that it's a tough business, but it's actually quite pleasant. For me this is about running a business, pursuing a passion, trying to make money and producing something that at the end of the day you can be proud of."