Reading Time:
3
minutes
Everyone knows it but few like to admit it: the largest group of skiers is also the least sexy—the on-piste gang.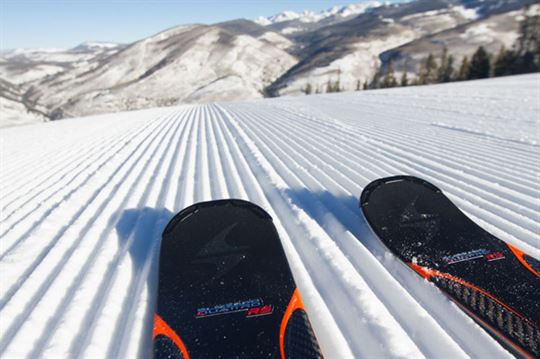 I had a pretty typical teenage skier bedroom growing up, with walls adorned in heroic posters of The Kaiser and Stenmark in between the Crazy Canucks. The inspiration racing had on all skiers back then was absolute. Personal participation in racing wasn't even required to influence one's ski-buying decision. All ages, all abilities. You wanted RC4s because the Pod was on them, Elans because Stenmark stood with them on the podium, and you followed Klammer between Fischer, Blizzard and Head.
From backcountry aficionados to jibbers, free-riders to racers, today's ski world is broken up so much that there are big fish in little ponds scattered all over ski country, making it more challenging than ever for the ski industry to market products to "ordinary skiers."
Everyone knows it but few like to admit it: the largest group of skiers is also the least sexy—the on-piste gang. It doesn't matter if you're in a lift line at Whistler or one at Marble Mountain, statistically you're in the bulge if you're happiest playing on groomed slopes on the frontside of the mountain.
With a rare mid-season launch, Blizzard has taken a bold step away from its fervent racing heritage and skipped over the large in presence—but small in actual numbers—AT and Big Mountain skiers, racers and jibbers to introduce its new Quattro line. These skis are aimed directly at the unsung skiers on groomers, and the technology was designed and built for them and not received after it trickled down from the World Cup.
Given the opportunity for a December sneak-peek test on the Kaprun Glacier in Austria, it appears the people at Blizzard are not only heading in the right direction, they've made their mark.
Blizzard has defined four key elements in creating its new line: control, stability, precision and agility. Recognizing the individuality of every skier, the Quattro, or four-part concept, is delivered by tinkering with construction, rocker design, shape and binding interface.
Stability and overall performance, for instance, come from a ski's construction and its primary makeup, like the layering of poplar, beech and bamboo as well as carbon, titanium and fibreglass. By playing with a ski's shape (or width, length and sidecut) a skimaker can define how precise and agile a ski turns. In the Quattro line, each model is offered in two different waist widths. The same ski, technology and construction are used, but with two widths so a skier who's more at home on hardpack might feel more comfortable on a narrow, more agile carver, while a softer home-hill surface might result in choosing a wider, more stable and forgiving ski that has a more relaxed lean angle.
Initiating a turn is affected by adding rocker to a ski and four different rocker configurations run through the new line, with performance levels increasing as the amount of rocker decreases. Some of the science, of course, isn't new, it's just that Blizzard is making it easier for a wanting (and large) group of skiers to understand.
The eight-ski lineup introduced in February has four models in two widths, with another seven just for women. In the unisex collection, the top-end Quattro RS model ranges from 153 to 181 in length with full camber, down to the Quattro 8.0 Ca with a helpful 4mm of rocker. The women's 7.7 has 6mm; waist widths over the line range from 69 to 84mm. Different skis for different skiers indeed.
Watching skis being made in the pin-neat alpine town of Mittersill was more mesmerizing than I expected. And as one employee pointed out, more hands work on a pair of skis than a Hublot watch. From laying up raw materials to boxing up for export, I was most fascinated by the guy near the end of the line measuring each ski for stiffness, weight, camber, closure etc. A pair is made after finding two "matching" skis—it's then the company's challenge to find the skis a new owner.
_Iain MacMillan, Editor  from Winter 2016 issue