Reading Time:
13
minutes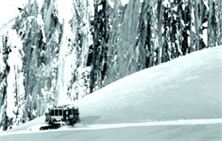 I'd been itching to ski something really steep, and while a massive snowfall is usually the time to dial things back in the backcountry, our guide at Mystical Snowcat Paradise (MSP) was governed by the same impulse. We started out fairly steep, fairly treed and with snow fairly deep. For the rest of the day all that really changed were the adverbs preceding "steep, treed and deep". On several descents I found myself in that singular combination of gradient and snow quality that fused one with gravity, not so much skiing as performing a sustained controlled fall in a breaking wave of snow, bringing earthbound man as close as he can come to a bird in ? ight. Our universe became a dimly lit, greyish world of old-growth forest—our guide, and God, knew where we were.
It's endlessly intriguing how the random agglomeration of characteristics that goes into making up a mountain range never fails to result in a unique whole. Most people associate snowcat skiing with trees. But at MSP we topped out at just under 3,000 metres, and here the view was as good as anything in the Alps, anything I'd experienced heli-skiing. We were ringed by three major ranges: the Selkirks, Monashees and Rockies. It was the ?rst time I'd seen major Alberta peaks like Mount Columbia and Mount Andromeda, as well as the Columbia Icefield, from the west. Far to the west shimmered Adamant and Austerity mountains plus uncountable lesser peaks.
One of the great aspects of snowcat skiing is the collegial ambience. It's far less rushed than heli-skiing, and the cat rides allow for real conversation. Over a day of yo-yoing along the treed and undulating shoulders and bowls that make up MSP's terrain, I got to know nearly everyone in my group. They came from B.C., Alberta, Ontario and the U.S.
The modern lodge pays elaborate homage to its B.C. heritage, with its portico designed like a combination railway trestle and mineshaft entrance. It's the ? nest lodge in cat-skiing country, with spacious double rooms holding duvet-covered beds and individual bathrooms, a living room with a huge stone ?replace, plus a drying room, pool and pingpong tables and a sauna. Co-owner and manager Harry made a point of creating the finest possible cuisine for MSP's 24 guests.
Acre for acre, MSP's terrain was the steepest we encountered. By now, pockets of collected powder were three-quarters of a metre deep. In the trees, the standard offerings of 40 degrees had us accelerating to insane velocities, especially given the forbidding ratio of wood to air. A few rollovers pitched so hard the trees appeared to be climbing the slope more than standing upright. An absolutely killer day.
Technically, MSP occupies one mountain. In reality, it's more of a massif. Rising more than 5,000 vertical feet from the valley, its shoulders spread outward for kilometres like the arms of some mutant star?sh. I'd tumble out of the cat trying to recognize where we'd been, a bewilderment heightened by the snaking turns of the ride up. I'd glimpse amazing, untracked faces and bowls that were still within the domain.
Then Andrew, our taciturn but razor-witted guide, led us the opposite way at the dropoff, to a notch between two massive black ramparts. "This one's called Forbidden Fruit." Small wonder. Pushing off the little bench, easy turns gave way to that amazing, singular feeling of steep pow, when you push your ski into a deep arc and sink your knee, your leg, your whole body into a fat turn and it feels as if you could ski literally anything.
The horizon dropped away to that magical 38-or-so degrees and we hurtled behind Andrew down a broad conical apron into a hanging alpine valley. It felt like skiing in Alaska or the Alps in April. The marvellous, settled and wind-sifted pow was crying out for big turns and speed.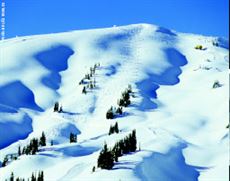 So, you've never heard of MSP? Well okay, the preceding paragraphs were slightly modified highlights from past Ski Canada articles: real experiences that Canada's snowcat operators deliver on a virtually daily basis all winter long. Herewith we bring you a few tips, ideas and words of advice distilled from two decades of snowcat skiing to help make your next—or your first—snowcat trip the adventure of a skiing lifetime.
WHAT IT'S REALLY LIKE
Monster hucks. Cliff-lined canyons with mandatory airs. Continuous sluffs to be outrun. Every pitch a no-fall zone. Snowcat cabins full of 20-somethings drawn from a beer commercial. That's what you see in the ski ? cks, so it must be true and what you'll ? nd when you go snowcat skiing, right? Well, er, no.
Cat-skiing has its share of steeps, often only in the trees. And at times you're ? anked by impressive relief and towering morphology. But for the most part the terrain is aimed at the solid advanced skier. Cat-ski operators are trying to keep you safe and to generate repeat business. They can't frighten the pants off their clientele or have everyone continuously skiing at their personal limit.
What you'll find, for the most part, are runs of 1,000-3,000 vertical feet, generally pitched around 30-35 degrees—more or less. The typical advanced skier may be challenged, but not freaked. The true expert will sometimes hanker for something tougher—and when stability, snow quality and the group's ability all come together, they'll often get it. Treed runs of 40 degrees are common, and 45 degrees is not unheard-of.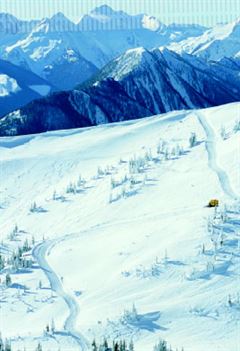 How hard this seems is as much a mental as a physical game. Even if you spend all your weekends on eastern hardpack, you'll very quickly realize a consistent slope of good powder is far easier to ski than a ? eld of ice bumps or cut-up heavy crud. Oftentimes, people think the skiing is hard just because they think anything in the backcountry must be extreme. So, when you tumble out of the cat for the ? rst time, try to relax. Assess the terrain objectively. Make a point of talking to the guide, especially the tail guide, among whose jobs is mentoring the less-accomplished guests. Remember to bring high-quality, fog-free goggles. Two pairs isn't a bad idea either.
If you've negotiated, say, CPR Ridge at Kicking Horse or Pakalolo at Blackcomb, you're set and the terrain you'll encounter cat skiing will be no problem. Remember, you're free to sit out runs if you get tired, you're struggling in bad light or you just want to quit early. Talk to the tail guide to get a feel for what's in store.
GETTING YOURSELF READY
We just mentioned those good goggles. Unlike heli-skiers, snowcat skiers experience virtually no down days. Cat-skiing goes on in any and all weather, and few places can boast about their variegated meteorology like B.C.'s mountains. Those legendary 1,200-cm-per-season snowfalls have to come from somewhere. So equipment's important. Sure you'll see guides who make a show of their duct-taped pants, patched jackets and ancient touring boots. But for you, it's all about minimizing annoyances that distract you or hamper your skiing.
Make sure you have, at minimum:
Warm, dry, reasonably high-performance boots that were ?tted well
A high-end shell jacket and pants (preferably bib pants) that are waterproof, breathable (really important for the rides up) and seam-sealed. Layering is preferable to bulky insulated jackets—and unlike heli-skiing, doffed pieces can be left onboard the machine. Down coats are a no-no except for the arrival/departure shuttles.
Functional accessories, like waterproof gloves with long cuffs—and did we mention goggles?
Digital camera and laptop. (Many snowcat lodges have free wi-fi access.) If relaxing over beers (or cigars and bourbon) and waxing skis with your newfound powder cronies won't get you through a whole week, then you need to think about your own entertainment.
Favourite ?reside book.
As for skis, if you want to invest in your own fat boys, great, but all snowcat-skiing operators have rental fleets of powder skis. If you've never used them, it might help to try some out on a soft-snow day at the ski hill. They do turn distinctly differently, and the last thing a first-timer wants is to struggle along the opening run's ridgetop approach.
Fitness wise, there's no such thing as over-prepared. If you're anything but top- fit, then any added exercise you can squeeze in, in any form—even morning bedside sit-ups—will help you out. Nothing beats lots of ski days at the resort, of course— building your technique, judgment and con?dence as well as your legs.
You're unlikely to encounter many ski models or "pro riders" as they style themselves. Snowcat skiing isn't exactly geared toward welfare bums. You're most likely to meet professionals, business people and the semi-retired, people in their 40s, 50s and 60s. In any given week, the lodge may include one or two powder demigods, but the majority will be solid advanced skiers, with a good assortment of aspiring intermediates. People, in other words, just like yourself.
WHAT ARE YOU REALLY LOOKING FOR?
Wherever you go in the snowcat-skiing world, you'll encounter towering peaks, dark and mysterious forests, phenomenal slopes, great snow and friendly skiers and staff. That said, the rest of the details cover a broad spectrum. Various operations emphasize different things. Before committing $2,000- $5,000 to a snowcat-skiing package and travelling costs, you'll want to do some homework.
We all go mainly to ski, but how important is sheer quantity? Some operations emphasize maximum vertical—the day starts early, lasts eight to nine hours and the run turn-arounds are brisk. If that's what you want, you need to ask some pointed questions when making ?rst contact, because some other operators emphasize a relaxed pace. The rest fall inbetween. In snowcat skiing, 20,000 vertical feet plus-or-minus is considered a huge day, 15,000-18,000 is solid, 12,000-15,000 is reasonable (and might happen in the very early or late season even at the harder-skiing operations), and under 12,000 is relaxed. By way of comparison, 12,000 vertical feet is roughly three laps at, say, Kicking Horse.
I've rarely had a bad meal snowcat skiing. The operators know empty stomachs are not conducive to happy guests. They offer generously sized hot breakfasts, endless supplies of sandwiches and snacks during the skiing day, usually some après-ski appetizers and sophisticated, carefully crafted dinners. Most are willing to accommodate the postmodern North American's pathetic dietary fetishes, but if you intend to survive a week on tofu and seaweed, you need to let the operator know in advance.
Accommodations vary widely. Historically, snowcat operators and their guests prided themselves on being distinctly less formal than some luxuriantly pampered toffs of heliskiing. But cat-skiing's soaring popularity and the booming economies of Alberta and B.C. have created demand for higher-end amenities. Nowadays there's a broad range—from lodges with bunk beds and shared bathrooms through high-end wilderness hotels.
Most people like the intimate, isolated setting. But if your particular inner makeup makes that a formula for a reality remake of Edvard Munch's "The Scream", then you'll either have to bring your own entertainment, or you might want to consider booking with a townbased operator. Revelstoke is home to one veteran operator, while a couple of others are located on paved roads within evening-tripping distance of the shimmering lights and alluring ?eshpots of places like, um, Kaslo and Elko.
Also think about the time of season you're most likely to be skiing. Snowcat areas sprawl over various elevations, mountain ranges and climate zones. If you're going later in the season—late March or early April—check out the more northerly, higher-lying operators, two of whom have their very own glaciers. In the heart of mid-winter, something a bit lower-lying or southerly—around Nelson or Whistler, say—might result in a more congenial temperature. That said, in B.C.'s mountains you can encounter virtually any conditions in any month.
DAY TRIP OR MULTI-DAY PACKAGE?
For serious snowcat skiers, this question answers itself. Many operators offer three- and four-day packages each week—re? ecting both the better access of some newer operators, as well as people's ever more hectic schedules—but which can be combined to make a week-long holiday. These multiday packages let you get in a lot of turns, and provide the time for the guides to roam around their full terrain—some operators have more than 100 square kilometres of terrain. Those repeated powder days help you rise to your best skiing level—it's hard to beat that feeling.
But what about the first-timer? A single day's snowcat skiing lets you experiment with a new genre with the minimum commitment of time and money. You've lost little if the snow or weather prove less than ideal. And you can spend the rest of your skiing holiday practicing at the ski resort and building up your nerve. Day-skiing also lets you spend most of your holiday with your lift-bound or non-skiing companions.
On the other hand, a single day of necessity limits you to a superficial impression. You're not given time to really dig into it. Time is lost shuttling from your accommodation to the snowcat-skiing area (and back again later), followed by signing waivers, paying and going through the safety briefing. You're unlikely to bag a lot of vertical. You'll miss the backcountry lodge experience. Then again, you might just luck into some of the best runs of your life -making you vow to come back. There's always next season, and there'll be a lot more turns on that multi-day trip next time around.
AM I READY?
Some of you may now be thinking, "Sounds great, but I don't think I can handle it." If only we could manage it in print, we'd show you a video of just how badly some people ski and still survive their snowcat holiday—loving every minute. Over-rotated bodies, leaning back too much, uncoordinated unweighting, stem turns, even pure snowplows—in a metre of powder no less— we've seen it all.
If you can only remember three things when you head into the pow, these they be: 1. Keep your feet a little closer together than you might on the groomed. 2. Stay centred on your skis—don't sit back! 3. Try to get into a rhythm and link one turn ?uidly with the next. Speed is good (a fall in powder is fun) but if you really need to control it, make your swooping turns rounder and you'll slow down.
The short, fat skis the operators provide, the long rests on the rides up and the inexhaustible patience and indeed tips on technique of the tail guides cover off a lot of ineptitude. Believe us, most snowcat-skiing groups are distinctly mixed—some might say motley. Falls are frequent and often become legendary—nobody minds. Intermediates aren't out of place.
CURIOUS ABOUT CATS?
I've never really skied powder, certainly not cat or heli, how good a skier do I have to be? Do I have to be in good shape as well?
Plenty of ?rst-timers go snowcat skiing. Better, of course, would be some practice in powder at a regular resort, including a lesson, but that's not always practical. A lot depends on your temperament. Cat-skiing is generally more relaxed than heli-skiing, and the guides are very solicitous. Your minimum quali?cations should be solid intermediate skills, a can-do spirit and a desire to learn. Nick Holmes-Smith of Mustang Powder puts it well: "We ?nd that a 'greener' skier can usually do ?ne providing they are t and brave. Older skiers sometimes forget that they have to work harder at their ?tness the older they get."
HOW MUCH SKIING IS THERE? HOW MANY RUNS A DAY TYPICALLY? VERTICAL? COMPARED TO A RESORT DAY?
Snowcat-skiing operators have leases covering up to 150 square kilometres, offering many times the terrain of the typical ski resort—with a tiny fraction of the skier traf?c. You'll typically ski eight to 20 runs of varying length totalling 10,000-22,000 vertical feet per day, with 14,000-18,000 vertical feet being typical. That's quite a bit less than a fit skier can rack up off the lifts. If having a high-quality experience for you depends on quantity, make sure you select one of the operators that pushes for maximum vertical.
HOW BIG ARE THE GROUPS?
Generally 12 guests ride in each cat. Most operators provide both a lead guide and a tail guide who skis at the back of each group.
DOES EVERYONE SKI IN A GROUP OR CAN SOME OF US TAKE OUR TIME AND SKI SEPARATELY?
The hazards of backcountry skiing demand that everyone ski the terrain selected by the guide, and remain with the group. However, except when you need to transit through the occasional con?ned hazard area, there's almost always plenty of room to spread out and ski your own line.
WHAT IF SOME SKIERS ARE BETTER THAN OTHERS IN A GROUP? HOW DO THE GROUPS GET DIVIDED? CAN I SIT OUT A RUN IF I GET TIRED?
Unlike larger heli-skiing operators, not a lot of formal group division goes on in snowcat skiing. Many people arrive in clusters of up to eight, and individuals and couples are added in to ?ll the groups. If there's an obvious difference in keeping in mind that friends and relatives always want to stick together. Your last question raises a key point: if keeping up is tiring you out, you can easily sit out a run or two any time.
WHAT IF I'M ALLERGIC TO CATS?
The cats generally sleep in the maintenance shed, so you should be okay in your room. Daytime uphill travel could be a problem. Ask your guide to string a leash out the back and ride up on your skis behind the cat.
CAN I BRING MY OWN SKIS?
Sure—just not those old 212-cm Kastle super-Gs or Fischer C4 giant slaloms from 1979. Make it something wide, soft and fairly short. Especially wide.
HOW MUCH SNOW IS THERE?
Um, lots. Typical snowfalls would exceed 1,000 cm per season, adding up to a several-metre-deep base. Snowcat operating locations do vary in elevation and latitude, however, meaning certain places are more likely to have more early- and late-season snow than others. Do your research before booking.
WHAT ARE THE SLOPES LIKE?
Please see the main text—we talk lots about this one.
ARE SNOWBOARDERS WELCOMED OR SHUNNED?
Where's the dichotomy? Snowboarders are welcomed for their cash but shunned for their behaviour—like talking stupid and laying huge, ridiculous traverses across prime lines. Luckily, they're usually a small minority if not absent altogether.
MY PRIVATE CLUB IN COLLINGWOOD PACKS ALL NEW SNOW DOWN TO A NICE HARD SHINY BASE. WILL I ENJOY THIS SO-CALLED POWDER SKIING?
Empirical studies have proven that even Easterners who perversely enjoy skidding on blue ice (as well as hurtling tuque-less through the icy blasts of snowguns) manage the adjustment to powder. If you ask your guide, he or she may ? nd a bit of wind crust on a ridgetop, or perhaps a tiny patch of exposed glacial ice, to make you feel at home.
I'VE HEARD OF DOWN-DAYS IN HELI-SKIING FROM STORMS, DOES THAT HAPPEN IN CATSKIING?
Almost never—certainly not from storms. Cats are virtually weatherproof, and cat ski operators have a lot of treed, low-avy-hazard terrain. Very, very rarely a small operator might have mechanical failure of both snowcats, and equally rarely, a top-to-bottom mid-winter rain might push the snow or avalanche conditions beyond where you can go out.
HOW DO YOU DRESS FOR CAT-SKIING?
Wear a waterproof, breathable outer layer and somewhat less in the way of insulation than you might put on for the same temperature at a ski area. Remember, you ride uphill in a heated cabin, not an exposed chairlift. Too much clothing means too much sweat—and that's what'll make you feel cold by the afternoon. Also, long-cuffed waterproof gloves and excellent goggles are a must.
WHAT GOES ON IN THE EVENING?
Relax, have a cocktail, shower and/or hot tub, go for a massage, enjoy a well-prepared multi-course meal, then wax your skis, shoot some pool, check your e-mail, watch DVDs or read. Most people are in bed by 10.
HOW MUCH DOES IT COST?
Single-day standby cat-skiing can be had for as little as $250. Packages typically cost $400-$750 per day for skiing, meals and accommodation, depending on the operator and season. Lodges vary in amenities, access sometimes requires a helicopter ride, and some operators push for more average vertical per day than others, accounting for package price differences.
IF MY 1984 SALOMON REAR-ENTRY BOOTS START TO LEAK AGAIN, WILL THE LODGE FIX THEM OR SHOULD I BRING MY OWN DUCT TAPE AND KRAZY GLUE?
You'll feel right at home—you'd be surprised at the ancient clunkers worn by many guides. That's what seasons of endless powder do to a skier—when you never have to set an edge, boots are all about warmth and comfort. Cat country always comes with plenty of kibble & bits: duct tape, contact cement, wire, old buckles, rivets and screws.