Buyer's Guide 2022 – Vol 50 #1
Buyer's Guide 2022 published week of September 6, 2021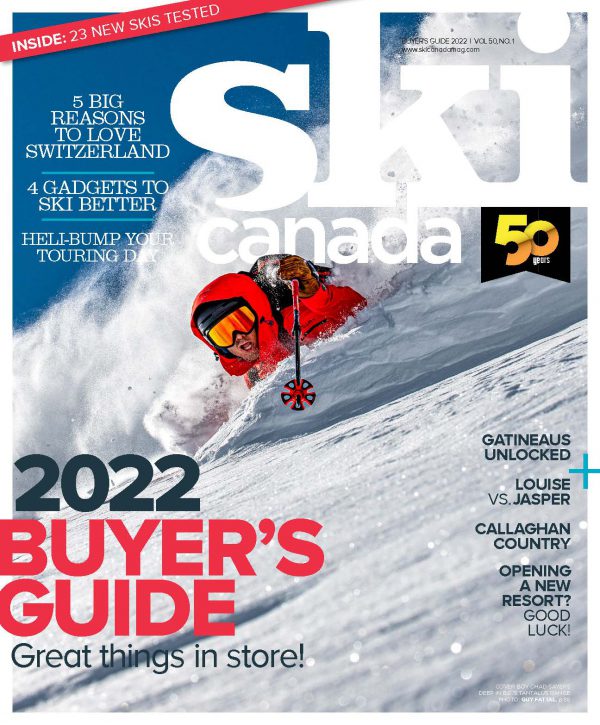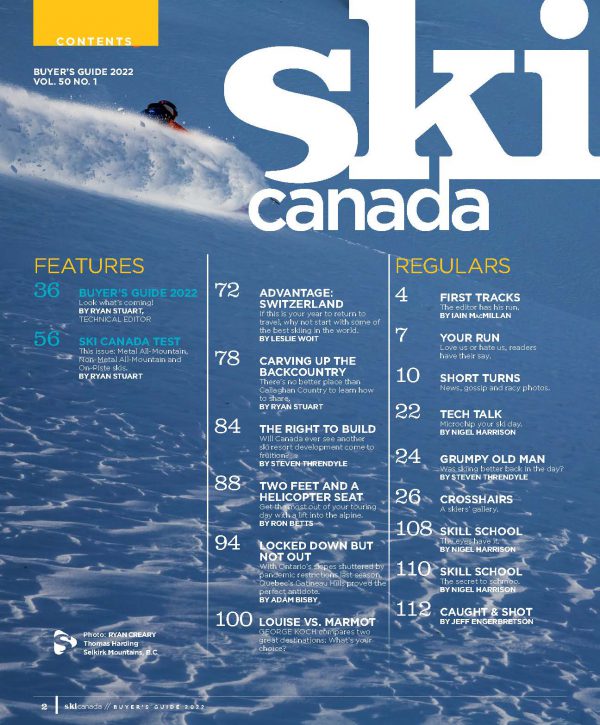 SKI CANADA BUYER'S GUIDE 2022
Vol 50 #1
FEATURES
BUYER'S GUIDE 2022
Look what's coming!
BY RYAN STUART, TECHNICAL EDITOR
SKI CANADA TEST
This issue: Metal All-Mountain, Non-Metal All-Mountain and On-Piste skis.
BY RYAN STUART
ADVANTAGE: SWITZERLAND
If this is your year to return to travel, why not start with some of the best skiing in the world.
BY LESLIE WOIT
CARVING UP THE BACKCOUNTRY
There's no better place than Callaghan Country to learn how to share.
BY RYAN STUART
THE RIGHT TO BUILD
Will Canada ever see another ski resort development come to fruition?
BY STEVEN THRENDYLE
TWO FEET AND A HELICOPTER SEAT
Get the most out of your touring day with a lift into the alpine.
BY RON BETTS
LOCKED DOWN BUT NOT OUT
With Ontario's slopes shuttered by pandemic restrictions last season, Quebec's Gatineau Hills proved the perfect antidote.
BY ADAM BISBY
LOUISE VS. MARMOT
GEORGE KOCH compares two great destinations: What's your choice?
REGULARS
FIRST TRACKS
The editor has his run.
BY IAIN MacMILLAN
YOUR RUN
Love us or hate us, readers have their say.
SHORT TURNS
News, gossip and racy photos.
TECH TALK
Microchip your ski day.
BY NIGEL HARRISON
GRUMPY OLD MAN
Was skiing better back in the day?
BY STEVEN THRENDYLE
CROSSHAIRS
A skiers' gallery.
SKILL SCHOOL
* The eyes have it. * The secret to schmoo.
BY NIGEL HARRISON
CAUGHT & SHOT
BY JEFF ENGERBRETSON