Buyer's Guide 2018 – Frontside
---
If your idea of the perfect run is groomed top to bottom, you're in the right place. Within the spectrum is everything from cruising to nearly racing.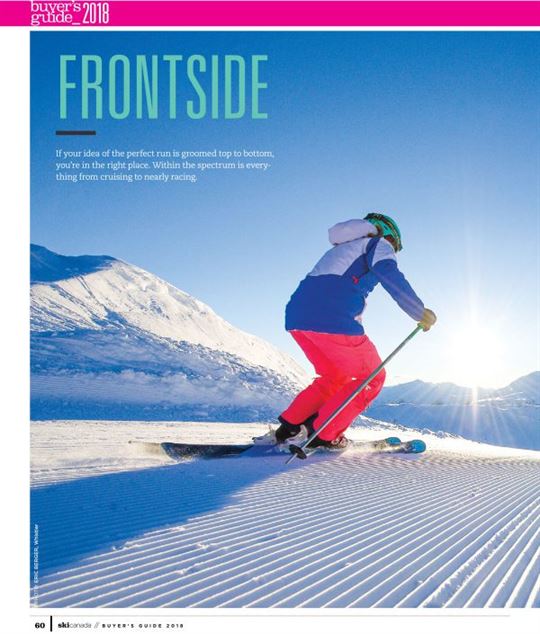 DOUBLE DARE YA
Klaus Obermeyer immigrated to Aspen, Colorado, from Germany in 1947 and started the ski outerwear company that still bears his name. Obermeyer's enormous claims to fame in the ski world are many, from the quilted down parka to mirrored sunglasses from vaporized metal and the elasticized turtleneck. His goal then was to create good-looking and highly functional ski gear. Seventy years later the mission remains the same. Obermeyer's most technical piece this year is the women's Double Dare 4-in-1 Jacket. The multi-piece combo includes a technical waterproof shell and a 700-fill insulated puffy. Both are reversible, hence the 4-in-1. Loaded with all the features, the Double Dare has mesh-backed vents, a cut that allows unrestricted movement, RECCO receivers and biomapped insulation. There's no direct men's equivalent, but by combining the fully featured Supernova Shell and Spectrum Insulator you'd come close.
obermeyer.com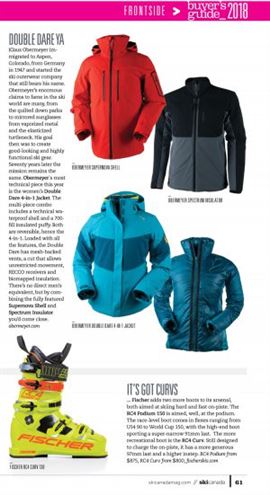 IT'S GOT CURVS
Fischer adds two more boots to its arsenal, both aimed at skiing hard and fast on-piste. The RC4 Podium 150 is aimed, well, at the podium. The race-level boot comes in flexes ranging from U14 90 to World Cup 150, with the high-end boot sporting a super-narrow 91mm last. The more recreational boot is the RC4 Curv. Still designed to charge the on-piste, it has a more generous 97mm last and a higher instep. RC4 Podium from $875, RC4 Curv from $800; fischerskis.com
RIDE 'EM COWBOY!
A bangtail horse is one bred for racing. Likewise Meier's Bangtail ski is all about going fast, if not intended specifically for the racecourse. Its 73mm waist is tailored for carving corduroy, and its stiff tail locks into ice right till the end. $800; meierskis.com
iKONIC REBORN
To improve the carving performance of K2's iKonic line, designers tweaked the interior shifting more of the ski's mass to the perimeter of the ski. This redesign of its on-piste-focused skis puts more power on the edges for better grip and torsional rigidity without impacting the flex at the tip and tail. The result is an even smoother carver that wants to swing from edge-to-edge at high speed with plenty of stability. Powerful skiers should opt for the Ti versions, which add 35 per cent more Titanal for better perform-ance on hard snow. They come in two widths, 80 and 84mm waists, and two builds, Ti and Ti free. The iKonics perform best on hard snow, but have enough versatility for all-mountain skiing. From $700; k2skis.com
LIGHT AND EASY SKI
Kästle's redesigned LX ski—available in 73 and 85mm waist widths—is made with a sandwich construction: silver fir and beech wood core topped with Titanal, fibreglass and a durable topsheet. Designed for intermediates up to advanced skiers who stick mostly to the groomers, it promises the sweet carving we've come to love from Kästle with a forgiving, lightweight feel. From $950; kaestle-ski.com
BIGGER, BETTER BEND
Fischer introduced Curv, its family of high-performance carving skis last year. This year the GT 80 has been added to the series aimed at ex-racers looking to move their arcing from the racecourse to the groomed. The new version is a system ski (meaning it comes with a binding), has a triple sidecut for optimal carving and is 80mm under-foot, ideal for anyone looking to dig trenches. $1,300; fischerskis.com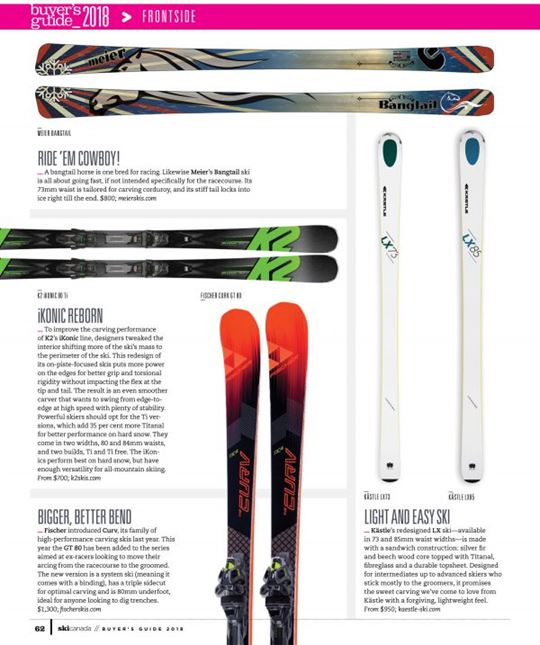 Tags: alpine gear, Buyer's Guide, Fischer Curv, Fischer RC4, K2 iKonic, Kastle LX, Meier Bangtail, Obermeyer