Reading Time:
2
minutes
Vol 42  #1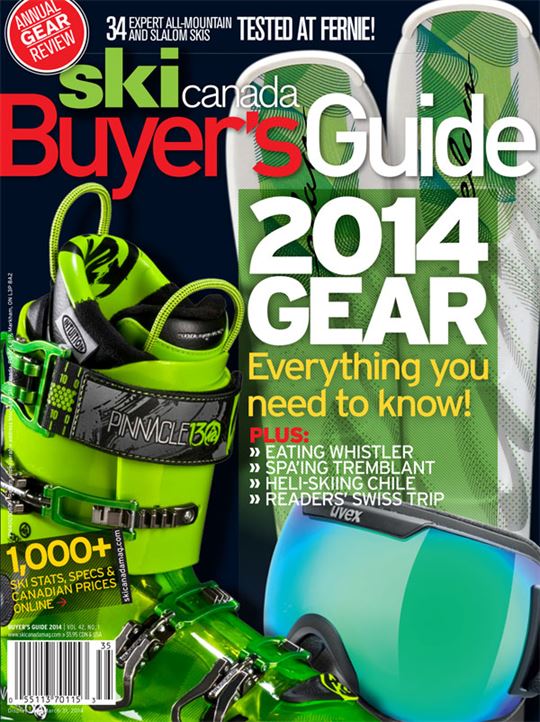 Published week of August 19, 2013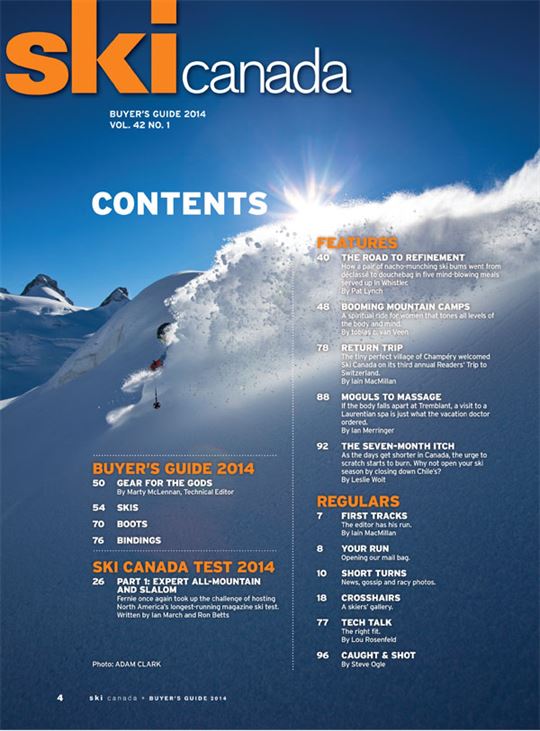 CONTENTS
BUYER'S GUIDE 2014
GEAR FOR THE GODS
By Marty McLennan, Technical Editor
SKIS
BOOTS
BINDINGS
SKI CANADA TEST 2014
PART 1: EXPERT ALL-MOUNTAIN AND SLALOM
Fernie once again took up the challenge of hosting North America's longest-running magazine ski test.
Written by Ian March and Ron Betts
 FEATURES
THE ROAD TO REFINEMENT
How a pair of nacho-munching ski bums went from déclassé to douchebag in five mind-blowing meals served up in Whistler.
By Pat Lynch
BOOMING MOUNTAIN CAMPS
A spiritual ride for women that tones all levels of the body and mind.
By tobias c. van Veen
RETURN TRIP
The tiny perfect village of Champéry welcomed Ski Canada on its third annual Readers' Trip to Switzerland.
By Iain MacMillan
MOGULS TO MASSAGE
If the body falls apart at Tremblant, a visit to a Laurentian spa is just what the vacation doctor ordered.
By Ian Merringer
THE SEVEN-MONTH ITCH
As the days get shorter in Canada, the urge to scratch starts to burn. Why not open your ski season by closing down Chile's?
By Leslie Woit
 REGULARS
FIRST TRACKS
The editor has his run.
By Iain MacMillan
YOUR RUN
Opening our mail bag.
SHORT TURNS
News, gossip and racy photos.
CROSSHAIRS
A skiers' gallery.
TECH TALK
The right fit.
By Lou Rosenfeld
CAUGHT & SHOT
By Steve Ogle