Buyer's Guide 2014 – Gear For The Gods
---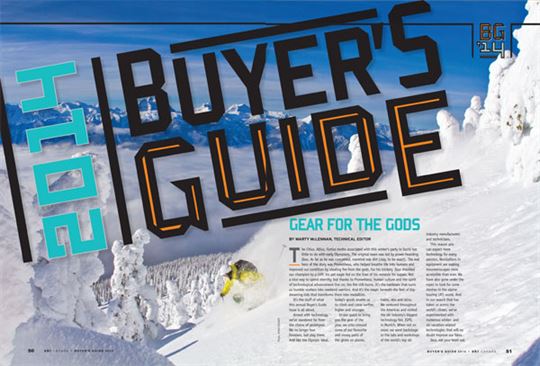 By Marty McLennan, Technical Editor
The Citius, Altius, Fortius motto associated with this winter's party in Sochi has little to do with early Olympians. The original team was led by power-hoarding Zeus. As far as he was concerned, mankind was dirt (clay, to be exact). The real hero of the story was Prometheus, who helped breathe life into humans and improved our condition by stealing fire from the gods. For his trickery, Zeus shackled our champion to a cliff; his pet eagle fed on the liver of his nemesis for supper. Not a nice way to spend eternity, but thanks to Prometheus, human culture and the spirit of technological advancement live on; the fire still burns. It's the hardware that turns us humble workers into weekend warriors. And it's the magic beneath the feet of big-dreaming kids that transforms them into medallists.
It's the stuff of what this annual Buyer's Guide issue is all about.
Armed with technology, we've wandered far from the chains of yesteryear. We no longer fear frontiers, but play there. And like the Olympic ideal, today's goods enable us to climb and carve swifter, higher and stronger.
In our quest to bring you the gear of the year, we criss-crossed some of our favourite and snowy parts of the globe on planes, trains, skis and skins. We ventured throughout the Americas and visited the ski industry's biggest technology fair, ISPO, in Munich. When not on snow, we went backstage to the labs and workshops of the world's top ski industry manufacturers and technicians.
This season you can expect more technology for every passion. Revolutions in equipment are making mountainscapes more accessible than ever. We have also gone under the ropes to look for some stashes in the alpine touring (AT) world. And in our search that has taken us across the world's climes, we've experimented with numerous winter- and ski vacation-related technologies that will no doubt improve our fates.
Zeus, eat your heart out.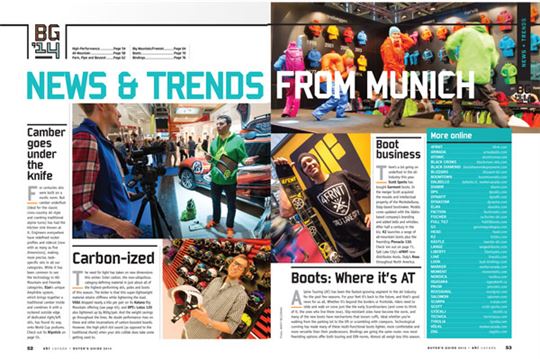 News & Trends From Munich
Camber goes under the knife
For centuries skis were built on a nordic norm. But camber underfoot (ideal for the classic cross-country ski style and cranking traditional alpine turns) has had the kitchen sink thrown at it. Engineers everywhere have redefined rocker profiles and sidecut (now with as many as five dimensions), making more precise, task-specific skis in all our categories. While it has been common to see the technology in All-Mountain and Freeride categories, Elan's unique Amphibio system, which brings together a traditional camber inside and combines it with a rockered outside edge of dedicated right/left skis, has found its way onto World Cup podiums. Check out its Ripstick .
Carbon-ized
The need for light has taken on new dimensions this winter. Enter carbon, the now-ubiquitous category-defining material in just about all of the highest-performing skis, poles and boots of this season. The kicker is that this super-lightweight material retains stiffness while lightening the load. Völkl dropped nearly a kilo per pair on its Katana Big Mountain offering , and DPS's Lotus 120 also lightened up by 800g/pair. And the weight savings go throughout the lines. No doubt performance rises on these and other incarnations of carbon-boosted boards. However, the high-pitch tick sound (as opposed to the traditional thunk) when your skis collide does take some getting used to.
Boots: Where it's AT
Alpine Touring (AT) has been the fastest-growing segment in the ski industry for the past few seasons. For your feet it's back to the future, and that's good news for us all. Whether it's beyond the borders or frontside, riders need to slide and walk on snow just like the early Scandinavians (and come to think of it, the ones who live there now). Slip-resistant soles have become the norm, and many of the new boots have mechanisms that loosen cuffs, ideal whether you're walking from the parking lot to the lift or scrambling with crampons. Technological cunning has made many of these multi-functional boots lighter, more comfortable and more versatile than their predecessors. Bindings are going the same route: now most freeriding options offer both touring and DIN norms. Almost all weigh less this season.
Boot business
There's a lot going on underfoot in the ski industry this year. Scott Sports has bought Garmont boots. In the merger Scott acquired the moulds and intellectual property of the Montebelluna, Italy-based bootmaker. Models come updated with the Idaho-based company's branding and added bells and whistles. After half a century in the biz, K2 launches a range of all-mountain boots plus the freeriding Pinnacle 130. Check 'em out. Salt Lake City's 4FRNT now distributes Asolo, Italy's Roxa throughout North America.
---
Tags: 4FRNT, All-Mountain, alpine touring, Asolo, AT, buyers guide, camber, carbon, DPS Lotus 120, Elan Ripstick, freeride, Garmont, K2 Pinnacle, rocker, Roxa, Scott, Volkl Katana