Reading Time:
7
minutes
Soup's on!
When it comes to accommodation, Big White is one of Canada's most complete ski-in, skiout resorts. "Home for lunch" can be as easy as choosing from one of the village's 15 eateries. One cabin and condo rental agency, Rent Chalets, goes a step further and stocks your cupboards before you arrive—and, for Ski Canada readers, Rent Chalets will pay the first $100 of your grocery bill. Just send them your list before arrival and they'll do the rest. That means, no stopping at the SuperStore down in Kelowna or schlepping your grocery bags from the car to the fridge, just fly in (or drive in), head to the slopes and click into your bindings. See you at lunch! www.rentchalets.com
Dropping Records
Ski Canada caught up with Jamie Pierre last winter in Utah, at the U.S. Freeskiing Nationals. If you don't recognize the name, Pierre's the skier who set a world record in January 2006, dropping a spectacular 78-metre cliff at Grand Targhee, Wyoming. Though roughly a year later, in March 2007, Norwegian Fred Syversen inadvertently launched a 107-metre drop, and lived, many argue the record remains Pierre's since Syversen had misread his intended line and punched it off only when he realized there was no turning back. Clips of both airs are readily available on YouTube and elsewhere online.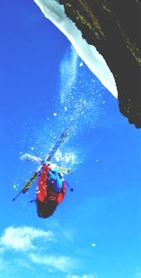 After Pierre produced a couple of beers from his jacket pocket, he enlightened us with some of his experiences as a pro skier—or as Pierre modestly calls it, "being on permanent vacation." During his rise from ski bum to full-time athlete, and despite his ever-increasing notoriety and world-wide recognition, Pierre explained it was challenging to maintain sponsors supportive of his quest to, quite literally, "go the biggest." He recounted numerous incidents in which he was "mischaracterized as a loose cannon, a daredevil and a liability," including impromptu lectures from patrollers and others familiar with the Utah skier's exploits on the morning tram ride at Snowbird.
Although accepting some of the blame for his mixed reviews on his tendency to speak his mind, he also pointed to his virtually non-existent injury record as proof that the labels were incorrect. "Well, I might have had skier's thumb a few times," said Pierre, "but who hasn't?" To read more about athletes who haven't been so lucky, see "Death Becomes Them"
–Chris Lennon
Tune in, tune up
Acclaimed Toronto filmmaker, and weekend race coach, Steven Munro wanted to make a ski-tuning DVD for his charges (or their parents anyway) to show both how simple but also how important the practice is. "We have so little time with them and video is such a great tool to steal that extra time," says Munro. "When I showed it to coaching colleagues from both Western N.Y. and Southern Ontario, they all wanted a copy, so YouTube seemed like the logical vehicle to transmit the message and it's been well received by a wide audience." With help from Jason MacLaren of Swix and Fischer, Jeff Stone from Action Sports Outlet and Oakville's Corbetts, the (so far) four-part series can be easily found by searching YouTube for: "Ski Tech 101." Although some natural ski waxes come from Brazil, as it turns out, searching for "Brazilian waxing for a super G spot" will take you to a completely different series.
Wheely fast through Verbier
Helicopters dangling paparazzi hovering overhead, hundreds of campervans lining the resort's access roads, 150,000 screaming fans, bars open by special license until 4:00 a.m. and the mountains gleaming with a fresh dusting of powder after two days of torrential rain. No, it wasn't an Olympics dry run at Whistler—it was the Tour de France taking a detour into Verbier, Switzerland, in late July.
With its glacier skiing long melted into the past and current summer tourism restricted to elderly, if affluent, listeners to a classical music festival, Verbier paid a reported $1 million for this unprecedented injection of youth and animation.
A startling sight for most in "neutral" Switzerland was the French national gendarmerie in tow. Among local businesses, pharmacists were particularly enthusiastic at the prospect of 180 professional cyclists in town. Nevertheless, the event was an overwhelming success, not at all dampened by the threat of an H1N1 flu outbreak. "It went off like Swiss clockwork," said one organizer. "Maybe not a Rolex, but definitely a Swatch," added another.
–Charlie Fricke
Backcountry Lite
Everyone can appreciate the rewards of getting off the groomed, but life beyond the ropes needn't be a mystery reserved for expert skiers. If you're not up to heli-skiing with RK, the cautionary wordage on the gates into Taynton Bowl and Extreme Dream
are too off-putting and you've already enjoyed your day dog-sledding, you ought to consider Panorama's backcountry for beginners. Rental cross-country skis or snowshoes can help you up to the Hale Hut in its seemingly remote setting only four km from Pano's impressive Greywolf Nordic Centre and its 20-km network of trails. Wood is regularly supplied to make a fire at the cozy warming hut—wine, bread and cheese are your responsibility.
Ski Cross Canada
Back in 2000, the FIS Freestyle Committee took a leap of faith by developing a plan to bring skiercross into the FIS structure, and by December 2002 Ski Cross became a Freestyle World Cup event. In the fall of 2006, Ski Cross was accepted into the Olympics—an even bigger win for Freestyle.

With the Olympic decision made, Canada burst onto the scene with solid funding and some of the best management and coaching talent around. Last season, the first Ski Cross World Cup in Canada was also the Olympic test event on the same slope at Cypress Mountain on which the Olympic Ski Cross events will be held.
Canada swept the podium in the men's race with Chris Delbosco, Stanley Hayer and Davey Barr finishing 1st, 2nd and 3rd respectively. The women did almost the same, with Aleisha Cline taking gold and Ashley McIvor silver.
FIS Freestyle will have to make some decisions about how to manage Ski Cross in years to come: culturally it fits with Freestyle, athletically it is more aligned with Alpine. Currently, the Canadian Ski Cross Team exists independently, with oversight from a joint Alpine/Freestyle committee under the Canadian Snowsports Association. After the Olympics in Canada this will change. Some think Ski Cross will be the poster sport at the Games—where it ends up afterwards may become one hot potato.
–Chris Robinson
How many days of skiing did you get in this past season?
More than 100 days 3%
30 to 100 days 16%
20 to 29 days 23%
10 to 19 days 29%
5 to 9 days 6%
2 to 4 days 16%
1 day 3%
Didn't make it out once 3%
.. from the www.skicanadamag.com online poll archives
Fancy feet with Chris Lennon
Every year, many of us ski ourselves into shape in the early season. For keen and nimble hikers and those excellent at concentrating while moving forwards, a great way to improve your balance and footwork in the off-season is to run across challenging and uneven terrain.
Find a dry riverbed or rocky shoreline with substrate free from moss, algae and other slippery bits.
Wear a quality pair of trail or scree running shoes with good lateral support and a large tread.
Start slowly and increase to about a 3/4 pace, running across and hopping from rock to rock.
To increase the difficulty and benefit, change your direction frequently and run in a zigzag pattern.
And for those without the genetic makeup of a mountain goat, don't attempt to chew gum at the same time.
Buddy plan
Sit-skiers are part of so many ski areas in Canada nowadays they're practically commonplace, but there's plenty more behind all the high-tech gear and volunteers in the lift line. Last March, Sun Peaks hosted both the 2009 Para-Alpine National Championships and CADS Festival, and the co-ordination was the impetus for B.C.'s first buddy program.
B.C. alone has more than 600 volunteers for more than 700 disabled skiers, but a special level of mentoring began at Sun Peaks with national team members pairing up with new or younger skiers at the beginning of the week based on their disability and ski method, such as sit-skiing or three track. The athlete-student buddies skied together, hung out, exchanged stories and became friends as they shared in their passion for the sport.
The majority of the CPAST athletes all learned to ski through CADS grassroots programs across Canada," says Sian Blyth, high-performance director with the Disabled Skiers Association of B.C. "This is an opportunity for them to now inspire new and up-and- coming athletes and help the programs that got them started." More on how it's done in B.C.: click here
Flying to Sun Peaks
Canada's second largest ski area, is about to get easier with WestJet's new increased service to Kamloops starting November 1. The airline already connects skiers through Calgary but, like Pacific Coastal and Air Canada Jazz, will soon be offering direct service through Vancouver as well. Early birds from Toronto can catch the 7:15 fl ight and meet their Vancouver buddies on the SunBurst chairlift before lunch!
Betting on Tremblant
If the thought of playing blackjack or Texas Hold'em while still in your ski boots is daunting, fear not, the Mont Tremblant Casino, which opened its doors in June, has already secured an ample supply of special slippers for gamblers who arrive at the posh chalet of sin via skis or snowboard.
While the Loto-Québec brass was boasting to 600 VIP guests on opening day about the $66-million casino's third floor with private game rooms, chic décor, mountain views up the ski area's Versant Soleil side —and poker and blackjack tables with minimum $100 bets—all gamblers will still be impressed by the goldlaced water wall behind the fireplace in the welcoming lobby and upscale lodge. On the first two floors there are 400 slot machines, along with lower-bid game tables and Texas Hold'em electronic poker machines.
The fourth of its kind operated by Loto- Québec (but the first for the slipper-crowd), the Mont Tremblant casino is the only ski-in, ski-out venue in Canada that we know of, with a 300-metre trail linking the extended-hours Casino Express gondola for pedestrians. In the master plan, the two hotels, shops and restaurants that were set to be built next to the casino are on hold, for now. And although it is in Quebec, a more relaxed dress code is in effect due to its resort nature—so no need to ski in a tux.