---
Canada's Own The Podium program focuses hard on Olympic medals, with Olympic wins eclipsing all other World Championship finishes—and Erik Guay has had many of the latter, 17 in fact.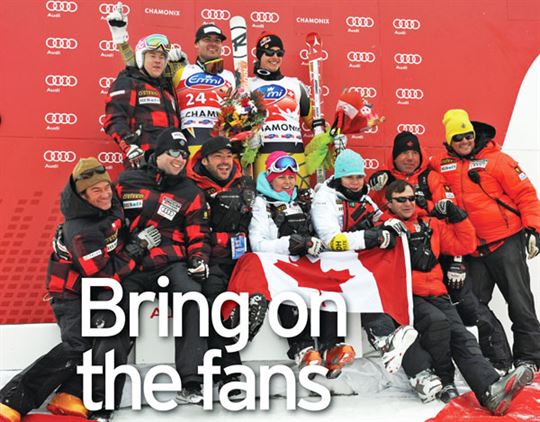 Alpine racing is a solitary sport—for despite the training, coaching and technology behind every World Cup racer, when it comes down to performance there's nothing and nobody else to rely on but trained and oft-tired legs, well-tuned skis and two dinky poles.
Okay, there's more to it than that, but suffice it to say that skiing is not a team sport, and unlike fans of franchised sports—those painted and (mostly) hairy men swilling from the sidelines—the dedicated followers of alpine racing are a fickle lot, putting faith in the individual over the team. Let me put it this way: if you're for the Vancouver Canucks, you're for the Vancouver Canucks, even though most of them are Russians. The players change; the team remains. But if you rock a cowbell for the Canadian Alpine Ski Team (CAST), it's because a particularly hardy and fearless maverick has busted out of solitary confinement and grabbed the halo of skier stardom by sheer force and will alone.
So why don't the majority of Canadians—even those who are skiers, from slopesiders to weekend powder warriors—know the names of our current crop of world-class racers? Sure, a few do follow the national gains, but gone are the days of household recognition.
With the rise of freeriding, big-mountain and new-school innovations, traditional racing has slid down the scale of cool in the eyes of young (and impressionable) followers who, unless they're in the bizarre super-niche of Ontario's private ski clubs, now seem to flock only to terrain parks (and if they're in the west, the backcountry). This is all the more interesting, if not a paradox of sorts, given that alpine and timed racing is still a top-watched sport during the Winter Olympics, while the newer iterations—such as Big Air, Slopestyle and Halfpipe—have yet to even hit the five-ring circus.
Perhaps there's a greater divide, more so today than ever, between spectators who simply watch the sport on television and those who seek to live up to it, follow it and imitate it. Yet plenty of ski films document the exploits of urban park rats and big-mountain bulls alike; indeed, in this sense, what's watched is certainly imitated, becoming the stuff of teenage dreams. But this is precisely the crux of the matter when it comes to the great moment of worldwide watching, at least for alpine skiing: the Olympic Spotlight Syndrome.
Unfortunately, none of the Canadian talent claimed an Olympic medal at Vancouver 2010, even though Canada's best contender, Erik Guay,came within 0.03 seconds of a podium, scraping in at 5th in the Super-G. Fifth, though an amazing result given the context of worldwide competition from heavily funded national teams, apparently isn't enough for lift-line or après-ski recall in the land of beavers and maple syrup. It would appear that Olympic watching is now a vicious sport unto its own; only the podium finishers are fêted, the rest forgotten. This ought to be contrasted with the (perhaps fading) egalitarianism of new-school sports, where the recognition of broad creativity (aka progression) allows for a much greater appreciation of its many practitioners and/or competitors—whether it be at the X Games or spinning a new trick off a backcountry booter. Only Sochi 2014 will tell whether the Olympic Spotlight Syndrome will affect the new-school sports of Slopestyle and Halfpipe as it has alpine racing by narrowing the focal point of fame to the top three.
There are other concerns, too, even within a competitive field that remains beholden to nationalism. Canada's Own The Podium program focuses hard on Olympic medals, with Olympic wins eclipsing all other World Championship finishes—and Erik Guay has had many of the latter. So many, in fact, that his 17 career World Cup podiums puts him second only to Crazy Canuck Steve Podborski, who hangs on tight with 20.
Indeed, Guay is the best alpine racer out of Canada since Podborski in many respects. In 2010, he claimed the World Cup season title in Super-G (aka the Crystal Globe for overall top finishes), again being only the second Canadian to do so, once again behind Podborski, who last held the title for Downhill in 1982—the year after Guay was born. In 2011, Guay won the Downhill World Championship (not to be confused with the overall title). So you'd think this cat, whom CAST rightfully describes as one of the most successful Canadian skiers of all time, would be a bit more of a name out there. I know he is well loved on the dedicated icy hills in the East; but surely such highly competitive, top-performing and overall awesome athletes deserve a little more from a country that knows its third-tier Eastern European hockey stars better than its top-10 alpine racers?
Perhaps with the inevitable incorporation of new-school events into World and Olympic competition, the youthful spirit of perpetual innovation—the camaraderie among glacier campers used to honing tricks as park-rat packs—will address the persistent and ultimately myopic focus on top-three finishes. Couch nation take note: there's more than the trinity to watch out for.
---
Tags: Big Air, Canadian Alpine Ski Team, CAST, Crystal Globe, Downhill World Championship, Eric Guay, Halfpipe, Olympic Spotlight Syndrome, Own the Podium, slopestyle, Steve Podborski, Super-G, Winter Olympics, X-Games