Reading Time:
4
minutes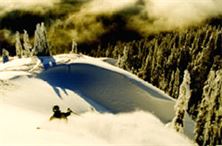 Vancouver, Vancouver, Vancouver. No other city can touch her, according to the bean counters at the United Nations. If you live there: congratulations. If you don't, fret not. Repeatedly crowned quality-of-life belle of the ball, and so greedily perched at the edge of the sea and the foot of the peaks, the remainder among us must live in a Rest of Canada landlocked, flat-earthed embittered rage. Buck up! We know we can't get even—so we might as well get skiin'. Point number one: Don't assume a visit to Vancouver must equal a week in Whistler. Combine a stay in the land of fleece and home-grows with a few days of skiing at one, two or all three of Vancouver's handy backyard resorts. They're close, scenic and offer surprisingly good skiing.
Distance: 30 minutes from downtown Vancouver
Wow factor: ships float by seemingly close enough to touch
Best souvenir: plastic rain slickers with Mount Seymour logo
Don't miss: snowshoe tours through old-growth forest
Raining cats and dogs? Hang on to your hat. When it's pelting downtown, it's probably dumping on the North Shore Mountains. Seymour's base lodge sits at 1,023 metres. The highest point off Brockton Chair at Seymour is 1,265 metres—and you can encounter different weather even at these two levels. Skiing with an umbrella and fat skis? We saw it here first.
What you can just as easily see—and ski—on your visit is deep B.C. powder. And unlike skiing at a big commercial ski area, you won't be competing with hundreds of other tourists for breathing space. Following a city-civilized French toast and bacon buffet breakfast, we rocked up at 10:30 a.m. on a Thursday and rode two gentle fixed-grip chairs to the top (there are only three chairs altogether so route-finding is a snap). Who knew? Up here, nearly a foot of untouched powder across 21 trails and less than a dozen people in sight to use it. I have no idea where everyone was—it wasn't even harvest season.
Of course, they might have been playing in the largest terrain park and the first in-ground halfpipe on the North Shore Mountains. The park is accessible off Mystery Peak Chair and is also the event location for cool comps like the Smith Grudge Match and Dragon Three Trick Pony. There's a strong freestyle culture here, influenced by Seymour's resident pro riders and a crew that ensures the park is well maintained. Freeride or freestyle, the locals' mountain caters to both communities along with its core customers of Vancouver families and school groups.
Distance: 20 minutes from downtown Vancouver
Wow factor: nightskiing in less time than it takes for a delivery pizza to arrive, nightly from 4:00-10:00 p.m.
Grab a coffee downtown and be on the slopes before it's cold. Not bad. Grouse Mountain's Skyride isn't just for scenery addicts; a fun day—or even night—of skiing awaits. In just minutes you're lifted from 274 metres above the sea to 1,250, with Vancouver's glittering panorama beneath your feet. The bijou choice of terrain may surprise you. Double-black descents like Purgatory and Devil's Advocate will take your mind off the view. There is an assortment of more observation-friendly runs off The Cut and Screaming Eagle, Vancouver's first high-speed detachable quad chair.
Distance: 30 minutes from downtown Vancouver
Claim to fame: 2010 Olympic site for Freestyle Moguls, Freestyle Skiing, Snowboard Halfpipe, Snowboard Parallel Giant Slalom and Boardercross
Look, Mom: views of downtown Vancouver, English Bay, Georgia Strait and Howe Sound
Whistler, schmistler. Canada's largest resort won't see one mogul's worth of freestyle competition or snowboard event for that matter come 2010; it's all happening here. Spread over Black Mountain and Mount Strachan, more than ever Vancouver's backyard ski playground is worth the journey. There may have been just seven lifts and a pretty dodgy base lodge on my visit last winter—but watch this space. The magic wand of the Olympic five-ringed circus is waving fairy dust across Cypress Mountain. The most expansive terrain and the largest vertical rise on the North Shore of Vancouver is about to get bigger—40 per cent bigger. There are nine new runs this winter on Black Mountain for high-level intermediate and experts accessed by a shiny new quad chair. New snowmaking will spew the white stuff across the area, and another new quad will replace a slow old one. The new high speed reaches Mount Strachan in only four minutes, revealing a breathtaking view of The Lions, a Vancouver landmark deep within Cypress Provincial Park. Also this winter is a stunning new base lodge.
VANCOUVER FACTS & STATS
WHERE TO STAY:
Smack in the city centre looking onto the Vancouver Art Gallery and straight into the windows of the topsy-turvy Chapters bookstore, we like the boutique lavishness of the Wedgewood Hotel on Hornby Street. With just 83 rooms and suites, the cozy bar and real fire burning in the lobby set the urban aprèsski scene from the moment you arrive. If it's good enough for Pierce Brosnan to live here for months on end, it's good enough for our urban mini-break ski base.
GETTING THERE:
Nothing could be better than having your personal ski valet drive you to the slopes. At All Terrain Adventures, their motto is "You Make the Escape, We Provide the Getaway Vehicle," which is a we-meanbizness shiny black SUV. There is a shuttle bus to Cypress, Seymour and Whistler, but ATA obviously is far superior.
WHAT TO DO:
› Take a mini-ferry to Granville Island from downtown and explore a market full of local vendors, food producers and artisans.
› Rent a kayak and get a whole new perspective on the city as you paddle along False Creek.
› Stroll the hubbub of North America's third-largest Chinatown (after San Francisco and New York).
› Bike, blade or walk around Stanley Park, a temperate rain forest and home to huge old-growth trees. Every day the trees pump out enough oxygen for 11,700 people, and are home to more than 200 kinds of birds and dozens of species of mammals.
› Eat and drink all that's fresh and wild about B.C. at Lift. A groovy Pacific Northwest menu offers lots of seafood in Japanese-inspired variations and sassy cocktails. It's perched right on the edge of Coal Harbour, with an outdoor roof patio and fab mountain, sea and city views.