Border Crossers – Red, Whitewater, Fernie
---
Two American brothers learn to appreciate each other—and Canadian skiing—on a Kootenays road trip.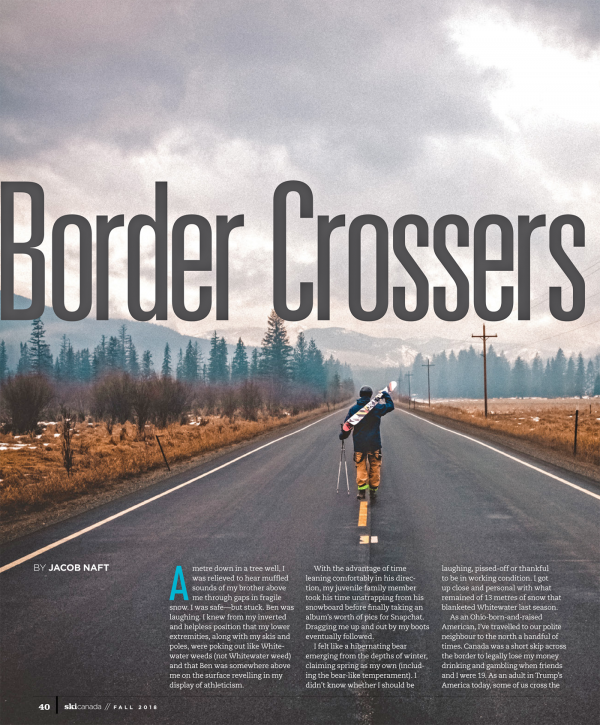 A metre down in a tree well, I was relieved to hear muffled sounds of my brother above me through gaps in fragile snow. I was safe—but stuck. Ben was laughing. I knew from my inverted and helpless position that my lower extremities, along with my skis and poles, were poking out like Whitewater weeds (not Whitewater weed) and that Ben was somewhere above me on the surface revelling in my display of athleticism.
With the advantage of time leaning comfortably in his direction, my juvenile family member took his time unstrapping from his snowboard before finally taking an album's worth of pics for Snapchat. Dragging me up and out by my boots eventually followed.
I felt like a hibernating bear emerging from the depths of winter, claiming spring as my own (including the bear-like temperament). I didn't know whether I should be laughing, pissed-off or thankful to be in working condition. I got up close and personal with what remained of 13 metres of snow that blanketed Whitewater last season.
As an Ohio-born-and-raised American, I've travelled to our polite neighbour to the north a handful of times. Canada was a short skip across the border to legally lose my money drinking and gambling when friends and I were 19. As an adult in Trump's America today, some of us cross the border because we just don't have the stamina to Make America Great Again, at least in The Donald's definition. When I was given the chance to cross the border once again, but this time to B.C. to ski the fabled Powder Highway, I figured it would be a proper introduction to the Great White North. Of the eight resorts in the southern Kootenays, I allocated 10 days for Red Mountain, Whitewater and Fernie. Was it enough?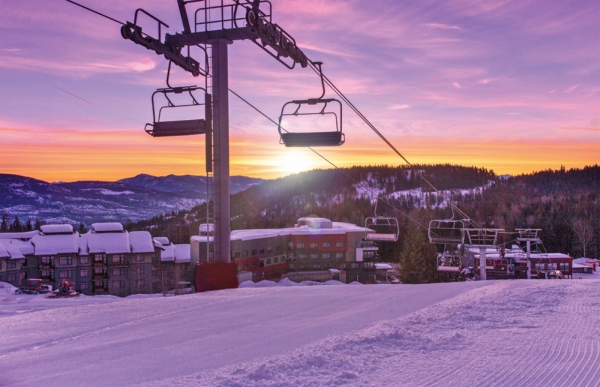 After travelling for 16 hours, we veered from the Powder Highway onto the B.C. Ale Trail and quickly learned that craft beer is one of B.C.'s greatest passions. Our first stop in Canada was a welcome one: Rossland Beer Company. Jet-lagged and exhausted, we decided on a quick pint before heading back to the resort. I guess our plan was offensive to the amiable nature of Canadian skiers. Five beers later it seemed as if we'd met everyone in town.
Our introduction to Rossland produced a melting pot of social introverts who had once visited and never left—which immediately made it feel like our home, too. Sometime later, as we said our goodbyes to everyone we'd met, we kept hearing, "See you guys out there tomorrow, eh!" We realized they weren't lying when we saw half the bar crowd we'd met the night before at the base of Red the next morning. Despite Red's big terrain, the others were easy to track down as well, simply by how the resort was designed.
When I first learned Red only had five chairlifts (not counting the T-bar and Magic Carpet), I was lulled into thinking that it was a small resort. But I'd never explored a mountain like Red, with nearly 360-degree, steep-and-deep skiing off its three peaks. Lap after lap, we rode the same chair and never skied the same line twice. Red's terrain may be half that of Vail and a third of Vail's new sister Whistler Blackcomb, but each lift seemingly took us to the best skiing. Roped run-outs encircle most of the resort near but not at the valley floor, so when you pop out of the trees you know it's time to ski back to the lift.
Our first day at Red, we rode the Motherlode Chair with local pro Jeff Ashton. He told us he still finds new lines even after skiing 15 years at Red; that being said, not many people are willing to huck their bodies six or seven metres (a metre's like a yard, right?) off cliffs into Red's famous powder just to try something new. But that's the thing about Red—the steep and challenging terrain breeds confident skiers.
My cocky American self thought I was a pretty great skier—until my visit to Red. Skiing with Jeff and other locals made me look like a parent trying to keep up with his fearless, straightlining toddler. I was out of my element in Canada. I even got anxious determining how much deli meat in kilograms I needed at the grocery store (let's just say that $40 worth of delicatessen was not a single portion). Nonetheless, I left my ski comfort zone pretty quickly. I could have stuck to the grooming report but the steeps on Red Mountain, the "coolers" (a translation for which I had to ask) on the north side of Granite Mountain, and the glades on Grey Mountain were too attractive. By the end of our two days there, I had sent more cliff drops, pillow lines, chutes and glades than I had an entire past season. And I loved it.
With the proper gear and a ballsy demeanour, Mt. Roberts can deliver a better ROI than a maple syrup reserve. This backcountry peak is just a 40-minute skin from the ropes on Granite Mountain and is decorated with cliff drops, 50-degree lines and untouched powder fields. The proximity to Paradise Basin meant that you could lap Mt. Roberts and Granite Mountain all day long—until the debilitating quad cramps inevitably set in. Luckily, we stayed at the new Slalom Creek lodge, which was so close to the lifts that we could have skied right into our unit's private hot tub. Despite Rossland's two-km distance away, for first-chair hunters the rejuvenating hot tub and proximity to the base make waking up that much easier.
Some of the best parts of Red, however, came after the ski day was over. The same people we met in town, the same people we saw on the mountain, were all on the porch of Rafters celebrating the ski day with a beer…or five. Rafters lived up to its infamous hype. Lone wolves, families and dogs alike filled the porch with smiles and bullshit from the day. Without thinking, Ben and I ordered Bud Lights before experiencing a gauntlet of disapproval from each northern soul on the porch, but we were welcomed regardless.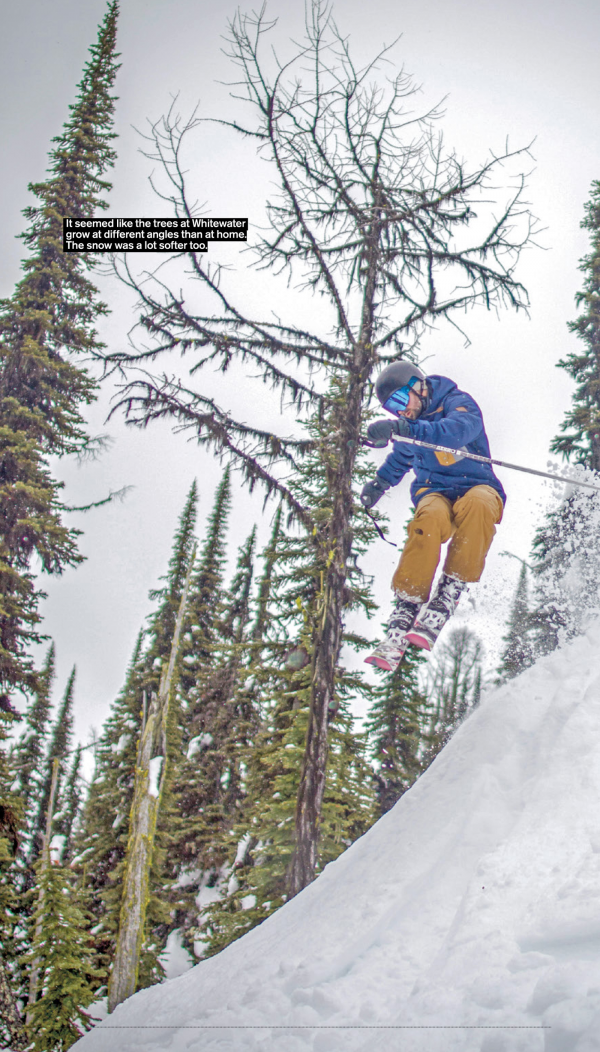 Even though Red Mountain had quickly felt like a second home, our road trip's clock was ticking; Whitewater was up next. We got past Trail without driving through any sulphuric acid clouds and 90 minutes later we were at the last turn on Whitewater's nine-km snowy driveway. This would be our first-ever ski area with no cell service or WiFi. In today's world the isolation was a welcome bonus. In grand reveal, the morning clouds broke way on the back end of a 119 cm snowfall week to let the sun glisten off Ymir Peak—a perfect spring day in all regards.
Whitewater sits in a valley with typically unpredictable weather—but it was obvious the weather is certainly in the skiers' favour. With some of the lightest, deepest powder in the Selkirk Mountains, the snow is here to last.
Whitewater is known for its extensive backcountry access, with several prominent peaks, bowls and ridgelines from which to choose. Unfortunately, our Midwest American upbringing didn't prepare us for this Canadian luxury. With no touring gear, and such a short visit, we stuck to inbounds terrain, which gave us plenty to keep busy. We found the best runs of the day beneath the Trash Chutes off the Summit Chair. Even days after a serious snowfall, we still found untouched lines, powder landings off drops, and endless playful pillows and rollers. The burned forest opened the terrain up into a wonderland for creativity and the occasional "bwah!" or "wahooo!" (and the aforementioned brothers laughing at brothers wallowing in tree wells).
When it was time to get serious, we stayed skiers left on the front side of Summit and skied Terra Ratta. It's tight in the trees—and steep. Each descent required quick thinking and tight technical turns—a snowboarder's nightmare. My turn to laugh. We went to where "cliff area" was noted on the trail map, and which I can attest is accurately named. The run was full of surprises like The Dragon and The Road Gap before dumping us out right back at the lift for a recovery ride.
Of the many Whitewater suprises, the food is high on that list. Head chef Luca Paola trained his whole life for this role. He decided to put "real" food on the ski resort menu—a world away from the ubiquitous chicken fingers, burgers and chili—and it fulfilled my wildest dreams. I couldn't decide what to eat first, but the decision was taken out of my hands when poutine was ordered for the table. I would never have ordered let alone thought of adding gravy and cheese curds to french fries, but to avoid insulting yet another group of Canadians, I accepted the recommendation and tried it. In cultural discontinuity, I complemented my Canadian coronary with an Asian salad, while Ben ignored so many other healthy gourmet options and went all American with a Summit Burger.
We finished off the day hauling down wide-open groomers like Motherlode and Bonanza, and claimed the last chair up Silver King at 4:00 p.m. before beginning our trip "home" to Nelson.
Nelson, consistently ranked one of the best ski towns in North America, lived up to its expectations. Bad Ass Bingo at Mike's Place Pub was the most fun I've had playing bingo. Paired with a few of those craft beers Canadians love so much, it was the best start to a Tuesday night out. Luckily, we didn't call "Bingo!" accidentally, otherwise we would have had to read pornography to a laughing crowd. If you haven't heard pornography read as plainly as David Attenborough, it's as awkward for everyone as you think it would be.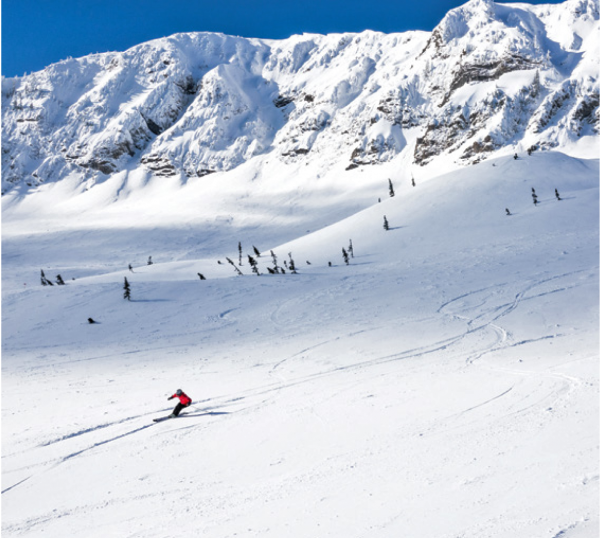 If Red Mountain was my home away from home—and Whitewater my favourite getaway—then Fernie was like the house of my cool friend who hosted parties on weekends. Arriving in town, Ben noticed people hitchhiking from one side of town to the other; in America, we call that abduction.
After leaving the solitude of Whitewater and arriving at Fernie, it was (of course) recommended that we stop at the Fernie Brewing Company in this classic Victorian mountain town. Ben, playing the true American role, was still trying to exclusively drink Bud Light—and understandably experiencing a rough trip during B.C.'s craft revolution. One of the biggest success stories of the trip, however, was Ben's surprise enjoyment of FBC's Nighthawk Farmhouse IPA. Props to you, FBC, you performed a miracle.
Each day we spent at Fernie Alpine Resort proved to be better than the last—and as legend is told, it's all thanks to The Griz. A century-and-a-half-old fable of a large man wearing a bear alludes to this all-mighty overseer of the mountain. The Griz is either drawn in its natural form as a musket-bearing, ski-wearing Davy Crockett (not sure who the Canadian equivalent would be) or is anthropomorphized by a triangular ridgeline near Grizzly Peak. Whether or not the three bluebird spring ski days that Fernie gave us were because of The Griz, or because of Trump's failure to recognize climate change, we took what we were offered with sunscreen and smiles.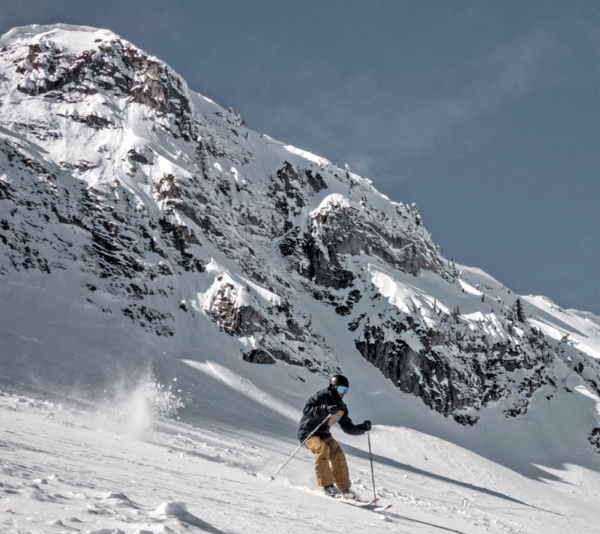 I've never rappelled into a line before, and never heard of such a routine on inbounds terrain—until Fernie. Although it was marked on the trail map, Corner Pocket was somewhat considered a mountain secret. The first of several double-black chutes into Lizard Bowl is covered in partially buried tires with a fixed rappel line to help skiers (and I guess Ben) get to the upper parts of the bowl without incident. Sheltered from the sun by Polar Peak, the best snow stayed the longest on this lovely back bowl. With The Griz watching over us, we carved our own wiggles through the untouched all the way to the corduroys under Great Bear Express.
For the fourth time this season, the Polar Peak Chair opened up, taking us to Fernie's highest lift-serviced point at 2,134m. There was a designated observation area after getting off the lift, simply because the view was that incredible: the peaks, the Elk River running through downtown Fernie and the solitude that surrounds it—a memorable spot. And the best part was knowing that we still hadn't begun our run. From the steep drops into Polar Peak Bowl, down the carvers through Currie Bowl and out the kids' adventure trails, it was an unbroken smile the whole trip down.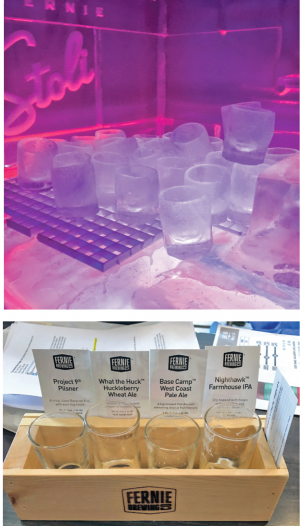 We timed our road trip to be at Fernie for the Monster Energy Boarderstyle event, which combines boardercross with freestyle features. It was one of the few times boarders could be respected, so Ben bravely (naïvely?) decided to enter. The event brought out the best of Fernie and proved how much of a party the mountain can be. Ben ended up getting destroyed in the rankings and finished close to last place, so for me the entertainment was well worth skipping a few afternoon runs. We wrapped up our last day sampling a plethora of on- and off-mountain après choices.

At the base, The Griz Bar après scene never seemed to end. Mountains of nachos and jugs of beer ("jugs" by the way are something else in the U.S.) were being passed around as quickly as the kitchen could crank them out. We continued our tour of the base area to the Stoli Ice Bar at the Lizard Creek Lodge, where our vodka tour in the -10 C ice cave complete with expedition-grade parkas resulted in generous shots of vodka. After wobbly tossing back our last, we dramatically shattered our ice-glasses on the floor and parted ways back to our hotel for our last night in B.C. and Canada.

The next morning we slept off the night before and packed our bags for the drive home. Second only to skiing, the next best part of the Powder Highway was the drive itself. I crossed the border twice, coming and now going, and can assure the inhabitants of Canada that Trudeau has neither planted his rumoured "Privacy Hedge" nor built a large snowbank to separate our nations.

It's clear, though, that in the privacy of the Kootenay Range the Powder Highway holds its values close. Skiing was pure and fundamental here, and towns were full of character and purpose, something forgotten in the corporation-owned skiing that's taken over so much of America. For two brothers who get angry at each other during a 20-minute car ride to dinner, 10 days of driving 1,000 km through the Kootenays solved all our problems.

Tags: BC, British Columbia, Fernie, Fernie Alpine Resort, Nelson, Powder Highway, Red Mountain, Rossland, Whitewater