---
Upward mobility is the name of this season's game.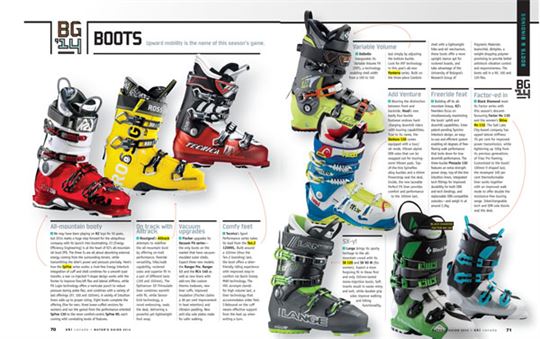 All-mountain booty
We may have been playing on K2 toys for 50 years, but 2014 marks a huge step forward for the ubiquitous company with its launch into bootmaking. E3 (Energy Efficiency Engineering) is at the heart of K2's all-mountain ski boot IPO. The three Es are all about absorbing external energy coming from the surrounding terrain, while transmitting the skier's power and pressure precisely. Here's how the SpYne series works: a rivet-free Energy Interlock integration of cuff and shell combines for a smooth load transfer, a rear co-injected Y-shape design works with the former to improve fore/aft flex and lateral stiffness, while Fit Logix technology offers a navicular punch to reduce pressure during ankle flex, and combines with a variety of last offerings (97, 100 and 102mm). A variety of Intuition liners adds up to proper sizing. Eight boots complete the offering (five for men, three lower-cuffed versions for women) and run the gamut from the performance-oriented SpYne 130 to the more comfort-centric SpYne 90, each coming with correlating levels of features.
On track with Alltrack
Rossignol's Alltrack attempts to redefine the all-mountain boot by offering on-trail performance, freeride versatility, hike/walk capability, rockered soles and superior fit in a pair of different lasts (100 and 102mm). The Optisensor 3D Thinsulate liner combines warmth with fit, while Sensor Grid technology, a novel embossing, seals the deal, delivering a powerful yet lightweight foot wrap.
Vacuum upgrades
Fischer upgrades its Vacuum Fit series—the only boots on the market that have vacuum-moulded outer shells. Expect three new models: the Ranger Pro, Ranger 11 and the RC4 140 as well as new liners with add-ons like custom thermo toeboxes, new liner cuffs, improved insulation (Fischer claims a 38 per cent improvement in heat retention) and Ultralon padding. New anti-slip sole plates make for safer walking.
Comfy feet
Tecnica's Sport Performance series takes its lead from the Ten.2 120HVL. Built around a 102mm (thus the Ten.2 branding) last, the boot offers a skier-friendly riding experience with improved step-in comfort via Quick Instep MAX technology. The HVL acronym stands for high volume last, a liner technology that accommodates wider feet. I-Rebound on the cuff means effective support from the heel up when exiting a turn.
Variable Volume
 Dalbello inaugurates its Variable Volume Fit (VVF), a technology enabling shell width from a 100 to 102 last simply by adjusting the bottom buckle. Look for VVF technology in this year's all-new Panterra series. Built on the three-piece Cambrio shell with a lightweight hike-and-ski mechanism, these boots offer a more upright stance apt for rockered boards, and take advantage of the University of Bologna's Research Group of Polymeric Materials brainchild, dbHylite, a weight-dropping polymer promising to provide better antishock vibration control and responsiveness. The boots sell in a 90, 100 and 120 flex.
Add Venture
Blurring the distinction between front and backside, Head's new beefy four-buckle footwear endows hard-charging downhill riders with touring capabilities. True to its name, the Venture 130 comes equipped with a tour/ski mode, Vibram alpine DIN soles that can be swapped out for touring-norm Vibram pads. Top-of-the-line Spineflex alloy buckles and a 40mm Powerstrap seal the deal. Inside, the new laceable Perfect Fit liner provides comfort and performance to the 100mm last.
Freeride feat
Building off its all-mountain lineup, K2's freeriders focus on simultaneously maximizing the boots' uphill and downhill capabilities. Enter patent-pending Synchro Interlock design, an easy-to-use and efficient system enabling 40 degrees of free-flexing walk performance that locks down for true downhill performance. The three-buckle Pinnacle 130 features an extra-strength power strap, top-of-the-line Intuition liners, integrated tech fittings for improved durability for both DIN and tech bindings, and replaceable DIN-compatible outsoles—and weigh in at around 2.2kg.
Factor-ed in
Black Diamond reset its Factor series with this season's descent-favouring Factor Mx 130 and the women's Shiva Mx 110. The Salt Lake City-based company has upped lateral stiffness 70 per cent for improved power transmission, while lightening up 100g from its previous generations of Triax Pro framing. Customized to the boots' 100mm V-shaped last, the revamped 100 per cent thermoformable liner works together with an improved walk mode to offer double the resistance-free touring range. Interchangeable tech and DIN sole blocks seal the deal.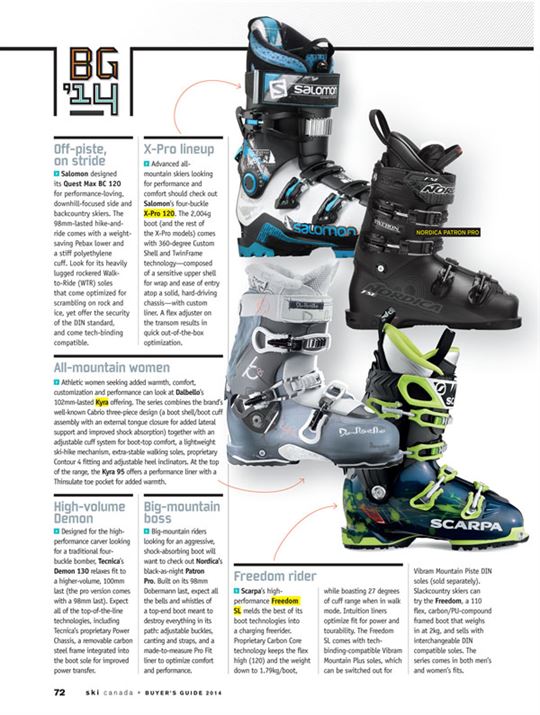 Off-piste, on stride
Salomon designed its Quest Max BC 120 for performance-loving, downhill-focused side and backcountry skiers. The 98mm-lasted hike-and-ride comes with a weight-saving Pebax lower and a stiff polyethylene cuff. Look for its heavily lugged rockered Walk-to-Ride (WTR) soles that come optimized for scrambling on rock and ice, yet offer the security of the DIN standard, and come tech-binding compatible.
X-Pro lineup
Advanced all-mountain skiers looking for performance and comfort should check out Salomon's four-buckle X-Pro 120. The 2,004g boot (and the rest of the X-Pro models) comes with 360-degree Custom Shell and TwinFrame technology—composed of a sensitive upper shell for wrap and ease of entry atop a solid, hard-driving chassis—with custom liner. A flex adjuster on the transom results in quick out-of-the-box optimization.
All-mountain women
Athletic women seeking added warmth, comfort, customization and performance can look at Dalbello's 102mm-lasted Kyra offering. The series combines the brand's well-known Cabrio three-piece design (a boot shell/boot cuff assembly with an external tongue closure for added lateral support and improved shock absorption) together with an adjustable cuff system for boot-top comfort, a lightweight ski-hike mechanism, extra-stable walking soles, proprietary Contour 4 fitting and adjustable heel inclinators. At the top of the range, the Kyra 95 offers a performance liner with a Thinsulate toe pocket for added warmth.
High-volume Demon
Designed for the high-performance carver looking for a traditional four-buckle bomber, Tecnica's Demon 130 relaxes fit to a higher-volume, 100mm last (the pro version comes with a 98mm last). Expect all of the top-of-the-line technologies, including Tecnica's proprietary Power Chassis, a removable carbon steel frame integrated into the boot sole for improved power transfer.
Big-mountain boss
Big-mountain riders looking for an aggressive, shock-absorbing boot will want to check out Nordica's black-as-night Patron Pro. Built on its 98mm Dobermann last, expect all the bells and whistles of a top-end boot meant to destroy everything in its path: adjustable buckles, canting and straps, and a made-to-measure Pro Fit liner to optimize comfort and performance.
Freedom rider
Scarpa's high-performance Freedom SL melds the best of its boot technologies into a charging freerider. Proprietary Carbon Core technology keeps the flex high (120) and the weight down to 1.79kg/boot, while boasting 27 degrees of cuff range when in walk mode. Intuition liners optimize fit for power and tourability. The Freedom SL comes with tech-binding-compatible Vibram Mountain Plus soles, which can be switched out for Vibram Mountain Piste DIN soles (sold separately). Slackcountry skiers can try the Freedom, a 110 flex, carbon/PU-compound framed boot that weighs in at 2kg, and sells with interchangeable DIN compatible soles. The series comes in both men's and women's fits.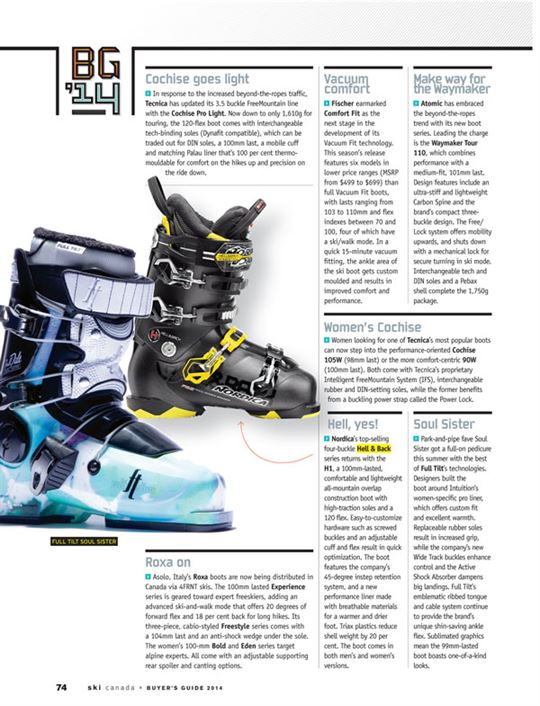 Cochise goes light
In response to the increased beyond-the-ropes traffic, Tecnica has updated its 3.5 buckle FreeMountain line with the Cochise Pro Light. Now down to only 1,610g for touring, the 120-flex boot comes with interchangeable tech-binding soles (Dynafit compatible), which can be traded out for DIN soles, a 100mm last, a mobile cuff and matching Palau liner that's 100 per cent thermo-mouldable for comfort on the hikes up and precision on the ride down.
Vacuum comfort
Fischer earmarked Comfort Fit as the next stage in the development of its Vacuum Fit technology. This season's release features six models in lower price ranges (MSRP from $499 to $699) than full Vacuum Fit boots, with lasts ranging from 103 to 110mm and flex indexes between 70 and 100, four of which have a ski/walk mode. In a quick 15-minute vacuum fitting, the ankle area of the ski boot gets custom moulded and results in improved comfort and performance.
Make way for the Waymaker
Atomic has embraced the beyond-the-ropes trend with its new boot series. Leading the charge is the Waymaker Tour 110, which combines performance with a medium-fit, 101mm last. Design features include an ultra-stiff and lightweight Carbon Spine and the brand's compact three-buckle design. The Free/Lock system offers mobility upwards, and shuts down with a mechanical lock for secure turning in ski mode. Interchangeable tech and DIN soles and a Pebax shell complete the 1,750g package.
Women's Cochise
Women looking for one of Tecnica's most popular boots can now step into the performance-oriented Cochise 105W (98mm last) or the more comfort-centric 90W (100mm last). Both come with Tecnica's proprietary Intelligent FreeMountain System (IFS), interchangeable rubber and DIN-setting soles, while the former benefits from a buckling power strap called the Power Lock.
Hell, yes!
Nordica's top-selling four-buckle Hell & Back series returns with the H1, a 100mm-lasted, comfortable and lightweight all-mountain overlap construction boot with high-traction soles and a 120 flex. Easy-to-customize hardware such as screwed buckles and an adjustable cuff and flex result in quick optimization. The boot features the company's 45-degree instep retention system, and a new performance liner made with breathable materials for a warmer and drier foot. Triax plastics reduce shell weight by 20 per cent. The boot comes in both men's and women's versions.
Soul Sister
Park-and-pipe fave Soul Sister got a full-on pedicure this summer with the best of Full Tilt's technologies. Designers built the boot around Intuition's women-specific pro liner, which offers custom fit and excellent warmth. Replaceable rubber soles result in increased grip, while the company's new Wide Track buckles enhance control and the Active Shock Absorber dampens big landings. Full Tilt's emblematic ribbed tongue and cable system continue to provide the brand's unique shin-saving ankle flex. Sublimated graphics mean the 99mm-lasted boot boasts one-of-a-kind looks.
Roxa on
Asolo, Italy's Roxa boots are now being distributed in Canada via 4FRNT skis. The 100mm lasted Experience series is geared toward expert freeskiers, adding an advanced ski-and-walk mode that offers 20 degrees of forward flex and 18 per cent back for long hikes. Its three-piece, cabio-styled Freestyle series comes with a 104mm last and an anti-shock wedge under the sole. The women's 100-mm Bold and Eden series target alpine experts. All come with an adjustable supporting rear spoiler and canting options.
**********************************************************************
 Tech Talk
"When I buckle my boots, my feet hurt like hell. Can you fix my boots so my feet stop hurting?" This is one of the most commonly heard questions (and complaints) in ski shops around the world. Over the years I've probably addressed the problem hundreds of times, varying the… MORE »
---
Tags: alpine boots, Atomic, Black Diamond, boots, buyers guide, Dalbello, Fischer, Fischer Vacuum Fit, Full Tilt, Head, K2 SpYne, Nordica, Rossignol Alltrack, Roxa, Salomon, Scarpa, Tecnica, Tecnica Ten.2 120HVL