Reading Time:
7
minutes
The continued allure of the sidecountry and the growth of skiing variants have driven engineers back to their drawing boards. As can be expected, keywords include performance, comfort, feel, ease of entrance, weight (low, of course) and flex. Custom technologies like thermoforming have come into their own, no doubt in higher-end liners, but also in shells—with Fischer's Vacuum system pioneering the domain.
Individualization also comes in the mode of interchangeability—tongues, footboards, soles and shock absorbers find their way into pricier, purpose-built boots. Grippy treads combine with alpine norm bindings; Dalbello now uses a Glen Plake patent that improves boot-to-binding contact through a dense material on an otherwise grippy rubber sole. And then comes walk mode. Forget the diehard folks who skin up to catch fresh tracks. What about those who begin their day in a parking lot and end it at après? Or stand in a tram or gondola? Or walk up and down stairs? Yup, that could be you and me without calf-burn. With next season's inspired designs, boots are simply better than ever—for everybody.
2013 Alpine Boot Specifications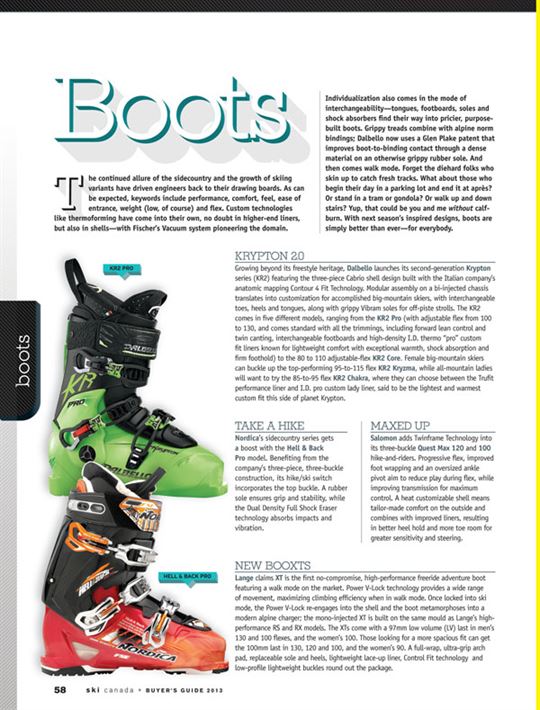 KRYPTON 2.0
Growing beyond its freestyle heritage, Dalbello launches its second-generation Krypton series (KR2) featuring the three-piece Cabrio shell design built with the Italian company's anatomic mapping Contour 4 Fit Technology. Modular assembly on a bi-injected chassis translates into customization for accomplished big-mountain skiers, with interchangeable toes, heels and tongues, along with grippy Vibram soles for off-piste strolls. The KR2 comes in five different models, ranging from the KR2 Pro (with adjustable flex from 100 to 130, and comes standard with all the trimmings, including forward lean control and twin canting, interchangeable footboards and high-density I.D. thermo "pro" custom fit liners known for lightweight comfort with exceptional warmth, shock absorption and firm foothold) to the 80 to 110 adjustable-flex KR2 Core. Female big-mountain skiers can buckle up the top-performing 95-to-115 flex KR2 Kryzma, while all-mountain ladies will want to try the 85-to-95 flex KR2 Chakra, where they can choose between the Trufit performance liner and I.D. pro custom lady liner, said to be the lightest and warmest custom fit this side of planet Krypton.
TAKE A HIKE
Nordica's sidecountry series gets a boost with the Hell & Back Pro model. Benefiting from the company's three-piece, three-buckle construction, its hike/ski switch incorporates the top buckle. A rubber sole ensures grip and stability, while the Dual Density Full Shock Eraser technology absorbs impacts and vibration.
MAXED UP
Salomon adds Twinframe Technology into its three-buckle Quest Max 120 and 100 hike-and-riders. Progressive flex, improved foot wrapping and an oversized ankle pivot aim to reduce play during flex, while improving transmission for maximum control. A heat customizable shell means tailor-made comfort on the outside and combines with improved liners, resulting in better heel hold and more toe room for greater sensitivity and steering.
NEW BOOXTS
Lange claims XT is the first no-compromise, high-performance freeride adventure boot featuring a walk mode on the market. Power V-Lock technology provides a wide range of movement, maximizing climbing efficiency when in walk mode. Once locked into ski mode, the Power V-Lock re-engages into the shell and the boot metamorphoses into a modern alpine charger; the mono-injected XT is built on the same mould as Lange's high-performance RS and RX models. The XTs come with a 97mm low volume (LV) last in men's 130 and 100 flexes, and the women's 100. Those looking for a more spacious fit can get the 100mm last in 130, 120 and 100, and the women's 90. A full-wrap, ultra-grip arch pad, replaceable sole and heels, lightweight lace-up liner, Control Fit technology and low-profile lightweight buckles round out the package.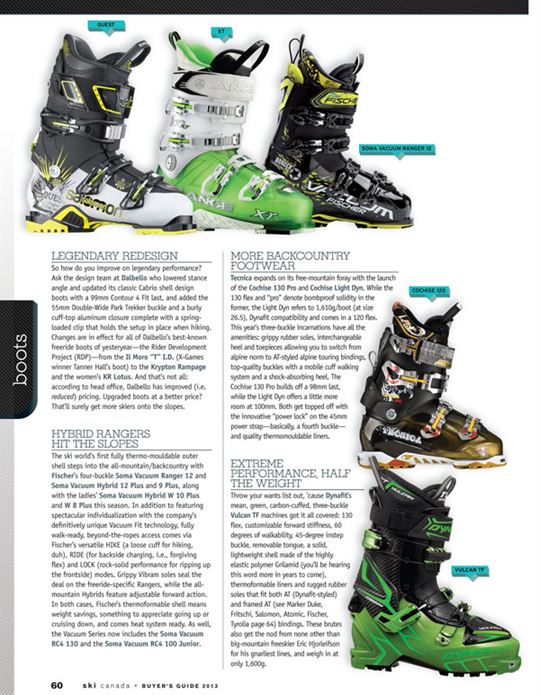 LEGENDARY REDESIGN
So how do you improve on legendary performance? Ask the design team at Dalbello who lowered stance angle and updated its classic Cabrio shell design boots with a 99mm Contour 4 Fit last, and added the 55mm Double-Wide Park Trekker buckle and a burly cuff-top aluminum closure complete with a spring-loaded clip that holds the setup in place when hiking. Changes are in effect for all of Dalbello's best-known freeride boots of yesteryear—the Rider Development Project (RDP)—from the Il Moro "T" I.D. (X-Games winner Tanner Hall's boot) to the Krypton Rampage and the women's KR Lotus. And that's not all: according to head office, Dalbello has improved (i.e. reduced) pricing. Upgraded boots at a better price? That'll surely get more skiers onto the slopes.
HYBRID RANGERS HIT THE SLOPES
The ski world's first fully thermo-mouldable outer shell steps into the all-mountain/backcountry with Fischer's four-buckle Soma Vacuum Ranger 12 and Soma Vacuum Hybrid 12 Plus and 9 Plus, along with the ladies' Soma Vacuum Hybrid W 10 Plus and W 8 Plus this season. In addition to featuring spectacular individualization with the company's definitively unique Vacuum Fit technology, fully walk-ready, beyond-the-ropes access comes via Fischer's versatile HIKE (a loose cuff for hiking, duh), RIDE (for backside charging, i.e., forgiving fl ex) and LOCK (rock-solid performance for ripping up the frontside) modes. Grippy Vibram soles seal the deal on the freeride-specific Rangers, while the all-mountain Hybrids feature adjustable forward action. In both cases, Fischer's thermoformable shell means weight savings, something to appreciate going up or cruising down, and comes heat system ready. As well, the Vacuum Series now includes the Soma Vacuum RC4 130 and the Soma Vacuum RC4 100 Junior.
MORE BACKCOUNTRY FOOTWEAR
Tecnica expands on its free-mountain foray with the launch of the Cochise 130 Pro and Cochise Light Dyn. While the 130 fl ex and "pro" denote bombproof solidity in the former, the Light Dyn refers to 1,610g/boot (at size 26.5), Dynafit compatibility and comes in a 120 flex. This year's three-buckle incarnations have all the amenities: grippy rubber soles, interchangeable heel and toepieces allowing you to switch from alpine norm to AT-styled alpine touring bindings, top-quality buckles with a mobile cuff walking system and a shock-absorbing heel. The Cochise 130 Pro builds off a 98mm last, while the Light Dyn offers a little more room at 100mm. Both get topped off with the innovative "power lock" on the 45mm power strap—basically, a fourth buckle— and quality thermomouldable liners.
EXTREME PERFORMANCE, HALF THE WEIGHT
Throw your wants list out, 'cause Dynafit's mean, green, carbon-cuffed, three-buckle Vulcan TF machines got it all covered: 130 flex, customizable forward stiffness, 60 degrees of walkability, 45-degree instep buckle, removable tongue, a solid, lightweight shell made of the highly elastic polymer Grilamid (you'll be hearing this word more in years to come), thermoformable liners and rugged rubber soles that fit both AT (Dynafit-styled) and framed AT (see Marker Duke, Fritschi, Salomon, Atomic, Fischer, Tyrolia) bindings. These brutes also get the nod from none other than big-mountain freeskier Eric Hjorleifson for his gnarliest lines, and weigh in at only 1,600g.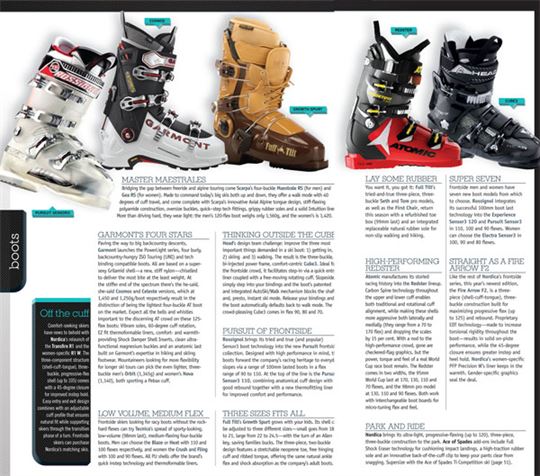 MASTER MAESTRALES
Bridging the gap between freeride and alpine touring come Scarpa's four-buckle Maestrale RS (for men) and Gea RS (for women). Made to command today's big skis both up and down, they offer a walk mode with 40 degrees of cuff travel, and come complete with Scarpa's innovative Axial Alpine tongue design, stiff-flexing polyamide construction, oversize buckles, quick – step tech fittings, grippy rubber soles and a solid Intuition liner. More than driving hard, they wear light: the men's 120-flex boot weighs only 1,560g, and the women's is 1,420.
GARMONT'S FOUR STARS
Paving the way to big backcountry descents, Garmont launches the PowerLight series, four burly, backcountry-hungry ISO Touring (UNI) and tech binding compatible boots. All are based on a super-sexy Grilamid shell—a new, stiff nylon—chiselled to deliver the most bite at the least weight. At the stiffer end of the spectrum there's the he-said, she-said Cosmos and Celeste versions, which at 1,450 and 1,250g/boot respectively result in the distinction of being the lightest four-buckle AT boot on the market. Expect all the bells and whistles important to the discerning AT crowd on these 125- flex boots: Vibram soles, 60-degree cuff rotation, EZ fit thermoformable liners, comfort- and warmth-providing Shock Damper Shell Inserts, clean ultra-functional magnesium buckles and an anatomic last built on Garmont's expertise in hiking and skiing footwear. Mountaineers looking for more flexibility for longer ski tours can pick the even lighter, three-buckle men's Orbit (1,345g) and women's Nova (1,140), both sporting a Pebax cuff.
THINKING OUTSIDE THE CUBE
Head's design team challenge: improve the three most important things demanded in a ski boot: 1) getting in, 2) skiing and 3) walking. The result is the three-buckle, bi-injected power frame, comfort-centric Cube3. Ideal for the frontside crowd, it facilitates step-in via a quick entry liner coupled with a free-moving rotating cuff. Slopeside, simply step into your bindings and the boot's patented and integrated AutoSki/Walk mechanism blocks the shaft and, presto, instant ski mode. Release your bindings and the boot automatically defaults back to walk mode. The crowd-pleasing Cube3 comes in fl ex 90, 80 and 70.
PURSUIT OF FRONTSIDE
Rossignol brings its tried and true (and popular) Sensor3 boot technology into the new Pursuit frontside collection. Designed with high performance in mind, the boots forward the company's racing heritage to everyday slopes via a range of 100mm lasted boots in a flex range of 90 to 110. At the top of the line is the Pursuit Sensor3 110, combining anatomical cuff design with good rebound together with a new thermofitting liner for improved comfort and performance.
Off the cuff
Comfort-seeking skiers have news to behold with Nordica's relaunch of the Transfire R1 and the women-specific R1 W. The three-component structure (shell-cuff-tongue), three-buckle, progressive-flex shell (up to 105) comes with a 45-degree closure for improved instep hold. Easy entry and exit design combines with an adjustable cuff profile that ensures natural fit while supporting skiers through the transition phase of a turn. Frontside skiers can purchase Nordica's matching skis.
LOW VOLUME, MEDIUM FLEX
Frontside skiers looking for racy boots without the rock-hard flexes can try Tecnica's spread of sporty-looking, low-volume (98mm last), medium-flexing four-buckle boots. Men can choose the Blaze or Heat with 110 and 100 flexes respectively, and women the Crush and Fling with 100 and 90 flexes. All PU shells offer the brand's quick instep technology and thermoformable liners.
THREE SIZES FITS ALL
Full Tilt's Growth Spurt grows with your kids. Its shell can be adjusted to three different sizes—small goes from 18.5 to 21, large from 22 to 24.5—with the turn of an Allen key, saving families bucks. The three-piece, two-buckle design features a stretchable neoprene toe, free hinging cuff and ribbed tongue, offering the same natural ankle flex and shock absorption as the company's adult boots.
LAY SOME RUBBER
You want it, you got it: Full Tilt's tried-and-true three-piece, three-buckle Seth and Tom pro models, as well as the First Chair, return this season with a refurbished toe box (99mm last) and an integrated replaceable natural rubber sole for non-slip walking and hiking.
HIGH-PERFORMING REDSTER
Atomic manufactures its storied racing history into the Redster lineup. Carbon Spine technology throughout the upper and lower cuff enables both traditional and rotational cuff alignment, while making these shells more aggressive both laterally and medially (they range from a 70 to 170 flex) and dropping the scales by 15 per cent. With a nod to the high-performance crowd, gone are checkered-flag graphics, but the power, torque and feel of a real World Cup race boot remain. The Redster comes in two widths, the 95mm World Cup last at 170, 130, 110 and 70 fl exes, and the 98mm pro model at 130, 110 and 90 flexes. Both work with interchangeable boot boards for micro-tuning flex and feel.
SUPER SEVEN
Frontside men and women have seven new boot models from which to choose. Rossignol integrates its successful 100mm boot last technology into the Experience Sensor3 120 and Pursuit Sensor3 in 110, 100 and 90 fl exes. Women can choose the Electra Sensor3 in 100, 90 and 80 fl exes.
STRAIGHT AS A FIRE ARROW F2
Like the rest of Nordica's frontside series, this year's newest edition, the Fire Arrow F2, is a three-piece (shell-cuff-tongue), three-buckle construction built for maximizing progressive flex (up to 125) and rebound. Proprietary EDT technology—made to increase torsional rigidity throughout the boot—results in solid on-piste performance, while the 45-degree closure ensures greater instep and heel hold. Nordica's women-specific PFP Precision W's liner keeps in the warmth. Gender-specific graphics seal the deal.
PARK AND RIDE
Nordica brings its ultra-light, progressive-flexing (up to 120), three-piece, three-buckle construction to the park. Ace of Spades add-ons include Full Shock Eraser technology for cushioning impact landings, a high-traction rubber sole and an innovative back-of-the-cuff clip to keep your pants clear from snagging. Supersize with the Ace of Spades Ti Competition ski.