Two Feet and a Helicopter Seat
---
Get the most out of your touring day with a lift into the alpine.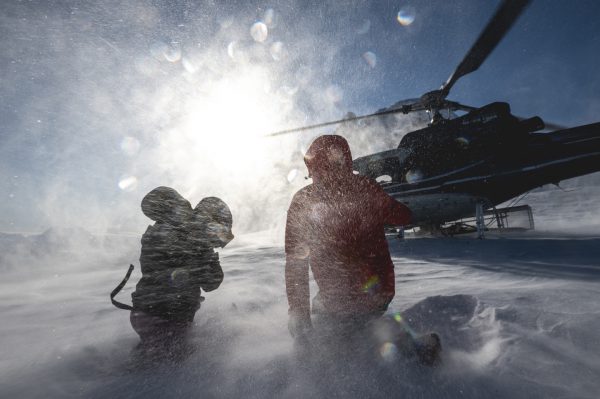 It's impossible to look back on last winter without considering the ways COVID-19 impacted people's mountain recreation habits. While some ski areas managed to go above and beyond to keep the lifts turning and guests safe, others were hamstrung by tougher restrictions and provincial health orders. That left die-hard skiers with few options: either go against non-essential travel recommendations, or take matters into their own hands—and start walking uphill.
Many chose the latter, and popular ski-touring destinations became more crowded than St. Peter's Square on Good Friday. Across the country, ski-touring equipment was walking off the shelves as more and more people began exploring the backcountry. And in the process, a few learnt that one way to maximize the experience was by using a mechanical advantage to access areas that others couldn't easily reach, or perhaps not reach at all.
Mention helicopters and skiing in the same sentence and most people think of luxurious lodges filled with the world's one per cent. Those who can't afford a day or week of heli-skiing have discovered that touring gear combined with a heli-bump (a morning summit drop-off and afternoon valley pickup) are the next best things. They're also the best ways to avoid a tiring slog getting to the trailhead that often accompanies a day of ski touring. With a helicopter, you get to the goods without having to embrace the suck.
Essentially, a helicopter whisks you from your car at a staging area straight to wherever you want to ski. At a pre-arranged time and location the machine picks you up and, before you can say "See ya later, suckers!" you're back in the parking lot enjoying a celebratory beverage without a tiring end-of-day bushwhack. A heli-bump is a pretty nice way to save the legs, guarantee more time skiing and spend less time getting to and from the goods.
While the cost of operating helicopters isn't cheap, the price per person for a day of heli-assisted touring is surprisingly affordable. Black Tusk Helicopters in Squamish, B.C., charges roughly $1,250 for a morning bump and afternoon pickup in an A-Star. Divide that between five people and it's champagne selfies on a beer budget. Add in the cost of hiring a guide and that number might be more like $450-$500 per person, but that's still a reasonable cost for what might just be the best day of your life.
With the weather window at the end of April last season looking promising, I rallied a crew to go a little farther afield than my home resort of Sun Peaks. On board was Steve Whittall, a Whistler local since 1991 and certified mountain guide with both the Association of Canadian Mountain Guides (ACMG) and Canadian Ski Guide Association (CSGA), and Chad Sayers, a Whistler-based pro skier you've seen on these pages and many other magazines. Next was Toronto-based Ski Canada Editor Iain MacMillan, whose hands I knew were tied in pandemic restrictions, but after reading so many of his past adventures I thought he deserved a nail in his FOMO coffin. Flying halfway across the country for a day of epic ski touring is almost the definition of non-essential travel, so his seat in the heli instead went to daughter Meg, a university student who got her old man's priorities straight: ditching a day of classes for adventure in the mountains is always worth it. Meanwhile Iain's last text received while we were lifting off was "I hate all of you. Send pics!" Rounding out our crew was talented photographer Guy Fattal, who is the best (maybe only?) ski photographer from Israel and who now calls Whistler home.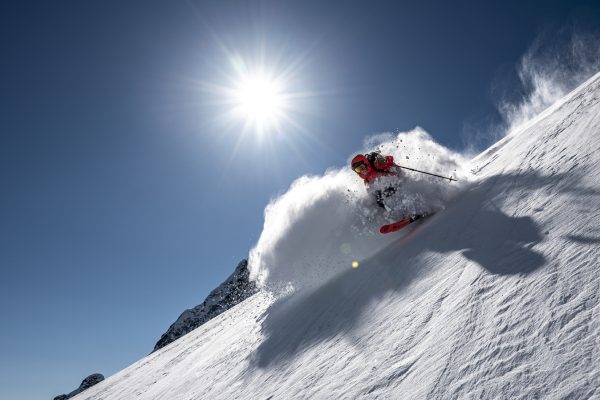 The morning started early, with a 7:00 a.m. meet-up at the base area for Black Tusk at the Squamish Airport, about an hour north of downtown Vancouver. With valley bottom temperatures already above zero, we were a bit unsure how the skiing was going to be, but any day ski touring is better than a day in the valley. The objective was a lofty zone in the Tantalus Range that, until recently, saw relatively light traffic, despite the fact that it's visible from the Sea-to-Sky Highway and is probably on many people's dream list. Last winter, however, it was obvious: the secret is out.
Darren Taylor is a pilot who has flown for Black Tusk since 2005. He's seen the number of people who are interested in accessing the mountains by helicopter grow from a few groups a year when he started, to now being fully booked whenever the weather forecast looks clear. Darren said that most groups have considerable terrain knowledge and are experienced backcountry skiers, and many groups are choosing to be guided by professionals who have knowledge of the terrain and snowpack. In other cases, groups are self-guided, but Darren emphasized that most groups carry a radio, which allows them to communicate with the pilot or base.
The bottom line is that although a helicopter is close by, groups need to be prepared for the possibility that a machine might not be able to reach them immediately due to weather or another reason. Our group consisted of what I would consider an above-average amount of experience. Still, we skied conservatively and were keenly aware that we would need to be mostly self-reliant should things go sideways.
There aren't many things more exciting than being dropped off in a breathtaking location like the Tantalus Range of B.C.'s spectacular Coast Mountains. When the helicopter flies off, a sense of silence and awe takes its place. The first thing I do is take a few steps off the landing spot for a localized look at snow quality and depth. And from those first few steps, it was clear that this was going to be a special day. In fact, Meg later called it one of the "best ski days of my life" and she's seen more really good days than most people.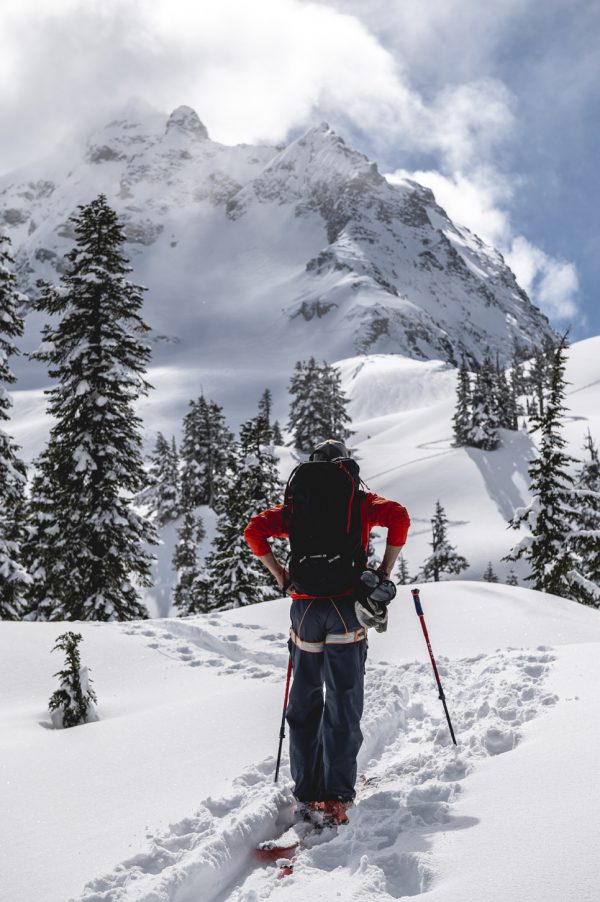 The temperatures in the alpine were a few degrees colder than down below, which meant the overnight snow was still light and dry—and this was on top of the 20-30 cm from the past couple of days. When you've spent some time in the mountains, you get a sense of what the ski quality will be fairly quickly. Ridgetops can be windblown and exposed, and if that wind has affected the snow below the ridge it can create challenging conditions. In our case, we had the opposite. Blue sky, no wind and deep, dry untracked. It was shaping up to be a banger of a day. And thanks to the heli, we reached the summit in a few minutes, not a few sweat-soaked hours.
Guy set himself up to capture the amazing early-morning light and quickly put a few splendid shots in the bank. We skied the upper part of the glacier in some of the best conditions any of us had seen all winter. Lower down, we navigated some rock features that required a bit of management. The new snow was sitting on a crust that was fairly reactive. It would have been easy to miss, and that reactivity could have caused some trouble. That's where the value of local knowledge really pays off, and the ability to ski with a guide is always a great option. We shifted to some lower angle slopes and skied to a lake below to have a snack and transition for the climb back up. Our first run was more than 700 vertical metres of perfection.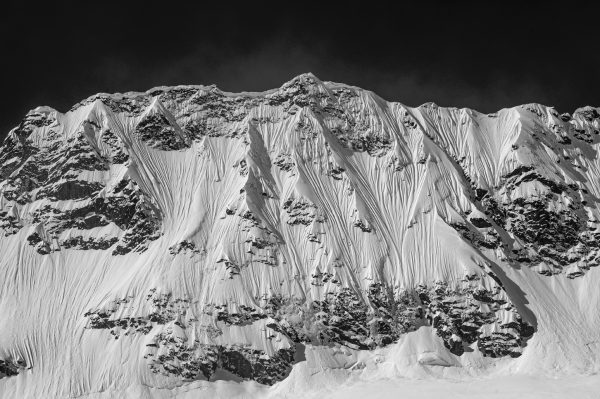 We climbed up a ridgeline to avoid some overhead hazards and started putting in our first skin track of the day. Breaking trail can be the most labour-intensive part of the process, but once an up-track is established it makes it easy to start yo-yoing fun ski lines.

One thing that helps maximize the fun factor is making sure your group is well matched in terms of fitness and objectives. As I expected, five hours' sleep and several cups of joe isn't the ideal combination for a day of big-mountain touring. The only thing that kept me going was how easy and natural everyone was making it look.

Our last line of the day was equally as good as any I've had heli- or cat-skiing. Indeed, it was the cherry on top of one of the best days any of us could remember. We loaded into the helicopter for the flight home with smiles as big as the terrain we'd been playing in. If you have two feet and a heartbeat, the best day of your life could be just a short helicopter flight away.

KNOW BEFORE YOU GO

• Heli-assisted ski touring in the Squamish/Whistler area: Black Tusk Helicopter,604/898-4800; blacktuskhelicopter.com

• Hire a guide: Altus Mountain Guides, altusmountainguides.com; or Black Sheep Adventure Sports, blacksheepadventuresports.com

• Tantalus is a provincial park and in order to guide there, you need to have insurance and a park use permit. The ACMG has a collective permit that its individual guides can join, but others would have to get their own permit. Though Tantalus is a high-profile area, there are many other areas in the Sea-to-Sky corridor used for heli-assisted touring.

BC, Black Tusk Helicopters, British Columbia, heli-snowcat skiing, Tantalus range