---
Rad bindings
Addressing today's shift to big-mountain freeriding comes Dynafit's appropriately named Radical series of bindings. Oversize for fat skis, they offer a novel material mix, making them up to 75 per cent lighter than frame bindings. Anatomically correct, they offer energy-conserving pivoting for uphill and power transfer, and stability on the most demanding downhill turns. The series also boasts the world's first tech step-in system and the burliest construction the company has ever offered—now in forged aluminum. The Radical is available in several versions: the 599g 12-DIN FT (Freeride Touring), comes with an adjustable pressed carbon plate and rear rubber shock absorber for avoiding pre-release while landing big air on fatties; and the lighter weight 531g ST (Ski Touring) tops out at 10-DIN. Both have a re-engineered, easy-to-rise climbing bar for heel support on your climbs. Ski 'em with the Titan Ultralight for the ultimate in freeride packages this season.
Surely you Jester
Already one of the most popular bindings on
the slopes, Marker has upped the ante this
year with the electric-green Jester Team
(DIN 8-18). The burly binding comes with the
Triple Pivot Elite toe with fixed stainless-steel
gliding anti-friction device (AFD) and step-in
heel. The folks at Marker claim it's ideal
for centralizing swing weight, leveling stand
position and improving holding power. Expect
magnesium components and a solid metal
frame over the toepiece for added strength.
Look again
Back by popular demand, Look revives its
bombproof Pivot 18 and 14. The binding
comes with the widest footprint, shortest
mounting zone and full-metal construction
of all bindings, giving it seven points of
boot contact and an industry-leading range
of elastic travel that eliminates dangerous
pre-release. The Pivot features the legendary
"turntable" heelpiece that rotates under the
heel of the boot instead of behind the boot
to more accurately control retention and
release. Nobody needs it more than the North
American Freeskiing Team, which is riding the
Pivot this season.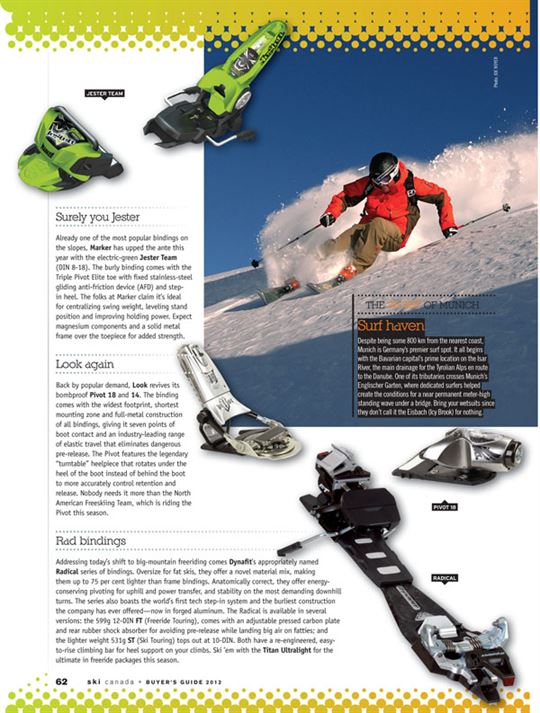 Tags: AFD, Dynafit, Dynafit Radical, Look, Look Pivot, Look Pivot 18, Marker, Marker Jester Team, North American Freeskiing Team, Radical FT, Radical ST, Titan Ultrlight, Triple Pivot Elite, turntable