Reading Time:
7
minutes
Three families headed
west for a long weekend
to remember
from Fall 2011 issue
"Look, Daddy, the sign has 10 rules on it," 13-year-old Meg, our
middle and most feral child, said as she proudly showed me. "And we broke nine of them!"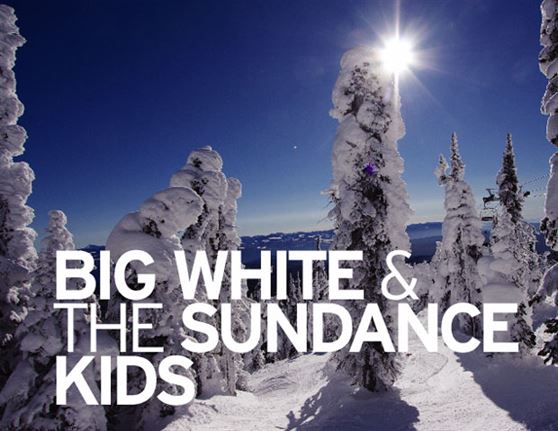 With an uneasy smile on my face, I quickly
began skimming over the DOs and DON'Ts on
the big notice. We were standing in the control
centre room above the Sundance Resort outdoor
pool at Big White, Meg, dripping wet, and me,
who was briefly in charge of all the kids. With
downy snowflakes floating up and down outside
the small windows, the scene was winter-cold-
and-white and noisy, humid and wet—for we
were at the headwaters of a child's dream:
decent-sized, but more importantly, unmanned
waterslide.
Meg 's head was now inside the dark tube of
rushing warm water, her wedgie-bathing-suited
body bent over at the entrance, yelling into
the great industrial-sized conduit, "Keep going,
Mary, you're almost there! "
Cheering encouragingly to her eight-year-old
cousin inside the tube of slippery, chlorinated
flow, Mary was about to summit her challenging
climb when I realized she was in he process of
breaking Rule No. 6 . Followed shortly after with
an infraction of Rule No. 8 when Meg suddenly
flung herself , screaming "Body Bowlarama"
onto Mary before they both disappeared
squealing and laughing into the twisting,
watery darkness.
Our quick trip out to Big White from Ontario
was less than 24 hours earlier, but at this point
it seemed like a week had already passed. We
were three families: seven kids, seven adults
and a four-day Family Day weekend pass. Two
gangs of cousins had quickly settled into one
of the Sundance properties ' luxe private cabins
with sunsets over the Monashees, while a third
smaller family had a similar view rom their
(quieter) condo in the main lodge.
For the past month, Meg had been
complaining bitterly about travelling on her
birthday. No appreciation or non-stop flights
to Kelowna let alone the bonus of a suppertime
departure that jives so well as an after-school
or workday departure. So, with this in mind,
we managed to sneak a full-sized birthday cake
through airport security as well as convince the
flight attendants to get in on the important
celebration. After polite interruption via the
seatback entertainment system, the cake was
ceremoniously delivered to Meg from the front
of the plane (with flashlights substituting
for candles) and everyone on board (save the
curmudgeons) singing Happy Birthday.
Kelowna is a favourite airport for me. Big
enough to offer non-stop flights from the
east with skiers heading to Big White, Silver
Star, Revelstoke and Sun Peaks, even Red or
Whitewater, but small enough to get passengers
and their bags, rental cars or shuttle buses
connected and gone, quickly and cleanly.
An earlier phone call to a friendly manager of
the first supermarket found online, Save-On-
Foods in Kelowna, resulted in a grocery order
for our whole lot delivered to the airport (n0
extra charge), neatly packed and waiting for our
shuttle bus. Almost easier than a weekend to
Collingwood from the city!
Virtually all accommodation at Big White
is ski-or-stroll-from-the-door and Sundance
properties are no exception. No one from our
cabin was late for first tracks the next morning
though, with six-year-old Johnny's built-in clock
still very much on Eastern Time. Skiing to the
Bullet Express or village centre from Sundance
involved ittle more than pushing the kids out
the door in their ski boots and letting gravity do
the rest. Mid-morning bathroom break? Home
for lunch? Early hot tub? No problem.
After several years of Big White hosting
the Ski Canada Test, I was the most familiar
with the trail map and therefore wore the tour
leader's tuque for our stay.My first day's plan
was simple: start skiing on one side of the resort
and eventually make our way to the other. And
given that we'd had fresh snow the night before
and some blue was in the sky—and all kids like
skiing trees—I led the whole lot as far to skier 's
left as we could go. We later learned our first
runs were in Easter Chutes.
"Iain, I'm a little worried about how steep
this is… " Aunt Sue called down to me, with
more than trepidation in her voice, from
somewhere behind some snow-laden fir trees.
"Johnny's up to his waist already."
"No problem, Sue," I yelled back with
reassurance, I have a camera."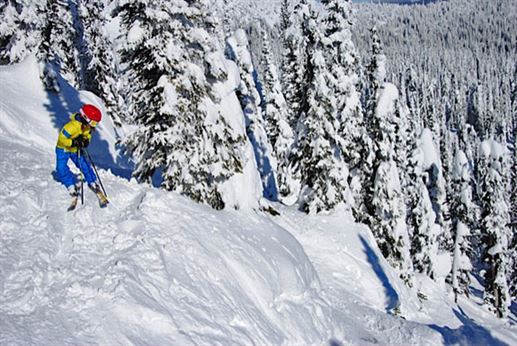 Ultimately Easter Chutes proved to be an
aggressive but rewarding playground for the
group. (Those under 6 would concur with that
statement more.) Ultimately, it was agreed that
most of my charges wouldn't have taken it on
if the choice had been theirs, but noticed it
didn't seem to matter where skiers went down
(and they were dropping like a sudden white,
fluffy virus had blown through), soft, pillowy
rolling landings brought only giggling and
squeals of laughter—and the eventual searching
for buddies. Regular regroupings on more than
one groomed cat track beyond the trees led to
more encouragement and the continuing on; so
more trees, more powder, more silliness….

Although we'd moved farther along the
mountain as the day went on, Aunt Andrea
did ask, "Are we going to be skiing any actual
runs? " to which a cry of protest came from the
group (or the shorter contingent anyway) of
something I happily translated to mean, "The
groomed runs are for wimps, we're here to ski
powder!"
An editor at the once mighty American
magazine Skiing told me something along
the lines of: showing photos or writing about
children or families was a "certain kiss of
death." That successful marketing must only
hit the cliff-hucking, backcountry, ski-film-star
crowd. Whether kids are 2, 20 or 50-and-feel-
like-20, it's a censoring phenomenon I recognize
but just don't understand, especially when you
look at any lift line at any ski resort in Canada.
Skiing is a family sport. (On the
other hand, hockey's powerful
snakehead reared itself mid-
Family Day weekend when
Uncle Gord and little Andrew
were convinced to leave Big
White powder and sunshine for
another tournament at some
smelly rink back in Ontario—
but that's a subject worthy of
its own story.)
In any event, despite some
raucous nights at Snowshoe
Sam's, one of Canada's great
ski bars in the centre of the
village, and several other
evening-out spots, Big White
knows the family market well—
and consequently is one of the
leaders in North America.
When I performed exit interviews of my
personal control (some would say out-of-control)
group, the answer to my "What was the best
part?"" question was nicely varied. In skiing
it was "playing in deep snow in the trees" or
"skiing in the snowghosts off the T-bar" or
"racing each other down the Ski Cross course." I
thought eight-year-old Mary hit the nail on the
head with simply "the powder!"
But answers included plenty of non-ski
activities, from "the big bunk beds" to "the
water slide," "playing with the dogs," "tubing"
and the real hit, and my own hands-up
favourite, "ice climbing."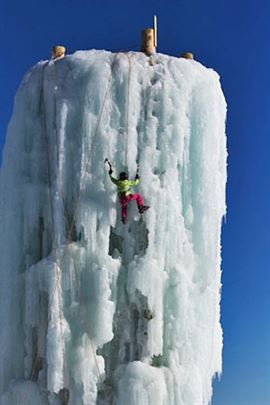 Local Mountain Guide Jim Ongena created a unique winter diversion by building a 20-metre-high, blue ice proboscis just beyond the Happy Valley Adventure Park, where skating, tubing, snowmobiling and so on is centred. He's since belayed first-timers, mountain men and grandparents. Climbers aged 7 to 75 have made their way to the top up 19 different routes. Such an otherwise inaccessible activity is so easy when top roping is used (fall off the ice wall and you're dangling in your harness like at a climbing gym). And with no hanging glaciers or anyone climbing above to shower you in falling ice, it's pure enjoyment through challenge.
There aren't many children who don't like to climb things. So after wrestling the gang for first dibs, I plunked down my $20 and was supplied with everything from crampons and hiking boots, to helmet and ice-climbing axes. And a guide to instruct and belay me. It was the best après-ski activity I think I've ever done— our gang was still there in the alpenglow as the pink sun was setting.
After hanging around the ice-climbing
distraction too long, my wife, Ray, and I, and
one restaurateur in our group, Tony, changed
into the least wrinkled clothes we could find,
foofed our day's helmet hair and hiked uphill
to a truly spectacular, $16-million castle-like
log cabin vacation home. White Spirit
Lodge, the architectural dream of Sherry and
George Schluessel, was graciously donated
for the evening to the three of us (and 77
others) celebrating the Canadian Culinary
Championships that had culminated in Kelowna.
Competing chefs from across the country
dazzled the congregation for the evening with
one gastronomic magnum opus after another,
with all fundraising efforts of the evening
headed to the Canadian Olympic Team. National
team representation that night was local
Ski Cross hero Kelsey Serwa (Remember her
50-metres-through-the-air spectacular crash
at the X-Games? She slid across the finish line
on her bum—first…) and 2008 Olympic gold
medallist (rowing) Adam Kreek.
With Serwa well surrounded by admirers, Ray
and I spent much of the evening craning our
necks in humorous conversation with chatty
6-foot-13 Kreek, who had as much kid in him as
the ones we'd left downslope at our Sundance
cabin. Later, at the owners' insistence, we
snooped around the joint and marvelled at their
massive halls of stone and 1,800-year-old cedar
logs, taking pictures of each other jumping
on a Fred-and-Wilma-sized bed and so on. Our
digs down the hill that we'd previously thought
couldn't have been outdone, suddenly seemed
far away. But we were brought back to reality
when we heard the four-bedroom "home" is
available for rent—at $7,500 a night. ❄
IT'S ALL HERE
» Great tree skiing
» Even better grooming
» Always all-natural snow
» All-slopeside accommodation
» Easy access (45 minutes from Kelowna airport)
» More than 20 eateries and half-a-dozen nightspots
» Packed calendar of special events, ski-better camps, festivals…
Complete holiday packages (including condo larder stocking if Save-On-Foods is too busy)
available at: www.bigwhite.com
More on Sundance: www.sundancebigwhite.com